Facing Diabetes: Quality Improvement in Rural South Dakota Project
Summary
Need: To help adults and children in rural South Dakota prevent or manage their diabetes.
Intervention: The Facing Diabetes Project offers medical visits for adults and provides prevention and education sessions for the local 4th and 5th graders.
Results: Many adults and children in the region feel better equipped to choose healthy foods, exercise regularly, and manage their stress: all factors that can help prevent diabetes or decrease its effects.
Description
The rural counties of Charles Mix, Douglas, and Hutchinson in southeastern South Dakota face high rates of smoking, drinking, unhealthy eating, and physical inactivity. In addition, the three counties are considered Medically Underserved Areas and Health Professional Shortage Areas in primary care and mental health, potentially preventing those with chronic conditions from receiving the quality care they need. Due to these factors of unhealthy lifestyles and limited access to health professionals, many adults and children in the region find it difficult to manage their diabetes or prevent it.
Avera St. Benedict Health Center in rural Parkston has over 300 patients with diabetes in its service area. A few years ago, behavioral health provider Melissa Gale and one of Avera St. Benedict's doctors decided that simply talking with individual patients about diabetes prevention or management during appointments wasn't working. They began a pilot program of group medical visits, where community members could meet as a group and work with a dietitian, behavioral health specialist, and nurse practitioner. The pilot program of the Facing Diabetes Project had 65 people.
Avera St. Benedict partnered with the Andes Central School District, the Parkston Ministerial Association, and the Parkston School District. The community-wide effort helps participants receive care and support from the many organizations in their lives. And patients can get referred in from anywhere; they did not need to obtain a doctor's note in order to participate in the group medical visits.
This project received support from a 2013-2016 Federal Office of Rural Health Policy Small Health Care Provider Quality Improvement grant and was able to offer group diabetes care to all Avera St. Benedict patients with diabetes.
The program continues to evolve in the following ways for long-term sustainability:
The Colony Outreach Nurse provides diabetes education to Hutterite Colony members on an individual basis or in small groups. She was also certified as a health coach and is getting training in the evidence-based chronic disease management program Better Choices, Better Health®.
The monthly support group continues as a peer-led group that the dietitian oversees and directs.
The group medical visits were modified to individual sessions with a nurse practitioner who has had additional training in diabetes care. This model allows for not only healthy lifestyle education but also provides better monitoring of clinical diabetic health indicators and ordering of routine monitoring labs. The dietitian and nurse practitioner also jointly see patients as needed.
A care coordinator and new behavioral health provider were added to the staff and are getting trained in Better Choices, Better Health.
Services offered
The Diabetes Care Team provides specialized education and management support to community members with or at risk of diabetes. The team consists of a behavioral health specialist, a dietitian, and a diabetes educator/nurse practitioner.
Adults with diabetes or prediabetes can participate in individual medical visits (previously group visits). During these visits, providers check their patients' vitals and make sure they're up-to-date on:
Medications
Lab work
Foot exams
Neuropathy eye appointments
After the initial checkup, patients and providers have a conversation about a patient-chosen topic. Topics have included:
Portion size
Carb counting
Stress management
Insomnia treatment
Smoking cessation
Other topics were even more patient-driven, as groups discussed how to find healthy foods when traveling, what to eat at a potluck, or how to barbecue foods in a healthier way. Patient-driven topics allowed the group medical visits to be more practical for the patients, as they voiced any struggles with their management and offered tips to their fellow group members.
The Facing Diabetes Project also works with members of the Yankton Sioux Tribe and the nearby Hutterite Colonies. While the group format and many of the discussion topics are the same, staff leaders can adjust the Facing Diabetes Project to better meet the specific needs of a community. Those living in the Tschetter Colony, for example, eat their meals communally, so discussion topics focus more so on portion control and healthy snacks than on meal preparation. Group medical visits also took place in the Colonies and at Avera St. Benedict Certified Rural Health Clinic in Lake Andes, located on the reservation, so these patients didn't have to travel.
Individual sessions provide access to a dietitian and behavioral health specialist along with their providers, and sessions cover many of the same topics as the previous group visits. Staff members also travel to worksites for employees unable or unwilling to leave work in order to see a doctor. Employees, often in agribusiness, have their blood pressure, lipids, and glycated hemoglobin (HbA1c) rates checked.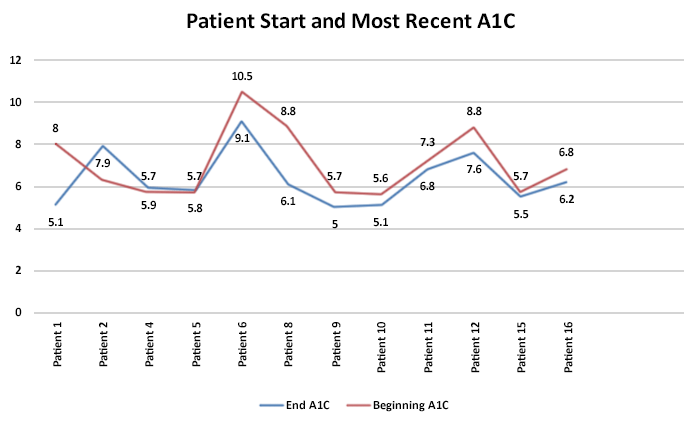 Fourth and fifth graders in the region, including those from the Colonies, participate in prevention and education sessions at their schools. The activity-based sessions take place in the gym with the help of the local P.E. teachers. Many of the topics, like exercise, healthy eating, and mood management, are similar to those in the adult classes. Other topics include diabetes prevention and consequences of diabetes.
Results
Patients completed questionnaires and had their vitals measured before and after participation in the program. Participants showed improvement in body mass index (BMI), HbA1c rates, blood pressure, and stress levels. Participants also reported excellent satisfaction with the sessions and improved knowledge of nutrition, exercise, and diabetes monitoring:
86% of the first-year respondents (2013-14) and 89% of the second-year respondents (2014-15) said they would recommend the program to others
100% of first-year and 89% of second-year respondents said that their questions about diabetes management were answered and that the information was practical and clearly explained
100% of first-year and 71% of second-year respondents felt confident in being able to manage their diabetes
90.1% of the 4th and 5th graders surveyed said they learned new facts about healthy eating
88.6% of the 4th and 5th graders said they learned the importance of regular exercise
78.9% of the 4th and 5th graders said they learned how to manage their moods
In 2013-14, 35 Parkston patients and 14 Lake Andes patients participated in group or individual sessions. In 2014-15, 25 Parkston patients, 79 Lake Andes patients, and 15 Tschetter Colony patients participated in group or individual sessions.
In 2015:
90 adults received services from group or individual interventions with the diabetes team
99 employees were screened at their worksites
108 children were educated at the Parkston and Andes Central school districts
Barriers
At times, the rural lifestyle and weather can be a barrier, especially in the Dakotas. A blizzard may take place on Group Day, or agricultural workers may not want to leave the fields during planting or harvest season. During extreme weather, staff members often call patients and tell them to stay home, especially if the patient lives outside of town.
Finding what works best for patients proved to be a trial-and-error process. Staff members kept adjusting the frequency of visits to see whether attendance would be better for monthly or biweekly visits. The Facing Diabetes Project also began with patients assigned to fixed groups but later switched to rotating groups, where patients can join any group at any time.
Traveling and school schedules proved to be a barrier as well. The Lake Andes clinic is located 50 miles from Parkston, and staff members had to travel to the Lake Andes schools several times a week in order to work with the 4th and 5th graders there. Lake Andes and Parkston schools sometimes have different schedules, which can make event planning difficult.
Replication
Be patient and willing to adjust the project until it's successful. The project is not hugely revenue-generating at first, and each facility will have different groups of patients with individual schedules and needs. The Facing Diabetes Project works best when clinics have people who can invest time into making the project work and will listen to patients' comments or concerns.
Not every area will have a dietitian or behavioral health specialist on staff. If unable to hire new staff, you can make the project work with your current staff, since many will already have knowledge of healthy eating. For example, the diabetes educator/registered nurse at Avera St. Benedict resigned, so a nurse practitioner was asked to step in. Really small healthcare facilities may even be able to run a project similar to the Facing Diabetes Project with a nurse and an advanced practitioner.
Contact Information
Melissa Gale, Behavioral Health Provider
Avera St. Benedict Health Center
Melissa.Gale@avera.org
Topics
American Indians, Alaska Natives, and Native Hawaiians
Anabaptists
Children and youth
Chronic disease management
Diabetes

States served
South Dakota
Date added
June 21, 2016
Date updated or reviewed
June 28, 2019
Please contact the models and innovations contact directly for the most complete and current information about this program. Summaries of models and innovations are provided by RHIhub for your convenience. The programs described are not endorsed by RHIhub or by the Federal Office of Rural Health Policy. Each rural community should consider whether a particular project or approach is a good match for their community's needs and capacity. While it is sometimes possible to adapt program components to match your resources, keep in mind that changes to the program design may impact results.