Hope Squad
Summary
Need: To reduce youth suicide rates.
Intervention: Hope Squad is a nationwide program that trains youth to look after their classmates and refer those with suicidal thoughts or other mental health concerns to adult advisors.
Results: Studies suggest that Hope Squad schools' students with suicidal thoughts are more likely than non-Hope Squad schools' students to solicit help and that stigma surrounding mental illness is decreasing.
Description
A 2015 JAMA Pediatrics study indicates that youth suicide rates in rural areas across the country are almost double those in urban areas.
Youth across the country are more likely to share suicidal thoughts with their peers than with adults, and these peers are more likely to keep these concerns to themselves instead of telling an adult.
A program called Hope4Utah has been working since 1999 to break this silence in rural and urban communities in Utah. In 2004, Hope4Utah implemented Hope Squad, a school-based peer leadership program in which students learn how to identify warning signs of suicide or other mental health concerns in their peers and alert adults to those students who may be at risk of hurting themselves. Students nominate trustworthy and helpful peers to become Hope Squad members. The program has expanded to 31 states and Canada.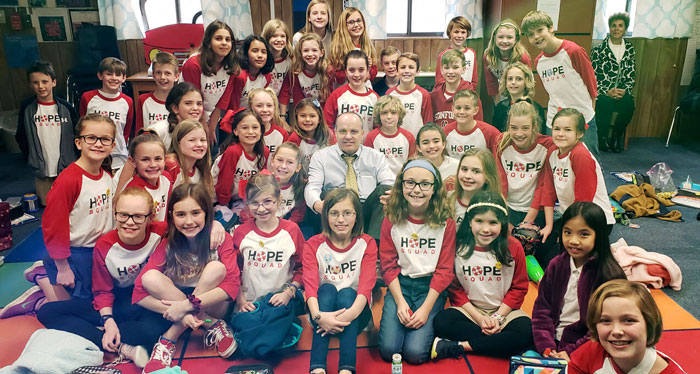 Along with local mental health agencies, Hope Squad partners with the QPR Institute (Question. Persuade. Refer.), to train Hope Squad advisors.
Services offered
Schools select staff members to serve as advisors. Oftentimes, the advisor is a school counselor, but school psychologists, social workers, parents, teachers, and other staff members can fulfill this role as well. Some schools select a total of 2 to 3 advisors, while other schools select one advisor per grade level involved.
The Hope Squad curriculum is taught through lessons called PHASEs (Promoting Hope and Student Empowerment), which are available in a three-year integration program for elementary schools, a three-year program for middle schools, a four-year program for high schools, and a two-year program for colleges. The elementary curriculum focuses on mental wellness, bullying, and resilience. The curriculum for junior high and high school includes the following:
Hope Squad Fundamentals: Select and train advisors and students on the basics of mental wellness and suicide prevention.
Hope Squad Essentials: Deepen members' understanding of mental health topics, such as resiliency and grief.
Hope Squad Connections: Encourage members to train family members and the community.
Hope Squad Growth: Empower members to move forward with their skills and knowledge of mental health and suicide prevention.
In addition to elementary and secondary schools, Hope Squad has been implemented in colleges, Veterans Affairs facilities, and businesses.
Results
Hope Squad is located in 12 rural Utah communities, and the program has expanded to over 950 schools in Canada and the following states:
Alaska
Arizona
California
Colorado
Connecticut
Florida
Georgia
Idaho
Illinois
Indiana
Louisiana
Michigan
Minnesota
Montana
Nebraska
Nevada
New Mexico
New York
North Carolina
Ohio
Oklahoma
Oregon
Pennsylvania
South Carolina
South Dakota
Tennessee
Texas
Utah
Washington
Wisconsin
Wyoming
A 2018 study from Brigham Young University and the University of Utah suggests that Hope Squad schools' students with suicidal thoughts are more likely than non-Hope Squad schools' students to solicit help from their parents, and Hope Squad schools' students with previous suicide attempts are more likely to solicit help from any adult.
Hope Squad currently evaluates the training outcomes as well as burnout among Hope Squad members. These data were recently published confirming that the Hope Squad curriculum is effective in improving the knowledge, skills, and self-efficacy of members. In addition, Hope Squad members experienced low burnout and stress when assisting peers.
The Hope Squad program also collects suicide concern contact data from Hope Squad advisors. These data are collected after advisors and/or school counselors meet with students who have suicide concerns. An analysis of these data shows that Hope Squads are referring approximately 25%-30% of all students seeing their counselors for suicide-related distress and that 14% of those referred are getting hospitalized. This supports the idea that Hope Squads are referring students in urgent and critical need. Additionally, current longitudinal trends in the data reveal that in subsequent years after implementation (year 1), student self-referrals and other student referrals of peers in distress increase, indicating that stigma is breaking down and comfort with help-seeking is increasing.
Recent findings from year one of the Ohio Hope Squad Comparison Study suggest that:
Hope Squad schools have less suicide-related stigma than non-Hope Squad schools
Hope Squad referrals are getting the most at-risk students help, and those youth are getting the immediate and appropriate care they need
Stigma among males in Hope Squad schools showed a downward trend as compared to non-Hope Squad schools
Hope Squad schools had significantly more referrals from all students compared to non-Hope Squad schools
For more information about this program:
Wright-Berryman, J., Hudnall, G., Bledsoe, C., & Lloyd, M. (2019). Suicide Concern Reporting among Utah Youths Served by a School-Based Peer-to-Peer Prevention Program. Children & Schools, 41(1), 35-44. Article Abstract
Wright-Berryman, J.L., Hudnall, G., Hopkins, R., & Bledsoe, C. (2018). Hope Squads: Peer-to-Peer Suicide Prevention in Schools. Children & Schools, 40(2), 125-126.
Challenges
Gaining buy-in from administrators and the community
Securing enough time and funding for rural schools to receive and complete training
Breaking down the myth that you can't talk about suicide
Ensuring parents and administrators that Hope Squad is not teaching students to act as counselors; instead, it teaches students to act as a bridge to counselors.
Replication
Steps to starting a Hope Squad:
Secure administrator approval
Select Hope Squad advisors
Partner with the community and mental health facilities
Educate staff and secure support
Nominate Hope Squad members
Educate Hope Squad parents and get approval
Conduct a pre-survey
Attend annual Hope Squad advisor trainings
Train Hope Squads with evidence-based curriculum
Organize a Hope Week to spread mental health awareness
Conduct a post-survey
Submit referral data
Schools interested in QPR or Hope Squad advisor training can travel to Provo, Utah, or schedule to have instructors provide training in their community. Hope Squad provides an advisor training manual and Hope Squad curriculum. The curriculum is designed for 30- to 40-minute trainings each month, although advisors can adapt the time frame as needed.
Hope Squad students should not be expected to act as counselors. Instead, students are expected to listen to their peers and then take their concerns to Hope Squad advisors and other trusted adults.
Topics
Children and youth
Mental health
Schools
Suicide and suicide prevention

States served
National/Multi-State, Utah
Date added
March 27, 2017
Date updated or reviewed
March 2, 2021
Suggested citation: Rural Health Information Hub, 2021. Hope Squad [online]. Rural Health Information Hub. Available at: https://www.ruralhealthinfo.org/project-examples/948 [Accessed 30 November 2022]
Please contact the models and innovations contact directly for the most complete and current information about this program. Summaries of models and innovations are provided by RHIhub for your convenience. The programs described are not endorsed by RHIhub or by the Federal Office of Rural Health Policy. Each rural community should consider whether a particular project or approach is a good match for their community's needs and capacity. While it is sometimes possible to adapt program components to match your resources, keep in mind that changes to the program design may impact results.