Paris Metro Transportation
Summary
Need: Reliable transportation options for employment and medical access needs for residents of Paris, Texas.
Intervention: A regional government coalition, already operating a rural regional transportation system, partnered with a rural community's medical, education and business entities to expand and improve the community's transportation system.
Results: Paris Metro now provides a low cost/no cost transportation option for local residents, including those with special transportation needs. After implementation, decreased emergency room visits were noted, likely due to reliable transportation for scheduled medical appointments.
Description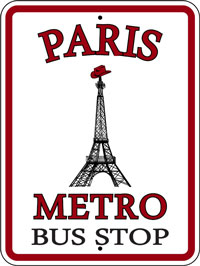 Ark‑Tex Council of Governments (ATCOG) is a voluntary coalition of local governments formed by nine Texas counties, and one Arkansas county. With a mission of improving the quality of life of local citizens, ATCOG engages in community problem solving, and coordinates services, resources, and funding.
Already operating a rural transportation system in several other counties, ATCOG recognized a need to replace the expensive, demand-response transportation service in Paris, Texas, because the existing system had difficulty accommodating local needs. Twenty-four hour advance scheduling was required for rides. Senior and disabled citizens often reported wait times of hours for transportation home after medical appointments.
Leveraging the U.S. Department of Transportation's P3 framework, a contractual risk-sharing agreement between a public transit agency and a private entity, ATCOG's first step included a local needs assessment. This was followed by creating a formal business plan complete with financial and other support expectations of partners. The plan also included flexible funding support levels paired with potential return on investment information. Another focus was gaining a 50% matched state funding opportunity that depended on the private partners' investment levels.
After formulating the initial business plan, ATCOG reached out to potential partners. The first stakeholder identified was Paris's largest employer, Paris Regional Medical Center, now Paris Regional Health. The medical center, sharing ATCOG's mission for improving healthcare access and economic opportunities, supported a 3-year funding commitment. Owned by RCCH Healthcare Partners, the 300 bed, acute care hospital providing health and wellness services, also agreed to supply a rent-free, central transportation office in unused medical space.
Next, ATCOG identified a local project champion. Paris's United Way chapter became the local voice presenting the ATCOG project to local businesses and educational institutions through Rotary and Kiwanis organizations. This effort gained support from six additional partners: the City of Paris, Paris Junior College, the RAM Foundation, the St. Joseph's Foundation, the Texas Oncology group, and The Results Company. After approximately five years of planning, Paris Metro began routine weekday, 12-hour operations in July 2016.
Paris Metro was the recipient of the Texas Transit Association's 2016 "Innovative Project of the Year Award," a recognition based on innovative problem-solving techniques applied to the public transportation industry.
Services offered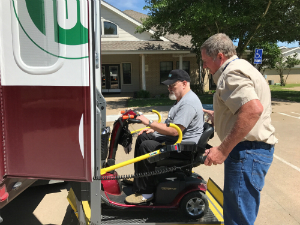 Two buses on four routes run every 30 minutes from 6:30 a.m. to 6:30 p.m., Monday through Friday
Fifty cent fare per ride, and free for anyone age 60 and older, or disabled
For those unable to ride the fixed route, paratransit service and rides by appointment can be scheduled for $1 per trip
For 2018, 100% grant funding had supported the purchase of 2 new, larger buses, complete with ramps instead of lifts for easier boarding.
Results
In May 2017, the service had tabulated 3500 trips per month since its start in August 2016. extrapolated data suggests that the area will experience a 200 percent increase from the prior transportation option. For 2018, the service will likely reach 52,000 for the year.
Initial data tracking also found a decrease in overall emergency room visits, likely a result of providing residents with a reliable transportation option for day-time scheduled appointments, a success factor measured by PRMC.
For more information: Public Transportation Guidebook for Small- and Medium-Sized Public-Private Partnerships, Transportation Research Board, National Academies of Sciences, Engineering, and Medicine.
Challenges
Extended project planning intervals:
The initial anchor community partnership with PRMC required time since the decision-making board was at a distance.
After anchor partnerships, additional time was required to engage other community partners.
Replication
Have familiarity with the P3 Checklist
Have complete and clear goals, formal business plan, and stakeholder expectations outlined prior to meeting with stakeholders
Present clear information on benefits to the partnership
Ensure local champion(s) outside of the public entity to gain legitimacy and confidence of private stakeholders
Find stakeholders with mutual shared community service vision to expedite business decisions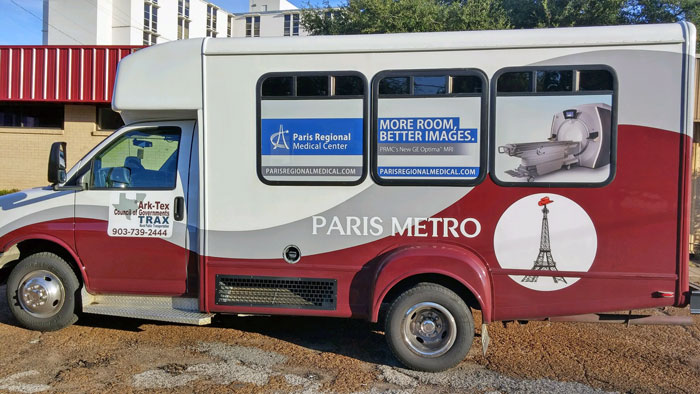 Contact Information
Ark-Tex Council of Governments
903-739-2444

Topics
Access
Transportation

States served
Texas
Date added
May 18, 2017
Date updated or reviewed
January 19, 2023
Suggested citation: Rural Health Information Hub, 2023. Paris Metro Transportation [online]. Rural Health Information Hub. Available at: https://www.ruralhealthinfo.org/project-examples/954 [Accessed 29 May 2023]
Please contact the models and innovations contact directly for the most complete and current information about this program. Summaries of models and innovations are provided by RHIhub for your convenience. The programs described are not endorsed by RHIhub or by the Federal Office of Rural Health Policy. Each rural community should consider whether a particular project or approach is a good match for their community's needs and capacity. While it is sometimes possible to adapt program components to match your resources, keep in mind that changes to the program design may impact results.