Healthy Men Michigan
Summary
Need: Mental health assistance and resources for men in rural Michigan who struggle with depression and suicidal thoughts.
Intervention: The Healthy Men Michigan campaign was a research study testing online screening for depression, including irritability and anger, and suicide in working-aged men. The Healthy Men Michigan campaign website also offers referrals to local and national resources specific to men's mental health.
Results: More than 5,000 individuals completed anonymous online screenings and 550 men enrolled in the study. Healthy Men Michigan secured partnerships with over 225 individual and organizational partners, including healthcare facilities, small businesses, and recreational groups across the state. Together, their efforts have helped to promote screenings, reduce stigma, and encourage help-seeking behavior to prevent suicide.
Description
In Michigan, men die 4 times more often from suicide than women, and suicide is the second leading cause of death among working-aged men ages 25-34 (fourth cause of those ages 35-49). Experts say several factors contribute to this, including men's tendencies to minimize suicide and depression warning signs. Because seeking traditional mental health services for help does not coincide with what is often the cultural definition of masculinity, many are left struggling in silence, feeling isolated and alone with their pain. Additionally, relationship problems, financial and job instability, and substance use can increase the risk of suicide among men.
Dr. Jodi Jacobson Frey, Associate Professor at the University of Maryland, Baltimore School of Social Work, took note of these statistics. Together with partners from the National Action Alliance on Suicide Prevention (NAASP)'s Workplace Task Force, Cactus, Dr. Sally Spencer Thomas, and the Colorado Office of Suicide Prevention, Dr. Frey applied for a grant from the National Center for Injury Prevention to prevent suicide among working-age men in Michigan.


With the funds, Dr. Frey and the research team created and launched the Healthy Men Michigan campaign and research study. It provided online screenings with immediate feedback and referrals for additional assessment and mental health services for Michigan men through HealthyMenMichigan.org. While enrollment to the study has ended, the website still provides access to information and referral resources.
The screening, a free online self-assessment, included questions pertaining to mental health, specifically depression (including anger/irritability) and suicide. The website referred men to local resources throughout Michigan that offer treatment and assistance as well as other male-focused tools.
Through the study, the researchers tested the additional impact of an innovative online intervention for men called Man Therapy. The researchers were interested in assessing whether men who completed online assessments for suicide, in addition to support from the Man Therapy website, fared better with regard to follow-up depression, suicide risk, and mental health help-seeking behaviors.
Healthy Men Michigan launched as part of a larger statewide effort to prevent suicide in working-aged men in September, 2016.
The research team relied on a boots-on-the-ground approach, engaging 225 community partners to encourage men to visit the website and take the online screening. Many of the partners were located in rural parts of the state. See a list of organizations and groups involved below:
Healthcare partners:
Primary care clinics
Hospital systems
Mental health and behavioral health organizations
Fire and police departments
Emergency medical technicians
Small business partners:
Barber shops
Casinos
Chambers of Commerce
Car dealerships
Construction companies
Small and large employers
Labor unions
Recreational and community partners:
Faith based organizations
Fishing, boating and hunting associations
Recreations sports leagues and sporting venues
YMCAs and fitness centers
Civic organizations
Social organizations/clubs
Healthy Men Michigan also partnered with national organizations like the American Foundation for Suicide Prevention, the National Action Alliance for Suicide Prevention, and statewide organization such as the Michigan Department of Health and Human Services (MDHHS) to engage groups on a state and local level. Additionally, the research team worked with Michigan Governor Rick Snyder to proclaim June 25 as Men's Mental Health Awareness Day in Michigan.
Healthy Men Michigan partnered with retired sports players, Eric Hipple (former quarterback for the Detroit Lions) and Clint Malarchuk (National Hockey League, goaltender) to promote the campaign and men's mental health.
Services offered
HealthyMenMichigan.org provided free and anonymous screening and help-seeking tools to reduce suicide ideation and behavior. The ability to access the tools and resources quickly, privately, and anonymously served to remove a number of potential barriers to getting help. Healthy Men Michigan was designed so that men can be reached with minimal effort on their part, allowing them to access therapeutic programs without leaving home.
At the end of the screening, users were directed to local, statewide, and national mental health resources, hotlines, and programs that provide help for mental health, alcohol use, depression, and suicide. The website also provided articles and fact sheets on various topics related to behavioral health.
Based on initial scores on the screening, some men were invited to participate in a voluntary research study for which they were paid for their time. If they agreed to participate, half of the men were asked to review the additional website, Man Therapy, and complete two online surveys.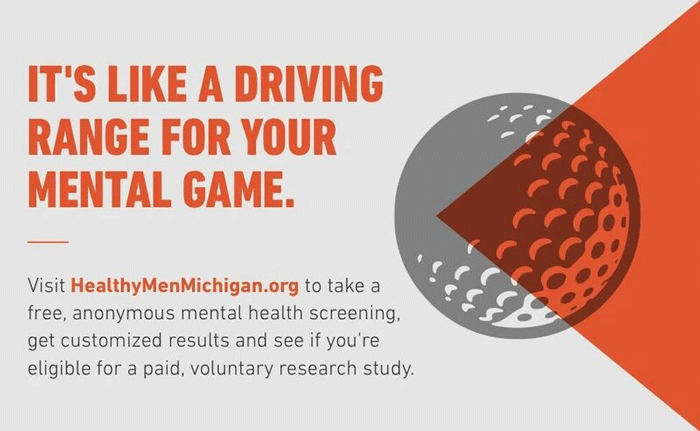 Results
More than 5,000 individuals were screened through HealthyMenMichigan.org. Over 60% of Michigan men ages 25-64 scored at risk of depression or suicide ideation or behavior. Of these participants, the research team enrolled more than 550 men who screened positive for depression and/or suicide in their study. Many of these men were not connected to mental health services at the time.
The researchers are working to collect final follow-up data and will analyze findings. Preliminary results are suggesting positive impact for using both the online depression/suicide screening and additional services from Man Therapy. Dr. Frey and her team will disseminate results widely once data collection ends and data analysis commences.
Dr. Frey said this about the project's successes:
"Where suicide prevention was not in their mission or even on their organization's radar, now organizations are starting to see a connection and a role they can have in prevention and supporting the well-being of workers, family workers, community workers. So many have realized that suicide prevention is everyone's business and they continue to promote resources such as the National Suicide Lifeline and Michigan-based support resources to working-aged men throughout the state."
Several initiatives in other states have contacted Dr. Frey and her team to inquire about starting a program like Healthy Men Michigan in their own region.
To attract the attention of the male population, Healthy Men Michigan worked with Cactus, one of its research partners, to develop and add more male-focused images and infographics to their outreach and engagement materials. To promote the online screenings, they also booked interviews with Michigan-based and national news outlets, wrote public service announcements, and engaged in other communication methods about the HMM campaign.
Several webinars, interviews and press releases were shared from HMM's partnership with athletes, including:
Challenges
To make the program more sustainable, the Healthy Men Michigan team trained local Michigan partners to be the lead communicators to working-aged men and other local stakeholders.
It was sometimes difficult to find the right contact in various groups the team approached about partnership. Gaining their trust and securing commitment took persistence and help from other local partners.
It took longer to secure partnerships with non-healthcare groups, especially those who didn't have an easy way to promote the screening to their employees (for example, an employee assistance program). In response, the team promoted the use of the screening as a free wellness activity for employees.
Healthy Men Michigan was sometimes met with skepticism regarding the anonymity of the online screening. Face-to-face contact and promotion through non-electronic methods were well-received alternatives to online promotion techniques.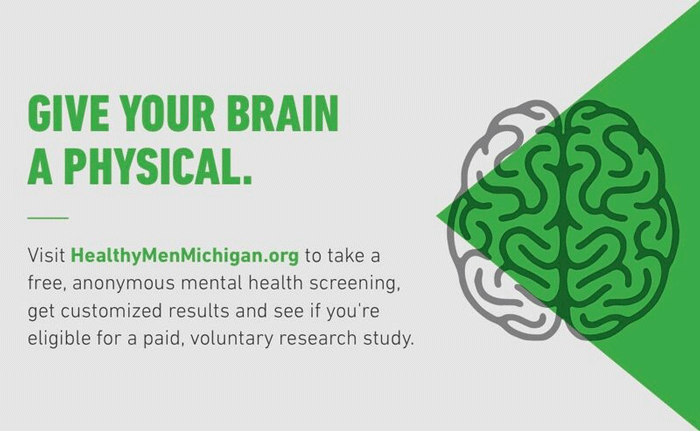 Replication
The Healthy Men Michigan research team has shared the following key lessons learned at local and national conferences and meetings:
Start by researching existing programs and resources related to your topic so as not to duplicate information. Apply methods and resources that would meet the needs for those in your community.
Communicate your messages appropriately to every potential partner. This is especially important when inviting organizations other than those with a mental health focus to partner. Choose information that "speaks their language," and cater your message to your audience.
Create two-way partnerships with already-existing programs. Commit to mutual promotion of each other's initiatives. This approach will help build buy-in and sustainability as well as strengthen mental health efforts across all parties.
Male-focused groups and businesses should be high partnership priority when trying to reach men in rural areas.
Healthy Men Michigan used the following tools to promote the screening and their resources:
Webinars engaged programs and participants in male-focused industries.
Methods:
Note that answers given in the screening were used as data for the University of Maryland study.
The researchers are actively seeking additional financial support to continue their work in Michigan and expand screening and support services to have a stronger focus on the intersection between substance use and misuse and suicide among working-age men.
Topics
Depression
Health screening
Men
Mental health
Networking and collaboration
Suicide and suicide prevention

States served
Michigan
Date added
June 19, 2017
Date updated or reviewed
April 9, 2019
Suggested citation: Rural Health Information Hub, 2019. Healthy Men Michigan [online]. Rural Health Information Hub. Available at: https://www.ruralhealthinfo.org/project-examples/959 [Accessed 5 July 2022]
Please contact the models and innovations contact directly for the most complete and current information about this program. Summaries of models and innovations are provided by RHIhub for your convenience. The programs described are not endorsed by RHIhub or by the Federal Office of Rural Health Policy. Each rural community should consider whether a particular project or approach is a good match for their community's needs and capacity. While it is sometimes possible to adapt program components to match your resources, keep in mind that changes to the program design may impact results.