Texas C-STEP Project: Cancer Screening, Training, Education and Prevention Program
Summary
Need: Improve screening rates for rural uninsured/underinsured patients in counties surrounding Bryan-College Station, Texas.
Intervention: An academic center's nursing and family medicine training programs partnered with its public health program to obtain state grant funds for execution of a coordinated cancer prevention and detection program.
Results: In 5 years of colorectal screening efforts, 18 cases of colorectal cancer were diagnosed in addition to detection of precancerous lesions in 25% of nearly 2000 screening colonoscopies. In 3 years of women's health screening, 18 cases of breast cancer and 141 precancerous cervical lesions were also detected. Due to the initial success of the project, the program continues.
Description
In a 2016 report reviewing Texas state cancer data, cancer costs were found to "reach almost $169.9 billion in reduced annual spending, $83.8 billion in output losses per annum, and 879,800 lost jobs from cancer treatment, morbidity, and mortality and the associated spillover effects."
According to 2007 Texas data, excess colorectal cancer rates – some 33% over the average -- were noted in the counties surrounding Bryan-College Station, Texas, home of several Texas A&M health science programs.
To improve these statistics, the Cancer Prevention & Research Institute of Texas' (CPRIT) awarded grant funds to Texas A&M Physicians Family Medicine Center and the Texas A&M School of Public Health. In addition, the Texas A&M College of Nursing received another CPRIT grant addressing women's health. These academic teams partnered — creating a program referred to as Texas C-Step — that included a comprehensive cancer screening approach not just for colorectal cancer, but also breast and cervical cancer.

All three health science organizations continue to work in concert to deliver coordinated cancer prevention and screening education, screening procedures and additional advanced diagnostic testing to rural uninsured/underinsured patients in about 18 counties surrounding Bryan-College Station.
Screening efforts also allow students and residents valuable educational practicum opportunities and clinical training in cancer screening procedures.
Core to the patient screening effort are community health workers (CHWs). The CHWs, bilingual in Spanish and English, provide patient navigation through the required steps of the sometimes-complex paths of the sophisticated academic health system. If needed, CHWs will also provide assistance with appointment scheduling, travel arrangements, and other necessary interventions in order to complete needed screening or further diagnostic testing if abnormalities are found.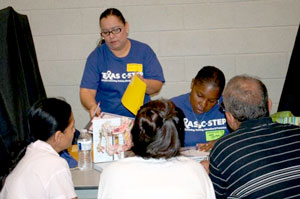 Also known as promotoras, the CHWs are the core team conducting community outreach, providing education at senior centers and health fairs, or even as invited guests at other community events.
CHW training, certification and continuing education is offered by the Texas A&M Center for Community Health Development.
The population of screened individuals comes from self-referred patients, community referrals, physician referrals, and family medicine clinic patients.
More than fifty agencies and service providers have partnered with Texas C-STEP to provide patient referrals and care, to disseminate materials, and provide public education on the importance of cancer prevention and screening. Some of these partners include:
Brazos Valley Health Partnership
Brazos Valley Community Action Agency
Bridge Ministries Free Clinic
Clinical Pathology Laboratories, Inc.
Health for All
HealthPOiNT
The Rose Mobile Mammography
National Community Health Worker Training Center
CPRIT funding and partnership is integral to the robust cancer screening effort.
Services offered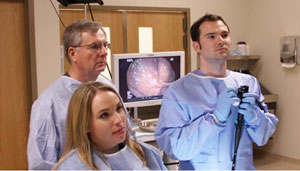 Available screening procedures are numerous, including screening colonoscopies performed by family medicine residents. Residents complete training for this procedure and are qualified for performing it in their post-graduate environment if desired. Family medicine residents and nurse practitioner students are also trained to perform other procedures included in the C-STEP program.
Additionally, mammograms are offered either on-site at medical facilities, or provided by a mobile unit traveling through surrounding counties.
C-STEP cancer screening and diagnostic procedures are:
Pap Test
Colposcopy
LEEP (Loop Electrosurgical Excision Procedure)
Ultrasound Guided Needle Biopsy
Abdominal/Pelvic CT Scan
HPV Vaccination for persons ages 12–26 years old
Results
From its 2012 start through year's end 2016, Texas C-STEP has:
Completed 1922 colonoscopies for 1914 individuals, with 1500 colonoscopies provided free of charge
Identified precancerous polyps in 25% of colonoscopy procedures
Diagnosed 18 cases of colorectal cancer
From its 2014 start through year's end 2016, Texas C-STEP's Women's Health program has:
Provided 1366 free breast cancer screenings/993 mammograms
Detected 18 cases of breast cancer
Performed 474 cervical cancer screenings
Removed 141 precancerous cervical lesions
The screening efforts continue and ongoing results are monitored internal to the organization.
For more detailed program results:
Ojinnaka CO, Vuong A, Helduser JW, Nash P, Ory MG, McClellan DA, Bolin JN. Determinants of Variations in Self-reported Barriers to Colonoscopy Among Uninsured Patients in a Primary Care Setting. Journal Community Health. 2015. 40(2):260-70.
Ojinnaka CO, Bolin JN, McClellan DA, Helduser JW, Nash P, Ory MG. The role of health literacy and communication habits on previous colorectal cancer screening among low-income and uninsured patients. Preventive Medicine Reports. 2015. 2:158-63.
Challenges
Challenges were:
Obtaining funding partners
Academic stakeholder buy-in
Adequate personnel, especially CHWs, trained medical assistants
Specialty-generated silos (gastroenterology and gynecology specialists)
Administrative support
Replication
The following suggestions are offered for replication efforts in other states:
Be persistent in pursuing grant funding
Partner with willing community stakeholders
Partner with nearby public health degree programs since these students require a practicum experience working in a clinical or public health setting; public health teams can also offer grant writing expertise and data management
Consider reaching out to federal agencies with similar mission and vision for cancer screening and prevention efforts, for example, the Centers for Disease Control and Prevention
Resources:
Topics
Cancer
Health screening

States served
Texas
Date added
September 14, 2017
Date updated or reviewed
March 30, 2021
Suggested citation: Rural Health Information Hub, 2021. Texas C-STEP Project: Cancer Screening, Training, Education and Prevention Program [online]. Rural Health Information Hub. Available at: https://www.ruralhealthinfo.org/project-examples/976 [Accessed 9 December 2022]
Please contact the models and innovations contact directly for the most complete and current information about this program. Summaries of models and innovations are provided by RHIhub for your convenience. The programs described are not endorsed by RHIhub or by the Federal Office of Rural Health Policy. Each rural community should consider whether a particular project or approach is a good match for their community's needs and capacity. While it is sometimes possible to adapt program components to match your resources, keep in mind that changes to the program design may impact results.