Community-Based Pulmonary Rehabilitation Program
Summary
Need: More evidenced-based chronic lower respiratory disease management options for rural Appalachia patients, where lung disease rates are among the highest in the country.
Intervention: Implementation of outpatient pulmonary rehabilitation programs in 2 Federally Qualified Health Centers and a Critical Access Hospital in West Virginia.
Results: Improved health outcomes for patients with chronic lower respiratory disease, including those with chronic obstructive pulmonary disease.
Description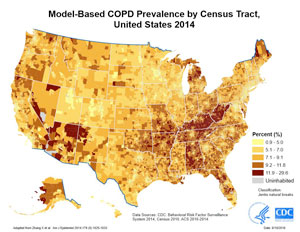 Chronic lower respiratory disease is one of the five leading causes of preventable death in rural America. One of these respiratory problems, chronic obstructive pulmonary disease (COPD), has an overall rural prevalence rate 50% greater than urban areas. Further review of 2014 census tract rates demonstrates high COPD prevalence in Appalachian states, such as Kentucky and West Virginia.
Modern management strategies for chronic lung disease include pulmonary rehabilitation (PR). In urban settings, PR has evidence for improving quality of life, increasing exercise capacity, and decreasing shortness of breath. PR also provides patients with education. Additional evidence shows PR offers a cost savings through fewer and shorter hospital admissions.
Despite the evidence supporting PR benefits for chronic lower respiratory diseases, few programs exist in rural areas and virtually none in outpatient facilities away from hospital campuses. To bring these PR benefits to outpatients in areas with a high prevalence of lower respiratory disease, the Community-Based Pulmonary Rehabilitation program was implemented with funding from pooled resources of six private entities.
Originally known as the Grace Anne Dorney Pulmonary Rehabilitation Project (GADPRP) of West Virginia, the program initially started in 2 Federally Qualified Health Centers (FQHCs) and 1 Critical Access Hospital (CAH) and specifically included respiratory therapists as members of the primary health care team. These specialists provided professional services such as improved frequency and quality of pulmonary function testing and improved knowledge and use of respiratory disease care guidelines. They also provided patient education, including the self-management of chronic lung problems for patients with diseases such as COPD, asthma, cystic fibrosis, and pulmonary hypertension.
In 2018, the program acquired fiscal and administrative support with Partners in Health Network and was renamed the Appalachian Pulmonary Health Project, however the network and all sites retain the Grace Anne Dorney Pulmonary Rehabilitation Network affiliation.
The program has identified 4 goals:
COPD primary prevention activities
Quality-assured spirometry expansion
Pulmonary rehabilitation site expansion
Chronic lung disease care management services
Research support for the program, its implementation, and the clinical outcomes study was provided by grant funding from the West Virginia Clinical and Translational Sciences Institute (National Institute of General Medical Sciences, U54GM104942), the Claude Worthington Benedum Foundation, and the Dorney-Koppel Foundation. The West Virginia Practice Based Research Network was also involved.
Services offered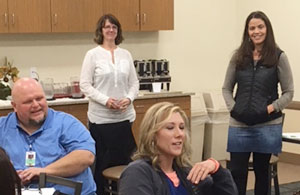 Program interval of one year, with 24 sessions
Patient evaluations for oxygen and Continuous Positive Airway Pressure/CPAP interventions
Certification/re-certification assistance for prescribing providers caring for patients with oxygen/CPAP needs
Performance of 6 PR outcome measures
Sleep studies
Patient education for all aspects of COPD and other chronic lung diseases, including self-care skills
Asthma action plans
Results
Formal initial study results for November 2013-June 2015:
57% program completion rate (111 of original 195 patients)
76% (84 of 111)) had increased exercise capacity as indicated by the minimal important difference of 85 feet
Significant improvement in all 6 PR program outcome measures
36% of graduates returned for exercise at least once at their original PR site, with many others choosing to continue an exercise program at home or at other exercise facilities
22% (5 of 23) were successful in tobacco cessation
Improved provider interpretation of pulmonary function test results
Increased use of respiratory disease clinical guidelines
Results from this program are similar to those reported by large hospitals and referral centers. These findings can also be used to support PR expansion to other rural outpatient facilities.
Other benefits of rural programs include better access due to less distance, lower transportation costs, and continuity of care with patients' primary care providers.
Adding respiratory therapists to the PR team provided notable benefits, such as pulmonary function testing expertise. These professionals also served as expert educators, providing the special perspective needed for teaching self-management skills to patients with chronic respiratory disease.
Patient enrollment numbers continue to be strong at all 3 sites. Due to the original sites' successes, two additional rural West Virginia PR programs have opened.
For more information on this program:
Doyle D, Tommarello C, Broce M, Emmett M, Pollard C. Implementation and Outcomes of a Community-Based Pulmonary Rehabilitation Program in Rural Appalachia. Journal of Cardiopulmonary Rehabilitation and Prevention. 2017 Jul; 37(4):295-298.
Patients share benefits of PR in this video:
Challenges
Creating respiratory therapist job descriptions
Dropout rates due to:

Transportation issues
Staffing ratios
Staff personalities and motivation
Pulmonary illness exacerbations and co-morbid illness issues
Mobility loss
Expense
Death
Replication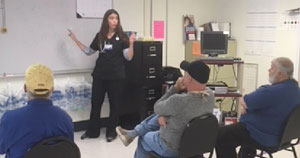 Identification of funding partners willing to provide a Memorandum of Agreement for start-up
Pre-planning sessions for creating protocols and procedures
Creation of operational space
Exercise equipment and educational materials purchases
Recruitment and training of respiratory therapists
Additional identification of:

Staffing needs other than respiratory therapists
Administrative needs for policy creation, billing and coding procedures
Supervising physicians
Liability insurance coverage needs
Contact Information
Dan Doyle, M.D., Pulmonary Rehabilitation Medical Director
Cabin Creek Health System, Dawes West Virginia and New River Health, Scarbro, West Virginia
301.573.1798
ddoyle@cchcwv.com
Topics
Appalachia
Chronic respiratory conditions
Federally Qualified Health Centers

States served
West Virginia
Date added
November 1, 2017
Date updated or reviewed
February 10, 2021
Suggested citation: Rural Health Information Hub, 2021. Community-Based Pulmonary Rehabilitation Program [online]. Rural Health Information Hub. Available at: https://www.ruralhealthinfo.org/project-examples/983 [Accessed 28 November 2023]
Please contact the models and innovations contact directly for the most complete and current information about this program. Summaries of models and innovations are provided by RHIhub for your convenience. The programs described are not endorsed by RHIhub or by the Federal Office of Rural Health Policy. Each rural community should consider whether a particular project or approach is a good match for their community's needs and capacity. While it is sometimes possible to adapt program components to match your resources, keep in mind that changes to the program design may impact results.