Dec 04, 2019
CDFIs 'Make Dreams Come True' by Creating Opportunity in Rural Spaces
by Jenn Lukens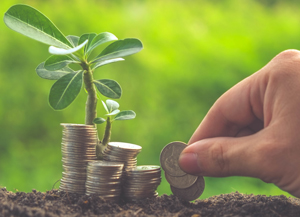 As healthcare is central to a community's growth, Community Development Financial Institutions (CDFIs) present a unique opportunity for rural health efforts to receive support. But there is a general lack of awareness of these institutions in rural spaces and CDFIs that are serving rural areas often already operate at full capacity.
Kim Tieman is the Health and Human Service Program Director for Claude Worthington Benedum Foundation, which serves Pennsylvania and West Virginia. In her work trying to grow CDFIs, she has witnessed a disconnect between local efforts and the financial assistance available at their fingertips. "When the health community needs money, they think they have to go to the bank, period, and they don't even know that CDFIs are out there and how to utilize them."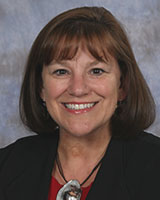 "We, as a foundation, believe in community and economic development and that, without access to capital, people cannot make all of those dreams come true," said Tieman. "The Benedum board has always seen [CDFIs] as a great tool in the toolbox, and we should try to build more of them." Foundations like Benedum have stepped in to bolster CDFI capacity in order to make a direct impact for local healthcare efforts.
What is a CDFI? Lending for Local Impact
CDFIs are mission-driven institutions that offer financing and development services to underserved communities. While the majority are located in the Eastern U.S., there are over 1,000 certified CDFIs operating in all 50 states. For certification, CDFIs are required by the U.S. Department of the Treasury CDFI Fund to provide 60% of lending or financial services to economically distressed areas, low-income communities, or minority populations.
CDFIs work to bring in funds from public, private, and philanthropic sources to support causes that will make an economic difference in a community. For CDFIs that support healthcare, economic impact is tightly connected: healthcare availability attracts more businesses to the community, which in turn enhances the local economy.
CDFIs strategically provide loans for a range of projects, often infrastructure, and can partner with other funders to strengthen the capacity of a local endeavor. By providing technical assistance and development services like business planning, financial management, and marketing, CDFIs can help build credibility that will make rural borrowers more attractive to other investors.
Opportunity Finance Network (OFN) is a national industry trade organization that has over 270 CDFI members with nearly $22 billion in assets. OFN also operates as a CDFI Intermediary, harnessing outside resources to lend money to its members. Donna Fabiani is the Executive Vice President of Knowledge Sharing at OFN and has witnessed the successes of CDFIs in her career.
"CDFIs' financial performance is strong, and it always has been," said Fabiani. In 2018, OFN member CDFIs had a 1.0% net charge-off rate on their loans (a very low percentage of bad debt). This emphasis on CDFI performance stems back to the 1970s, when the early CDFIs held themselves to a high standard to ensure their investors were paid back. "So a lot of it was about proving that the community development lending model worked — that CDFIs could lend to low-income communities that people perceive as risky and get their money back. And they did. CDFIs have been lending successfully for decades and have become a proven model," attested Fabiani.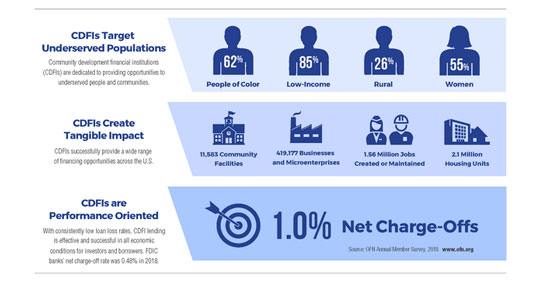 CDFIs can be great partners for rural communities. "They know their communities, are committed to offering their expertise, from project conception to financing, and will continue working with the community after making the loan to ensure the project is successful," said Fabiani.
Seed Money Increases Attraction from Outside Investors
While the range of CDFI investment has traditionally been broad — from housing to economic development — finding a CDFI that solely benefits healthcare in rural settings is rare. Tieman, of Claude Worthington Benedum Foundation, explains why: "I think the challenge in rural places is that there are often sparse resources, which makes it more difficult to build a capital stack. People are also more risk-averse. That's not just the people lending, but also the people wanting to borrow."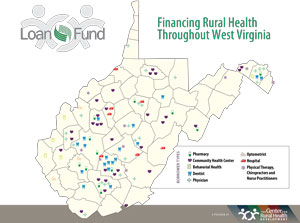 The Center for Rural Health Development, a CDFI loan fund, is dedicated to improve rural health in the state of West Virginia. Since it began lending, the Center has successfully leveraged over $54 million in health infrastructure improvements through a total of 132 loans, including the financing of 16 new healthcare facilities.
Much of the work the Center has accomplished was made possible by seed money from the Benedum Foundation and the Robert Wood Johnson Foundation (RWJF) in 2001. With that money, the Center started the West Virginia Rural Health Infrastructure Loan Fund, which has helped strengthen its CDFI and loan recipients (an average of 12 a year) through financing, technical assistance, and development services.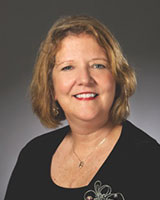 Sharon Lansdale is President/CEO of the Center for Rural Health Development. She noted a major benefit of the Benedum and RWJF seed money is it enabled the Center to qualify for additional lending capital from the United States Department of Agriculture (USDA), the Appalachian Regional Commission (ARC), and the U.S. Department of Treasury. Over the past several years, banks have even taken over some of the Center's loans. "Banks have found healthcare organizations are good community organizations and usually well-run. We consider this a great success because now there are other areas we can focus on to make loans."
For instance, the Center awarded Dr. Kristy Naternicola, a practicing dentist, with an acquisition loan to help her buy an established practice serving rural Braxton County, West Virginia. The loan gave her enough leverage to secure a real estate loan with Premier Bank. Naternicola is now one of two dentists serving the entire county. Without her practice, patients would have to travel over 60 miles to the nearest dental practice.
As with every application, the Center's Loan Committee took great care in reviewing Naternicola's business plan and the driving mission behind her request. "It's really important to us that we not make a loan that cannot be paid back, because we work in rural areas where access to healthcare is important," said Lansdale. "Our view is if we were to make a loan someone couldn't afford and they were to close, that would impede access to healthcare services in that rural community."
Why They Work: The Flexibility of CDFIs
The top trait CDFIs use to describe themselves is "flexible." As opposed to loans from mainstream banks or credit unions, CDFI loan or venture capital funds can give borrowers more time or financing options because they aren't subject to the same regulations. Therefore, they can provide terms and conditions that will work in a rural area.
For example, the Center for Rural Health Development in West Virginia extended a loan to a doctor with a private practice who was deployed by the military. "Because we wanted to keep that practice in that area, we had to be really flexible," relayed Lansdale. When the doctor returned to his practice, he continued paying back the loan and, more importantly, was able to maintain access to healthcare services in his community.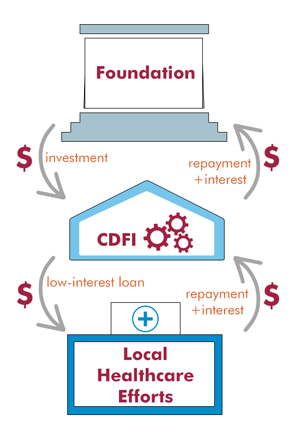 In another instance, the Center approached an architect about the high construction costs for one loan recipient. "Thinking we were a government agency, he had added various contingencies, which increased the price. We were able to get the cost per square foot down, and a bank came to us several years later and said they would take that loan." The Center regularly goes to bat for loan recipients to fulfill its mission to strengthen the state's healthcare delivery systems and improve the health of West Virginians.
While flexible lending standards may seem risky to some, it's what many CDFIs say is key to ensuring their mission and seeing return on investment. As an added benefit, the Center for Rural Health Development has been able to use the interest earned on its Loan Fund to support its other programs. "We have been fortunate to have never needed to chase funding to survive. We have chased funding to strengthen our programs," said Lansdale.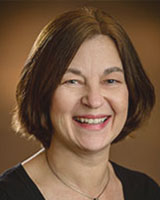 Being flexible, innovative organizations, CDFIs are constantly evolving to meet the changing needs in their communities. To provide support, the Opportunity Finance Network (the national CDFI membership organization) structures peer learning networks and other capacity-building programs for its members. Led by Fabiani, these networks and educational programs are especially helpful for newer CDFIs who benefit from the expertise of those more established.
One of their partners, Healthcare Georgia Foundation (now the Georgia Health Initiative), is the only statewide private foundation in Georgia with a sole focus on improving health. In order to better serve CDFIs in Georgia, the Foundation approached OFN to coordinate a peer learning network where CDFIs could convene several times a year to contribute ideas, problem solve, and share best practices.
Fabiani sees a mutual benefit of this service for participating CDFIs as well as the Foundation: "What can happen is that those organizations can become stronger, more growth-oriented, and ultimately become even better partners for Healthcare Georgia to reach its goal of improving health outcomes in communities."
What's It Going to Take to Establish a Larger CDFI Presence in Rural Spaces?
CDFIs serving rural America face challenges accessing capital. Without capital, they can't grow. Without growth, they can't make more loans.
The Uplift America Fund is a public-private-philanthropic partnership, supported by coordinating partner OFN, that could be a model for more investment in rural CDFIs. Through this program, 20 CDFIs are using low-interest, long-term funding from USDA to finance rural community facilities, including health infrastructure ranging from midwifery centers to drug rehabilitation centers.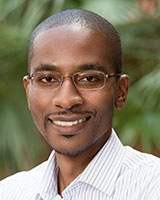 James Chatfield is the Chief Lending Officer of the South Carolina Community Loan Fund, a CDFI recipient of Uplift America funds. He emphasized that engaging people of all sectors at the community level, like municipalities and small business owners, is extremely important to expanding CDFIs' impact in rural spaces. "It takes a lot of boots-on-the-ground work meeting people where they are at," explained Chatfield.
Over the next year, the South Carolina Community Loan Fund plans to hold workshops in rural communities to foster these relationships and provide information about their services. From Chatfield's perspective, taking proactive measures to promote their financial opportunities and development services is essential. "That's doubly important because, not only do investment dollars not filter to these rural communities, sometimes information [about CDFIs] doesn't filter to these communities," Chatfield said.
Perhaps the opportunity for CDFIs to invest further in rural health endeavors will depend on commitments from investors. By including CDFIs in their portfolio, the Claude Worthington Benedum Foundation hopes to show national funders that rural communities are investable and will produce outcomes. "What [CDFIs] need is the credibility of foundations and lenders to say, 'We believe in you and we know there is a need," Tieman said. "It's amazing what a small amount of seed money can do for rural health."
Tieman encourages investors to take a chance on CDFIs because, not only will it come back, but a rural community will be improved because of it. "Here at Benedum Foundation, we believe in taking risks. We believe in investing in people and we believe that without this investment, we might never know how great you could be."