Capital Funding for Rural Healthcare
The ability of a healthcare facility to meet the needs of a rural patient population is directly related to the efficiency, size, and quality of the facility and its equipment. According to the 2008 Rural Hospital and Renovation Expansion Study, updated facilities and equipment impact the ability of a rural community to recruit and retain health professionals, improve patient safety, expand services, and increase satisfaction rates.
Capital funding sources allow for investment in healthcare infrastructure, including the construction, renovation, and expansion of rural healthcare facilities. The purchase and installation of major equipment and technology are also considered to be capital investments. Finding funding for capital projects is a major concern for many rural healthcare facilities.
Needs for healthcare capital are many in rural communities. As mentioned in Critical Access Hospital Replacement Process: The Manual, many small rural hospitals were built in the Hill-Burton era of the 1940s and 1950s. Faced with aging and inadequate infrastructure, hospital leaders must consider and undertake major capital projects such as renovation or replacement of the facility. In addition to bricks and mortar, capital projects may include patient redesign, which includes facility design elements and equipment needed to manage patient flow, enhance infection control, and reduce patient stress. In recent years, another pressing capital funding need has been the purchase and installation of electronic health records and telehealth systems, which can add significant hardware, software, implementation, and data compilation costs.
Successfully funding a capital project can require blending multiple sources and types of funding, including public grants and low-interest loan programs, as well as private sources such as foundations, local donors, and traditional lending sources. Blending funding sources can be especially effective for larger projects, such as hospital building and major renovations.
While there is a lot of complexity and many steps to acquire capital for a facilities project, it is critically important to start with an understanding of how the proposed project is connected to the changing healthcare needs of the community and the industry trends of population health. In addition to this kind of strategic planning, successful organizations plan up front regarding their debt capacity and operational needs. If needed, hiring a consultant or financial advisor early in the process can ensure that projects are feasible and planning dollars are spent wisely.
This guide brings together resources for running successful capital campaigns and provides information on current capital funding needs of rural hospitals, clinics, and other providers of healthcare services. This guide also lists federal, state, foundation, and community development finance funders that are interested in supporting capital projects.
Frequently Asked Questions
---
What types of low-interest loan programs are available to rural healthcare facilities for capital investment projects?
USDA Rural Development tends to be the most available capital resource for rural healthcare facilities. USDA offers programs that provide low-interest loans and grants for capital funding. A brief description of those programs is below. Contact your local USDA Rural Development state office or a USDA guaranteed lender to discuss which loan product is the best fit for the project. In many cases, the funding will include a combination of grant and loan products.
Useful USDA publications for planning and financing capital projects:
Small Business Administration (SBA): SBA has staff who focus on working with businesses in rural communities. SBA assistance includes:
7(a) loans for real estate, equipment, inventory, working capital, refinancing business debt, and purchasing a small business. (See the Lender Match tool)
504 Certified Development Company loans that provide competitive fixed-rate financing for purchasing/renovating real estate and buying heavy equipment for small businesses. (See the Local Assistance tool)
Microloans from $500 to $50,000 through a Microloan Intermediary to cover working capital, supplies, equipment, furniture, and fixtures. Businesses may also access free business counseling. (See the Local Assistance tool)
Small Business Development Centers offer individualized business counseling, training, and technical assistance for small businesses in their regions. Use the tool on the program page to search for assistance by zip code.
There may be other types of low-interest loan repayments offered at your state or local level — see Funding and Opportunities by Topic: Capital Funding. RHIhub also offers free customized funding searches — email info@ruralhealthinfo.org for assistance.
---
What are the major federal grant programs that support capital projects for rural healthcare facilities?
When healthcare facilities undertake a capital project that will require significant fundraising, grant programs can play an important part in achieving a monetary goal. While healthcare facilities are eligible for many grant programs, the majority of grants available are for programmatic costs and do not allow for purchases of major equipment, construction, renovation, or expansion. It is important to look for programs that specifically state that they will fund capital projects.
Here is a list of federal agencies that fund capital projects for rural healthcare facilities. Please note that the application cycles for these programs may or may not be open at this time.
Federal Agencies that Fund Capital Projects for Rural Healthcare Facilities
Program Name
Eligible Organizations
Maximum Amount
Funding Uses
USDA Rural Development
Community Facilities Direct and Guaranteed Loans and Grant Program
Public entities such as municipalities, counties, and special-purpose districts, as well as nonprofit corporations and tribal governments in rural areas with populations of up to 20,000
Grant Maximum: Up to 75% of the project cost
Loan Maximum: Up to 100% of appraised value
Construction, expansion, renovation, or equipment for essential community facilities
Economic Impact Initiative Grants
Public bodies, federally-recognized tribes, and nonprofit organizations in eligible rural areas
Up to 75% of eligible project costs. Grants typically do not exceed $25,000.
Development of essential community facilities in areas of extreme unemployment and severe economic depression
Rural Economic Development Loan and Grant Program
Local businesses, including healthcare facilities, can apply through local utilities in towns with a population under 50,000 residents.
Up to $300,000 for grants and $2,000,000 for loans
Construction, equipment
Administration for Children and Families (ACF)
Community Economic Development Projects
Nonprofit Community Development Corporations with or without a 501(c)(3) status. (May require a change or addition to the company's charter with regard to economic development)
$800,000
Expansion, construction
In many cases, this funding is tied to the number of jobs created.
Economic Development Administration (EDA)
Economic Development Assistance Programs
District organizations; Indian tribes; states, cities, or subdivisions of states; institutions of higher education; nonprofit organizations
$3,000,000
Infrastructure, including water, wastewater, telecommunications and roads projects which could strengthen healthcare facilities
There are many other funders that support capital projects at the state or local level — see Funding and Opportunities by Topic: Capital Funding. RHIhub also offers free customized funding searches — email info@ruralhealthinfo.org for assistance.
---
What is a loan guarantee and how can it help fund a capital project in a rural hospital or clinic?
A loan guarantee, or mortgage insurance, provides reassurance to a lending institution that if the borrower defaults, a third party (usually a government agency) will agree to pay some or all of the debt owed.
Rural healthcare organizations are more prone to face financial hardships than their urban counterparts and are therefore generally considered higher risks to lenders. Loan guarantees essentially boost the credit rating of a healthcare facility borrower because they provide security to the lending institution. Many federal and state agencies will provide loan guarantees, enabling healthcare organizations to have access to needed capital.
Federal programs that provide loan guarantees for rural healthcare facilities include:
In 2020, USDA launched the OneRD Guarantee Loan Initiative which is designed to increase private investments that improve the economy and quality of life in rural communities through several USDA guaranteed loan programs. Facilities looking for capital funding may seek lenders that provide USDA guaranteed loans or request that local lenders consider participating in the program. Lenders can consult the Lender Help Desk for tools, forms, and USDA contact information.
---
What is an Essential Community Facility and how can it help rural healthcare facilities access capital?
Essential Community Facilities is a term used by USDA Community Facilities Programs to describe the types of facilities it will fund. Essential Community Facilities must provide an essential public service to the local community which meets all of the following criteria:
Be a service that is typically provided by a local unit of government
Be needed for the orderly development of the rural community and considered a public improvement
Does not include private, commercial, or business undertakings
Must include significant community support
This source of capital can be useful to rural healthcare facilities because USDA considers Essential Community Facilities to include medical clinics, hospitals, assisted living facilities, police stations, fire and rescue stations, community centers, public buildings, transportation, schools, libraries, and childcare centers — facilities that are essential to the quality of life in rural communities.
---
What is the Community Development Block Grant (CDBG) Program and how can it help rural facilities?
The Community Development Block Grant Program is administered by the U.S. Department of Housing and Urban Development (HUD) and works to build strong and resilient communities through community and economic development activities. All CDBG activities must meet at least one of the national objectives: to benefit low- and moderate-income persons; aid in the prevention or elimination of slums and blight; or meet urgent community development needs.
CDBG funds have been used for the following types of projects, which could be beneficial for rural facilities and providers:
Infrastructure
Economic development projects
Public and community facilities
Public services
Housing rehabilitation
Neighborhood revitalization
Microenterprise (small business) technical and financial assistance
There are multiple CDBG funding programs that may be utilized for health and health-related capital projects in nonmetropolitan areas.
Useful CDBG resources:
---
Do foundations support capital projects?
Individual foundations have funding priorities which dictate the types of projects that they will consider. Most foundations typically like to be the "last in" on a capital project. That is, foundations will usually want all other funding secured, and then the foundation will come in with the funds to complete the project.
Examples of private foundations that list capital projects for healthcare facilities as a focus area include:
There are many other foundations that support capital projects at the state or local level — see Funding and Opportunities by Topic: Capital Funding. RHIhub also offers free customized funding searches — email info@ruralhealthinfo.org for assistance.
---
Can for-profit healthcare facilities apply for grant funds, or are only nonprofit organizations eligible?
There are several low-interest loan programs available to for-profit entities but, with very few exceptions, grant funds are only extended to nonprofit healthcare facilities, government entities, or tribal entities. Funders view grants as an investment in social good. Giving grant money to for-profit businesses is unlikely because that would be an investment in one particular individual or set of individuals who stand to monetarily gain from the ultimate success of a venture.
In rare cases, funders may consider a for-profit applicant if it has a strong social mission and is seen as a force for public good. It is important to read through all eligibility requirements prior to applying for funding.
---
What other avenues of funding are available to finance capital projects for rural medical facilities?
When funding a capital project, it is best to gain local support before approaching federal agencies or national foundations. National funders generally have more competitive processes with longer, more time-intensive applications. Many funders also have a matching funds requirement, which can be met by initiating a local fundraising campaign.
Rural communities have a distinct interest in seeing healthcare facilities remain in their area because of the community and economic benefits they bring. For information on demonstrating the economic impact healthcare facilities have on their rural communities, see our Community Vitality and Rural Healthcare guide.
Fact sheets, reports, and toolkits on federal financing resources and capital project planning and financing are available on Capital Link's publications page.
Community fundraising campaigns can be an effective way of raising funds with the proper strategy and a dedicated committee. Approaching organizations and individuals within the community can be helpful to achieving a successful fundraising goal.
Consider involving:
Local businesses and business organizations
Local locations of larger companies
Major employers
Schools, school boards, and post-secondary institutions
Chambers of commerce
Economic development organizations
Local human resources groups
Nonprofit housing developers
Local banks or lending institutions
Elected officials and city staff
Local CDFIs and community loan funds
Fundraising letters to individuals and businesses, special events, and planned giving are several strategies to achieving a fundraising goal. Local government agencies may also be able to award grants or loans, or assist in implementing a dedicated tax levy.
---
What is a Community Development Financial Institution (CDFI) and how do they help rural healthcare facilities?
Community Development Financial Institutions, or CDFIs, are financial institutions that have community development as their primary mission and that develop a range of strategies to address that mission. CDFIs provide comprehensive credit, investment, banking, and development services. Some are chartered banks, others are credit unions, and many operate as self-regulating, nonprofit institutions that gather private capital from a range of investors for community development or lending. CDFIs make loans and investments and provide basic financial and development services to people and institutions that, for various reasons, are unable to get these services from conventional financial institutions.
CDFIs get capital from many different places, such as private investors, public entities, and philanthropic organizations. CDFIs serve economically disadvantaged people and communities throughout the United States, such as affordable housing developers, small business owners, community groups, and other nonprofits or social service providers.
The U.S. Department of the Treasury CDFI Fund administers several funding programs that may benefit rural healthcare facilities:
The Opportunity Finance Network (OFN) is a national membership network of CDFIs that works to provide high-impact investments in distressed communities. OFN maintains a CDFI Locator tool that allows you to search for member CDFIs with service areas that match your location. A full list of certified CDFIs is available from the Treasury Department.
For additional information, the Rural Monitor article CDFIs 'Make Dreams Come True' by Creating Opportunity in Rural Spaces provides an in-depth look at CDFIs, philanthropy groups, and the impact they are making in the rural health arena.
Examples of CDFIs that have invested in rural healthcare facilities include:
---
What are some strategies for seeking out capital funding?
Seek out federal assistance:
Contact state and regional offices to discuss the project.

State USDA offices – Ask about grants, loans, loan guarantees, and Intermediary Relenders.

Contact technical assistance centers to request help.
Seek out local and regional assistance:
Search for commissions, authorities, and/or planning agencies in your state/service region. Ask about grant opportunities, revolving loan funds, training, networking opportunities, and ideas for potential funders. (Use Google to search for the key words "regional commission," "development authority," "metropolitan planning commission," and your state.)
Local/state level nonprofit resource centers – Search for association members of the National Council of Nonprofits. They typically offer in-person and virtual training opportunities and other resources on multiple topics relevant to nonprofit organization operations and fundraising. They may be able to point you in the direction of other funding and networking resources.
Businesses and corporate giving programs

Look at business directories for chambers of commerce in your retail catchment area. Search for national companies with a local presence, then look for corporate giving programs.
Corporations headquartered in the state – Ask about giving and community responsibility programs.

Look for community foundations that serve your area. Discuss the project and ask about grant funds and ideas for potential funders.
Search for other foundation funders – Contact local members of the Candid Funding Information Network. Begin your search with a focus on:

Foundations headquartered in the state
Foundations with a history of giving in the state/region
Work backwards – Look for organizations that are doing a similar project, and search for where they get their funding.

Look for banks and Community Development Financial Institutions (CDFIs) that focus on community development and serve your state.
---
What are some strategies for running a successful fundraising campaign for capital projects?
According to the National Rural Health Resource Center's manual, Raising Funds for Rural Health Care, it is important to:
Plan well by conducting a feasibility study, creating a budget, determining leadership for the campaign, and engaging a consultant.
Gain local support by forming steering committees, executing a marketing strategy, preparing a case statement, and soliciting donations from local donors.
Have a kick-off event in which you announce funding goals and advanced gifts, begin to solicit larger funding sources, and talk about how the project will impact the community.
The USDA Community Facilities Infrastructure Toolkit is another valuable resource that can be used to guide the capital fundraising process. The toolkit provides in-depth information on:
Concept development
Planning
Design
Environmental compliance
Financing the project
Construction
---
What is a capital stack, and how do you build one?
A capital stack is essentially the financial structure of a project – the building blocks that work together to fund a capital project. As shown in the image below, a capital stack may be made up of grants, government funding, conventional loans, subordinated loans, and different types of equity.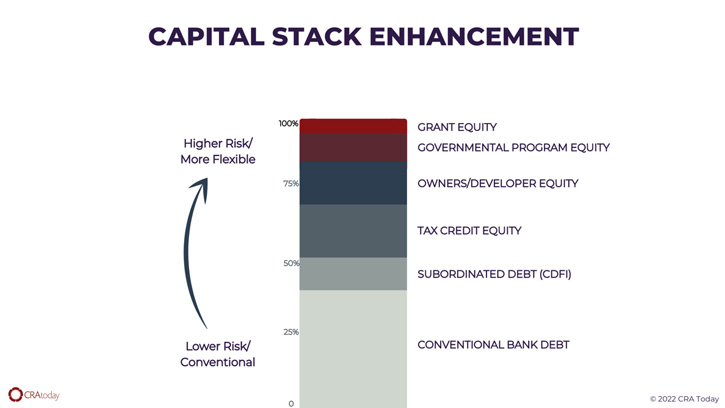 Rural facilities and health and human services providers may lack the capacity to build complex capital stacks. National intermediary CDFIs are in a good position to provide assistance in this area, as shown in the image below.
Intermediary CDFIs that may be able to provide assistance with building a capital stack include:
---
Are there funding programs that specifically support electronic health record implementation or telehealth projects in rural healthcare facilities?
In addition to the grant programs listed above, there are a number of funding programs that offer grants specifically for electronic health records, health information technology, and telehealth projects, including:
There may be other types of funding offered at your state or local level — see Funding and Opportunities by Topic: Capital Funding. RHIhub also offers free customized funding searches — email info@ruralhealthinfo.org for assistance.
---
What are State Health Facilities Finance Authorities, and how can they help with capital funding?
Many states have State Health Facilities Finance Authorities, which issue tax-exempt bonds and pool loans as well as other programs, such as capital planning assistance. Organizations with strong historical performance and/or with general obligation tax support can access "non-rated" bond financing.
For further information, contact your state health facilities finance authorities program. The National Association of Health and Educational Facilities Finance Authorities (NAHEFFA) provides a state-by-state listing of its member authorities. In most cases, an organization will need to hire a municipal advisor to work through a bond deal. For additional information, consult the Municipal Securities Rulemaking Board.