Mar 20, 2019
CDC as a Rural Resource: Q&A with Diane Hall
by Allee Mead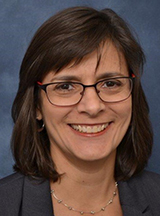 Diane Hall is a Senior Policy Analyst at the Centers for Disease Control and Prevention (CDC). With a background in school, community, and child clinical psychology and teaching, she understands the importance of knowing her audience and explaining information in a way that's most useful to them. She discusses CDC's work in rural health, the importance of data collection, and CDC's excitement for the upcoming NRHA Annual Rural Health Conference in Atlanta.
---
In 2017, the CDC released the Morbidity and Mortality Weekly Report (MMWR) Rural Health Series. What has been the national response to the series and what results have you seen within CDC?
First of all, pulling off that series required a tremendous amount of work and collaboration pretty much across all of the agency, and it was so great to see everyone coming together to be able to produce those 13 reports. We also had some other efforts with that series. There are webinars and policy briefs for several of them. We also did news releases, and some of the topics included accompanying journal editorials or opinion columns. It was a large communication effort to reach multiple audiences. As a result of that, many news outlets picked up the stories. MMWRs frequently get attention in the news outlets, but this was a great response, and we were really gratified to see that.
In addition, it got people at CDC thinking more about rural in a really critical way. We pulled together representatives from each of our centers to talk about the public health work that we're doing and to talk about specific issues, like how we can ensure that rural communities are represented in our funding announcements. So we put together a smaller group of folks to develop guidance for our program officers writing funding announcements. There is a team that provides help to program offices with their funding announcements. And now, one of the questions they ask is about rural considerations being taken into account. We also looked to see which of our datasets could easily be stratified by rurality, which is not an easy thing to do, but it was enough that it's got people starting to think about it routinely. For example, our injury center has an interface for datasets and they included a way to divide by metropolitan or nonmetropolitan.
What other work is the CDC doing related to rural health?
We've got some really creative projects going on. Some colleagues in our influenza division are working with 4-H on a project called "Influenza and Zoonoses Education among Youth in Agriculture" or "Youth in Ag" for short. CDC, the U.S. Department of Agriculture, and the Council of State and Territorial Epidemiologists (CSTE) are reaching out to rural youth and their families through 4-H to help educate them about influenza and any other diseases that basically can be spread between animals and people. It is part of CDC's One Health work, which focuses on the interconnections between people, animals, and the environment.
Then our folks in our immunization group are really interested in better understanding the fact that adolescents in rural areas aren't being vaccinated for HPV at the same level that we're seeing in non-rural areas. They're looking to do some research to figure out what's actually driving that difference. And our rural health portal website has some recommendations for providers to help address that.
CDC also funds 26 prevention research centers, and 8 of those are doing work in rural topics. And we also fund the National Institute for Occupational Safety and Health (NIOSH), which funds 11 centers to specifically focus on agricultural health and safety.
All the folks in my office who are working in rural said it's a labor of love, it's a lot of work. It's taken a lot of time to wrap our heads around understanding and considering all the complexities involved: 'How do we do this work? Who do we need to work with? How can we get information where it needs to go?' But we're really excited about this work.
All the folks in my office who are working in rural said it's a labor of love, it's a lot of work. It's taken a lot of time to wrap our heads around understanding and considering all the complexities involved: "How do we do this work? Who do we need to work with? How can we get information where it needs to go?" But we're really excited about this work.
Based on the CDC's research and work with rural health issues and disparities, what can be done to improve population health in rural communities?
As you know, a lot of research isn't done in rural areas, for a variety of reasons such as potential challenges in recruiting enough participants into a study. But that doesn't mean research in rural areas isn't possible. We are starting to do more research projects and evaluation of rural programs in chronic disease, infectious disease, and safety. One of the things I think we've effectively addressed is the automatic assumption that if it works in an urban or highly populated environment, it'll definitely work in rural. We do recognize that there are different features or aspects to rural communities that we need to consider.
One really nice example where we did that was antibiotic stewardship. CDC developed an antibiotic stewardship program for hospitals to follow and realized that those suggestions weren't necessarily going to be implementable in small or Critical Access Hospitals. So we worked with colleagues in other agencies and we were able to develop a separate document for small and Critical Access Hospitals to help them with their antibiotic stewardship program that would reflect the best science but also fit a rural context.
This year, the National Rural Health Association's Annual Rural Health Conference takes place in Atlanta, where the CDC is headquartered. How will the CDC be participating in this conference?
We're very excited that the NRHA Annual Rural Health Conference is going to be in Atlanta. We've been working really closely with NRHA as well as the Federal Office of Rural Health Policy (FORHP) in HRSA to collaborate on different types of activities. There'll be quite a few CDC presenters at the conference itself, and registered attendees will be able to come to CDC for what we're calling the CDC Experience. Different CDC centers will have stations set up with a variety of informational materials where conference attendees can engage with CDC staff. Right now we have 12 programs confirmed, and we're expecting to have more. It's going to be at our CDC Tom Harkin Global Communications Center, which serves as CDC's Visitors Center that also houses the David J. Sencer CDC Museum. People may not realize that the CDC has a museum; it traces the history of CDC as an agency but it also includes many really great displays on public health topics. Every time I go there, I learn something new.
We're also working really closely with the CDC Foundation, whose CEO, Dr. Judy Monroe, is very passionate about rural. CDC Foundation will be hosting a reception that will be part of the CDC Experience. We'll also have an exhibit table at the conference itself, and Dr. Redfield, CDC Director, is scheduled to provide one of the keynote addresses.
How can rural communities best use CDC as a resource?
One of the resources that CDC developed working on the MMWR series is a rural health portal – www.cdc.gov/ruralhealth – to specifically include information relevant to rural communities. It includes a link to the MMWRs, it includes links to policy briefs when those are available and, for a lot of the topics, there are suggestions for what folks on the ground might be able to do. In addition, our office developed a policy portal called POLARIS, and we have a rural page on there, where you can find all the policy briefs.
We also realized the importance of finding a direct contact in rural health at CDC, and so my office set up a specific email address: ruralhealth@cdc.gov. You can just send an email and we will direct it where it needs to go so people receive a response. CDC also has a variety of newsletters, and there's a section of our website to subscribe to different topics.
Sometimes, there's a disconnect between collecting data and applying data toward a practical solution. How do rural organizations and researchers bridge that gap?
There seems to be a continuum when it comes to data collection – on one end, an organization may want to collect every single thing they can think of. And then on the other end of the spectrum is almost this fear of data. But data's really, really critical to any type of programmatic effort because it's going to help with accountability. Presumably there are stakeholders involved in an effort and they want to know how their resources are being used. Collecting data will help with that.
Basic data collection can be pretty inexpensive and fairly easy to do. The idea is just to start getting some sort of numbers that will be useful to you.
It'll also help communities know if they're on the right track. As you're collecting your data, you're taking a look at it and you're making program improvements throughout the effort. And you can start small. Basic data collection can be pretty inexpensive and fairly easy to do. The idea is just to start getting some sort of numbers that will be useful to you.
One product that CDC released several years ago is a tool called EvaluACTION. The idea is that evaluation should be about taking action. The goal of the product was to demystify program evaluation and let people know that they could engage in evaluative activities that would be very beneficial to their programs. It uses the CDC evaluation framework and if you register on the website, you can actually start your own evaluation plan and you can save it, modify it, and share it.
Basically, collecting data is a way to tell your program's story. You use stories and anecdotes but you really want a more comprehensive picture of what your program's been able to achieve. And data will help with that. It also opens the door to different audiences. Some audiences will pay attention to the data; some audiences will pay attention to the individual stories. But the idea is to get a more well-rounded story about your program.
How can we all learn to better communicate through different methods like data and storytelling?
The point of our work is that it is applied to improve people's lives. And in order for it to be applied, you have to be able to communicate with multiple audiences. CDC produces scientific publications because that's part of the scientific process but we also have to get information out to the science community. We also have to get information out to the general public. We have a parents' portal and we have a lot of communicators at CDC who really help us fashion our message and tailor it to different audiences.
EvaluACTION is a good example of tailoring our product for our audience. Initially, it was going to be a training video. But you can't really train someone to do program evaluation after watching a video. Then we realized that wasn't what our audience needed to know. We didn't need to turn everybody into evaluators because there already are evaluators out there. So we talked with our grantees and listened to what they had to say. And what they shared with us is that they didn't see the value that evaluation data could bring to their work. So we changed our direction. It's all about tailoring the material to the audience. And EvaluACTION has received a lot of positive reviews since it launched.
Where can people learn more about CDC's work in rural?
There are two websites that are good places to start – our rural health portal and our policy portal.
The findings and conclusions in this report are those of the author(s) and do not necessarily represent the official position of the Centers for Disease Control and Prevention.
---
Opinions expressed are those of the interviewee and do not necessarily reflect the views of the Rural Health Information Hub.