Sep 19, 2018
EHR Interoperability: HIT Needs Across the Healthcare Continuum
Back to Making the EHR Work: Rural Healthcare Organizations Use Data Extraction to Improve Patient Care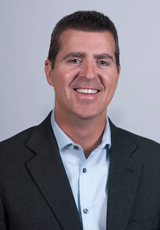 Harris Regional Hospital CEO Steve Heatherly says he believes that to really get at population health issues in the five North Carolina counties that his rural hospital and affiliated Critical Access Hospital (CAH) Swain Community Hospital serve, electronic health record (EHR) data needs to be shared with outpatient clinical providers in the area. His current estimates are that collectively about half of the local outpatient practices are on the hospitals' system, with the remainder using about 6-8 different EHR products.
"We haven't cracked the nut about having some kind of community repository that is easily accessible by various stakeholders," Heatherly says. "Though we do have a portal that any practice can go into, in terms of the seamless integration of information from the hospital to the outpatient environment where the greatest number of actual patient encounters occur, I would say there's ongoing challenges many of my colleagues are talking about much the same way I do. I think we are years away from solving this and it's going to take public policy intervention and funding around that component."
I think we are years away from solving this and it's going to take public policy intervention and funding around that component.
The ability to share EHR data across the healthcare delivery continuum is just one function of EHR interoperability. Defined by the Office of the National Coordinator for Health Information Technology (ONC), interoperability refers to a distinct arm of health information technology (HIT) and includes three specific functions. First, it involves the secure exchange of electronic health information without special user effort. Second, it "allows for complete access, exchange, and use of all electronically accessible health information for authorized use under applicable State or Federal law." Third, it prohibits specific information blocking, the act of "knowingly and unreasonably" interfering with the exchange and use of electronic health information. Earlier this year, promotion of interoperability was assumed by the Centers for Medicare and Medicaid Services with a goal of not just improving healthcare organizations' EHR interoperability but also improving patients' access to their health information. (Note: The Medicare EHR Incentive program, also known as the Medicare Meaningful Use program, has been renamed the Promoting Interoperability program.)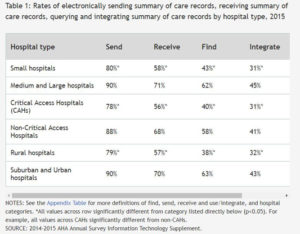 Focusing on interoperability in the acute care setting, the ONC published a brief based on data from the 2014-2015 American Hospital Association's Annual Survey Information Technology Supplement. Four HIT domains were examined: sending, receiving, finding, and integrating. The report highlighted that at least 75% of rural hospitals, small hospitals, and CAHs were electronically sending care summaries. However, reviewing collective interoperability around all four domains, those same hospital categories had about half the engagement rate at 15%, 18%, and 17% compared to suburban and urban hospitals at 34%.
Also highlighting the need for EHR interoperability across the healthcare continuum, Dr. Ryan Sandefer, the College of St. Scholastica's Department of Health Informatics and Information Management's former chair and now Assistant Vice President of Academic Affairs, points to a specific outpatient setting challenge: behavioral health organizations' interoperability needs.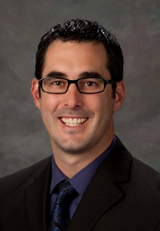 "We know this function is a major need," Sandefer emphasizes. "These organizations are underfunded, have limited resources for workforce, yet they have some of the most stringent requirements for reporting and tracking of their patient populations. If you're trying to coordinate care for a certain population and doing it outside of the bounds of inclusion of mental and behavioral health patient data system needs, then you're fighting a losing battle.
"To really address HIT for the healthcare continuum, the HIT workforce needs of organizations are this: a workforce cross-trained in any healthcare setting, with core competencies in key areas and not just adaptable to change, but able to lead change management. They need to be nimble and agile, regardless of the care setting. And they need to be outcome-driven and not for just one healthcare setting."