Kay Miller Temple, MD, Web Writer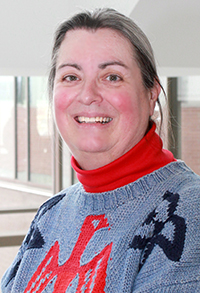 Kay Miller Temple has been a Web Writer for the Rural Health Information Hub since 2017.
Kay combines her expertise as a physician, her formal training as a journalist, and a rural perspective that comes from having grown up in rural America and continuing to return to her hometown. Kay writes original content for RHIhub's online magazine, the Rural Monitor. These stories — addressing rural-specific issues associated with complicated health conditions ranging from chronic obstructive pulmonary disease (COPD) to substance misuse to unintentional injuries and advance care planning — provide readers with in-depth information in a shareable web-based format. Kay also writes Models and Innovations.
During her nearly 30 years of practicing clinical medicine, Kay worked in a variety of rural and urban locations across the country doing locum tenens work, caring for patients in private practice settings, and also spending three months on the Greenland ice sheet summit working as the camp medic for a National Science Foundation project. During the last 15 years of her clinical career, she worked as a hospitalist at the Mayo Clinic's Arizona Campus. There, she led a variety of innovative projects, was a member of many administrative committees, and was chair of the organization's utilization management committee. In the latter position, Kay became aware of what she refers to as "the other half of medicine" — the policy-based rules and regulations of healthcare delivery.
Those administrative experiences made Kay realize a career change would allow her to more effectively write and speak about needed healthcare changes. She returned to the classroom and in 2013 received a master's degree in journalism and mass communication from the Arizona State University Walter Cronkite School of Journalism and Mass Communication.
In addition to her RHIhub content writing duties, Kay is a writing mentor to North Dakota medical students' Targeted Rural Health Education project, an invited speaker on rural health topics, a panelist for numerous rural health webinars, and a co-author of several rural-centric academic journal articles. She was a 2019 National Rural Health Association Rural Health Fellow and currently is on the board of directors for AgriSafe Network, a non-profit organization focused on health and safety of farmers and ranchers.
Kay received her bachelor of arts degree from Augustana University and her MD from the University of South Dakota. In order to provide comprehensive primary care to patients, she completed a combined residency in pediatrics and internal medicine and held board certification in both specialties. Later in her career, she also became board-certified in hospice and palliative care.
She ascribes her passion for rural health to growing up in rural South Dakota on the family farm that was homesteaded by her great-great grandparents. Kay says it was a nurse in her rural community and her own rural family doctor that inspired her to pursue a career as a physician.
Contact Kay at 701.777.6146 or by email at kay@ruralhealthinfo.org.