Jan 25, 2023
A Rural Therapist and School Program Address Teen Mental Health
by Allee Mead
Molly McCartney, MSW, LICSW, is a clinical social worker with a private practice in Thornton, West Virginia. McCartney recalls a recent active shooter threat serious enough to lock down a local school and send police officers into the building. After the incident, where thankfully no one was injured or killed, McCartney received calls not only from her own clients but from teenagers and families she hadn't worked with previously.
"I still to this day have teenagers that will bring that up and talk about how they felt when the doors were locked and cops were banging on the door," McCartney said. "They were genuinely in fear of their life."
McCartney, a certified trauma therapist who works with foster and adoptive families as well as biological families, has noticed an increase in stress and anxiety in her service area and pointed to a variety of contributing factors, including poverty, substance use (either the teenager or a family member), exposure to inappropriate content through technology, and threats of school shootings.
"I think that kids are being exposed to so much more information nowadays than they ever have been before. And there's just so much unrest in so many areas that it's confusing for them and stressful for them as well," McCartney said. "These younger generations, they have so much more to contend with than any of us older generations ever did, and we really can't understand it fully because we didn't have a lot of the things that they do now."
Health concerns and barriers to care
McCartney's observations of increased stress and mental health issues are supported by the data. In 2010, the suicide rate of rural teens was 6.3 per 100,000 people, which climbed to 8.8 in 2020. For comparison, the rate in metro areas was 3.4 per 100,000 in 2010, climbing to 5.9 in 2020. In addition, rural teens had a higher prevalence of behavior problems, anxiety, and depression than their urban counterparts. Fewer behavioral health providers practice in rural areas, making it harder for rural adolescents and their families to access services.
Some adolescent populations face higher rates of poor mental health than others. In 2022, KFF (Kaiser Family Foundation) reported that drug overdose deaths have increased from 2015 to 2020 among all racial/ethnic groups, but especially among Black and Hispanic teens. Suicide death rates also increased from 2010 to 2020 among all racial/ethnic groups, but American Indian or Alaska Native teens continue to have the highest suicide death rate and are over three times as likely to die by suicide than White teens. In addition, a 2021 Trevor Project research brief reported that LGBTQ+ teenagers in rural areas experience more discrimination and physical harm than their urban and suburban counterparts.
In rural communities, there's a misguided perception that living in a rural area is kind of bucolic for children. And the reality is that the stresses are similar around social media, isolation, poverty, and chronic conditions.
"In rural communities, there's a misguided perception that living in a rural area is kind of bucolic for children. And the reality is that the stresses are similar around social media, isolation, poverty, and chronic conditions," Jennie McLaurin, MD, MPH, FAAP, said.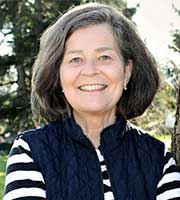 A Senior Fellow for Public Health Integration and Innovation at the National Association of Community Health Centers (NACHC), McLaurin identified workforce shortages and financial issues as two of the biggest challenges for rural teens trying to access mental healthcare. "There simply aren't enough trained behavioral health practitioners…there's just such a shortage of behavioral health clinicians and particularly those with expertise with youths," she said.
Telehealth can help connect rural teenagers to specialists in urban areas, but the behavioral health workforce shortage is nationwide. Broadband availability can also be a barrier to telehealth for some rural youth.
"The need is really great for more practitioners and for primary care practitioners to be trained in behavioral healthcare needs," McLaurin said. "They didn't get as heavy training in the behavioral mental health arena because the idea was that some other specialist would do that. But the reality is every primary care practitioner needs to be adept at the basics of behavioral healthcare."
Another Solution: Behavioral Health Services in Schools
Ammonoosuc Community Health Services (ACHS), a Federally Qualified Health Center with six rural locations in New Hampshire, established behavioral health prevention, diagnosis, treatment, and recovery as well as substance use prevention in the K-12 schools in its service area. The behavioral healthcare services address adverse childhood experiences (ACEs) and develop age-appropriate interventions.
A therapist typically comes to campus once a week. The presence of behavioral health services in a school setting helps to normalize student-to-student referral and discussions of mental health. In addition, parents don't have to leave work and students don't have to miss school to access services.
Student strengths and proactive approaches
McCartney discusses brain health with her clients, specifically how children's brains develop and function, to supplement her discussions of mental and emotional health. She also started participating in a training program using Neurosequential Model of Therapeutics (NMT), which assesses disruptions in development such as trauma, measures brain functioning, and recommends what types of therapies might be helpful for an individual child.
Her office used to be in a barn, with her office on the top floor and farm animals living on the first floor. This previous location is currently closed, but McCartney is rebuilding a new location. Clients of all ages have responded well to McCartney's farm animals, many of whom are rescues with special needs and/or histories of abuse and neglect. Sharing the animals' stories and letting the clients interact with the animals help clients feel more at ease.
McCartney, who accepts Medicaid, encourages her teenage clients to bring their own interests into therapy, such as music, writing, or art. When possible, she uses a team approach, where families, educators, healthcare (including mental health) workers, and the teenager work together on the client's mental healthcare. Involving the teen in this planning helps them "feel more in control and more empowered," she said.
A national program also incorporates adolescents' strengths and interests while proactively addressing their mental health. Sources of Strength, an evidence-based program available for schools and community settings, helps participants identify their own strengths, connect to caring adults, and encourage their peers to seek help. The program began in 1998 in partnership with rural and tribal communities in North Dakota. Today, 42 states have schools or communities that have Sources of Strength or are working to implement the program.
The Sources of Strength program in rural Clintonville, Wisconsin, began after school leaders examined local trend results from a Youth Risk Behavior Surveillance System survey that demonstrated alarming trends with students' suicidal attempts and ideation, lack of connectedness, belonging, bullying, and reports of anxiety. School leaders said they have noticed even higher rates of concern in all mental health areas since the COVID-19 pandemic.
Clintonville High School uses Sources of Strength as a guiding force to improve the climate among students and teachers. The advisors aspire to improve student morale and help teenagers feel seen and heard, teacher Carey Meyer said.
Suzette Fountain, school social worker, added, "It promotes healthy problem-solving, resilience skills, empowerment, and connections among students and staff."
Clintonville High School's Sources of Strength team includes three staff members: two teachers and a district school social worker. There are also 60 student peer leaders (out of a student population of about 400) and numerous community and school volunteers.
Sources of Strength programs work to recruit peer leaders from different groups across a school, including different demographics and interests. "We try to make sure that one person from each group of students that represent our school are in the program so they can hopefully spread the messages they learn from the group to help their friends and spread the word as much as we can," teacher Rebecca Schoenike explained.
Positive results
Sources of Strength program coordinators have surveyed the peer leaders to determine what they've learned. Students reported learning more about mental health and coping strategies, including how to share that information with others. They also appreciated feeling like they were making positive change in their school and realizing they have more in common with classmates than they previously thought.
Sometimes, students do not even realize this is a suicide prevention program. They think it is a fun group that spreads messages of hope, health, and healing throughout the school.
"Sometimes, students do not even realize this is a suicide prevention program," Meyer said. "They think it is a fun group that spreads messages of hope, health, and healing throughout the school."
One campaign was called "What Helps Me." Students wrote down on paper "feathers" what strengths they draw on when they feel angry, anxious, or depressed. These feathers were then displayed together to show a "wingspan" of strengths.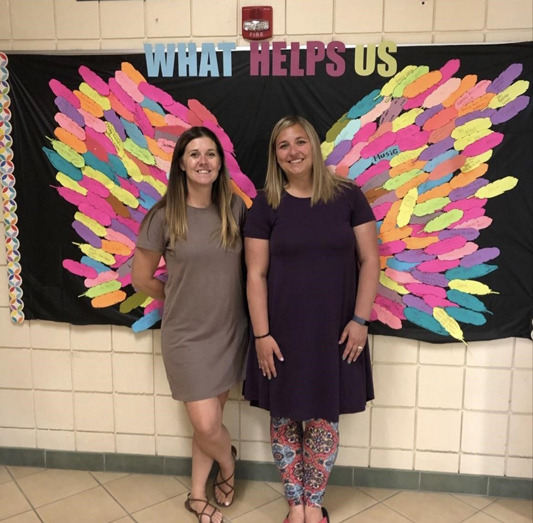 Brett Harris, DrPH, Senior Research Scientist at NORC, said the Sources of Strength program "goes a long way in reducing stigma and promoting help-seeking among students in schools across the country." As an upstream intervention, it can "reduce and hopefully prevent progression of mental health concerns that require more downstream care," which in turn can help reduce providers' caseloads, especially in rural areas.
I'm sure that there still is and probably always will be [stigma] to some extent, but these younger generations are getting much more comfortable with reaching out for mental healthcare and talking about it.
McCartney in West Virginia also reported decreased stigma. Teenagers in her service area have been exposed to more discussions of mental health than past generations. The public schools have worked into their curricula lessons about mental health and coping strategies. "I'm sure that there still is and probably always will be [stigma] to some extent," McCartney said, "but these younger generations are getting much more comfortable with reaching out for mental healthcare and talking about it."
Community strengths and resources
McCartney said that her service area has few resources, but "the resources we do have are very, very good." In addition, the area has "outside-of-the-box resources," which can be especially helpful to teenagers who are hesitant of or don't respond well to traditional talk therapy. Other types of therapy include occupational, physical, and music therapy and activities such as karate and yoga. "Kids do so much better when you're doing interactive activities," McCartney said.
Meyer in Wisconsin also said the rural community of Clintonville has limited geographical access to resources. However, she said that the community has a sense of pride in its schools, so the program coordinators find it easy to partner with different businesses and organizations for larger initiatives and for community support of the program.
Clintonville High School also partnered with ThedaCare Health, one of the main local health providers, which trained its staff to provide Sources of Strength training to schools in the service area and helped offset some of the program costs.
Lessons learned
Due to the success of the Clintonville High School program, the district has decided to expand the program to include a middle school version of Sources of Strength, according to Fountain.
At the beginning of the school year, program coordinators hold a daylong training: The three adult advisors meet with the trainers and then have a "lunch n learn" to educate the teachers about the program. The second half of the training teaches the program to the peer leaders.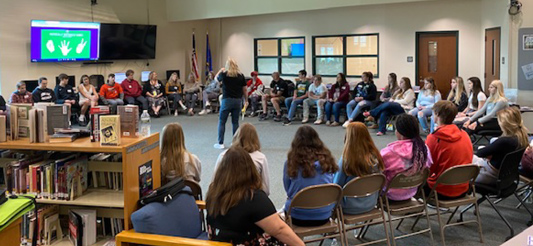 During the school year, Clintonville's team meets with all their peer leaders once a month. These students are often busy with other school activities, so Sources of Strength meetings are kept to 30 minutes. The program also has small-group meetings where students sign up for specific projects, and program coordinators stay in touch with peer leaders through email.
Program coordinators often use other Sources of Strength chapters as inspiration, going on social media to find new activities or campaigns to try. Meyer also recommended reaching out to the national Sources of Strength program for more information and with nearby chapters to collaborate.
The Sources of Strength website provides tips and guidelines on choosing adult advisors and recruiting peer leaders and has a Contact Us page for interested schools and organizations.
"We are also trying to get the community involved so that we can all have a common language in our everyday conversations with friends and families. Teens are not the only ones who deal with stress and suicidal thoughts — Everyone can benefit from this program," Meyer said.