July 26, 2017
Recognizing Telehealth's Full Potential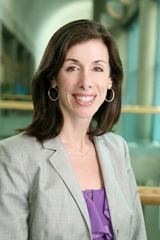 by Kristi Henderson, DNP, CFNP, CACNP, FAAN, FAEN, Vice President of Innovation and Virtual Care at Ascension's Texas Ministry
There are three primary areas that have hindered the adoption and utilization of telehealth thereby inhibiting its full potential impact.
First, our reimbursement models were structured prior to the introduction of telehealth, so in most cases the implementation of telehealth requires significant time to modernize payment policies that support the new model of care. Original policymakers didn't take into consideration what was to come in the future: telehealth and digital health. So at that time, why would someone have written policies inclusive of telehealth when it didn't exist or it wasn't mainstream? Payment policies and medical codes didn't take into account the latest advances in technology that allowed us to deliver healthcare in new ways. For instance, codes for the site of service, which are required for reimbursement, did not recognize our ability to deliver care in the home or the workplace via telehealth. Sites of service, for reimbursement purposes, are established health entities, not a home or workplace.  In addition to the site of service changes, the type of professional delivering care has changed.  Emerging health professionals are not recognized in reimbursement policies that could allow us to deliver services in a more efficient manner in combination with telehealth. Additionally, there was not a recognition of telehealth to facilitate multi-disciplinary care delivery. When we sought to provide a multi-disciplinary care delivery team via telehealth to manage complex patients, there wasn't a method to get paid for that, so it could not be sustained. Because the reimbursement model and associated health policies were not set up to support these changes, the adoption was slowed. Even a great care delivery model cannot be sustained without a solid payment model to support it.
There's an incredible amount of work occurring at the federal and state levels to address all of this. Now, there is enough data and case studies from across the country that show positive health and financial outcomes.
Second, many of the health policies and regulations, like credentialing and licensure, were outdated and needed to be modernized. An unintended consequence of these outdated health policies was the slowed adoption of telehealth. If a medical practice decides it wants to offer services via telemedicine to hospitals, the burden of having to get their providers licensed in multiple states and credentialed at multiple facilities is challenging. Additionally, the hospital bylaws often have to be revised to allow for telemedicine instead of in-person care. Implementing a compliant telemedicine program requires somebody with the persistence and stamina to champion policy revisions within hospitals, clinics and professional licensure boards that impede the use of telehealth. There's an incredible amount of work occurring at the federal and state levels to address all of this. Now, there is enough data and case studies from across the country that show positive health and financial outcomes. The first step to overcoming this barrier is to educate legislators, policymakers, and hospital CEOs on the positive impact of telehealth while providing patient outcomes data from telehealth programs.
The third area that has slowed the adoption of telehealth is the complexity of integrating telehealth into healthcare systems. To integrate telehealth, the pathways of work and communication must be redesigned and recreated in a digital environment while recognizing the patient and providers migrate between the digital health environment and in-person care. This last piece is hard work. The best comparison I can give is health systems implementing an Electronic Health Record. When it first came out, it wasn't adopted until financial penalties and incentive payments were presented, forcing the use of it. Even though people knew it would be better to have health records electronic, redesigning an entire system is extremely complicated and time intensive. It takes a multi-disciplinary team to conduct process mapping in order to understand how telehealth will affect the registration clerk, the billing company, the physician, the nurses, the case manager – everybody. It has to be integrated into the workflow of clinical operations and should make the workflow better for the healthcare team, as well as the patients. Then it will be adopted.