Use the Am I Rural? Tool to find out if a location is considered rural based on various definitions of rural, including definitions that are used as eligibility criteria for federal programs.
Learn about issues that impact rural health in RHIhub's Topic Guides. Recently updated:


Rural Emergency Preparedness and Response Toolkit
This NEW toolkit on Rural Emergency Preparedness and Response provides practical guidance, case studies, and resources to support organizations with disaster and emergency planning, response, and recovery efforts in rural communities across the United States.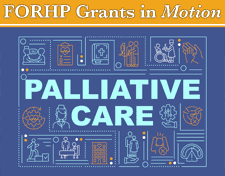 Increasing Knowledge of Palliative Care in South Dakota
Palliative care, designed to treat the symptoms of a serious illness at any stage of diagnosis, is associated with better outcomes like higher patient satisfaction. Despite these benefits, many people in rural communities cannot access these services or don't know what palliative care is. The South Dakota Palliative Care Network is working to increase knowledge of palliative care among rural healthcare professionals, nursing students, and community members.
New in the Online Library
Resource and Referral Service

Need help finding information? RHIhub can provide free assistance customized to your needs.
1-800-270-1898
info@ruralhealthinfo.org