Implementation of a Nursing Veterans' Initiative to Transform Education (INVITE)
Summary
Need: To support rural veterans pursuing a career in nursing.
Intervention: The INVITE program improved the curriculum and reworked admission requirements to better support veteran students' experiences in the College of St. Scholastica undergraduate nursing program.
Results: The number of veterans pursuing nursing has more than doubled since program implementation, and all students have reported an increased interest in serving rural communities.
Description
The College of St. Scholastica created a program called Implementation of a Nursing Veterans' Initiative to Transform Education (INVITE) to help veterans pursue nursing careers and provide needed care to veterans and other rural patients. INVITE reshapes the school's nursing curriculum by converting rural veterans' military experiences and skills into course credit when appropriate, initiating a cohort model (a group of students who progress through a program together) for clinical and lab experiences, and making sure all nursing students and faculty learn about rural and veterans' health issues.
Program coordinators partnered with the University of Minnesota Duluth ROTC program and the 148th Fighter Wing – Minnesota National Guard to help ROTC nursing students succeed in both the ROTC and nursing programs. The INVITE program received a 2016-2018 Health Resources and Services Administration (HRSA) Health Workforce grant. After the grant ended, the INVITE program has been absorbed into general operations and is now funded by the college.
Services offered
The INVITE program:
Revised admission requirements for veterans going into undergraduate nursing
Created a cohort model that incorporates and reflects students' military experiences
Established a study space/meeting room called the INVITE room, with technology that facilitates collaboration and telehealth in addition to the college's Veteran Resource Center
Revised the nursing curriculum so that all students learn about veterans' health
Employs faculty with military experience to provide clinical experiences, advisement, and academic support to students
Initiated a college-wide education video series for all faculty and staff, highlighting veteran community and rural veteran population health
Implemented an Interprofessional Care of the Rural Veteran Population course involving students from both the School of Nursing and the School of Health Sciences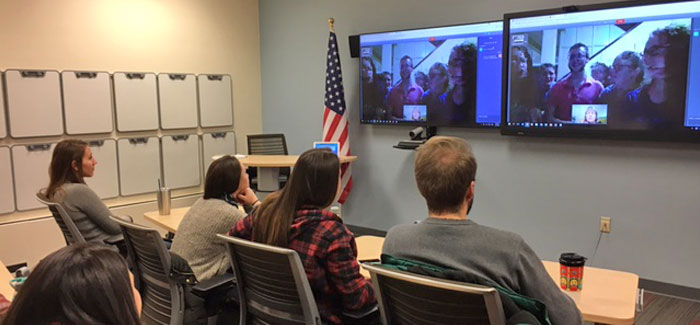 While completing the Veteran to B.S. in Nursing degree, students complete fieldwork (both in-person and telehealth patient care) at St. Luke's and St Louis County Veteran's Services in Duluth and Community Memorial Hospital in rural Cloquet.
Results
Under the INVITE program, the number of veteran students participating in nursing programs has increased over twofold, and most students have reported an increased interest in serving rural communities. Additionally, the program currently has a 96% retention rate of veterans completing their degree and passing the NCLEX-RN board exam. To date, 23 veterans have graduated from the program, and many are working in Minnesota and Wisconsin.
Challenges
The faculty and staff at the college embraced and supported this program from the beginning as did many community veteran organizations. The biggest barrier is making sure there are enough faculty with veteran experiences to advise and support the expanding student population.
Replication
Students continue to report that the most helpful aspects of this initiative are the cohort model, the INVITE room, and faculty support.
Contact Information
Greg White, DNP, APRN, Program Director & Associate Professor
Undergraduate Nursing Program, The College of St. Scholastica School of Nursing
218.723.6789
gwhite@css.edu
Topics
Health workforce education and training
Nurses
Veterans

States served
Minnesota, Wisconsin
Date added
May 15, 2018
Date updated or reviewed
August 10, 2023
Suggested citation: Rural Health Information Hub, 2023. Implementation of a Nursing Veterans' Initiative to Transform Education (INVITE) [online]. Rural Health Information Hub. Available at: https://www.ruralhealthinfo.org/project-examples/1008 [Accessed 7 December 2023]
Please contact the models and innovations contact directly for the most complete and current information about this program. Summaries of models and innovations are provided by RHIhub for your convenience. The programs described are not endorsed by RHIhub or by the Federal Office of Rural Health Policy. Each rural community should consider whether a particular project or approach is a good match for their community's needs and capacity. While it is sometimes possible to adapt program components to match your resources, keep in mind that changes to the program design may impact results.