Volunteers of America Southeast Louisiana's Stepping Stones Program
Summary
Need: Black women living with HIV in rural southeastern Louisiana face challenges in accessing care and other needed resources, often while dealing with other life stressors such as poverty, physical and mental health comorbidities, and a history of trauma.
Intervention: Implementing three evidence-informed interventions simultaneously ensures success in linking, treating, and retaining Black women in HIV care to improve health outcomes.
Results: As of February 2023, Stepping Stones has recruited 38 participants.
Description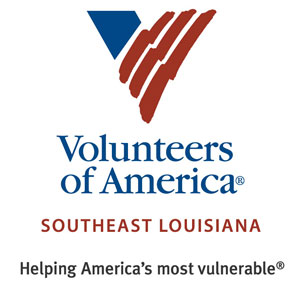 Volunteers of America Southeast Louisiana (VOASELA) is a 501(c)(3) organization with locations in the Southeastern region of Louisiana including the north shore of Lake Pontchartrain. VOASELA focuses on serving the needs of vulnerable populations including, but not limited to, the following: veterans, unhoused, disabled, and people with HIV.
VOASELA's Stepping Stones Program is one of 12 participating demonstration sites in the Ryan White HIV/AIDS Program (RWHAP) Special Projects of National Significance (SPNS) initiative "Improving Care and Treatment Coordination for Black Women with HIV," otherwise known as the Black Women First (BWF) Initiative. RWHAP is administered by the Health Resources and Services Administration (HRSA) HIV/AIDS Bureau. The Black Women First Initiative supports the design, implementation, and evaluation of bundled evidence–informed interventions for Black women with HIV. VOASELA's Stepping Stones Program focuses on improving the health of Black women with HIV in rural communities.
The Stepping Stones Program provides services to Black women with HIV who are newly diagnosed, have fallen out of care (not seen a provider in 6 months or more), never entered care, loosely engaged in care (have cancelled or missed 2 or more appointments in last 12 months), or have comorbidities that threaten their ability to be retained in care. The prioritized geographical area includes nine parishes: Jefferson, Orleans, Plaquemines, St. Bernard, St. Tammany, Tangipahoa, Livingston, St. Helena, and Washington.
Services offered
Stepping Stones delivers a bundled intervention, comprising of three evidence-informed interventions implemented simultaneously to ensure success in linking, treating, and retaining Black women in HIV care to improve health outcomes. Participants in the program can receive: (a) Enhanced Patient Navigation for Women of Color (EPN-WoC), (b) the Red Carpet Experience, and (c) Trauma Informed Care (TIC).
Enhanced Patient Navigation for Women of Color (EPN-WoC): Engages patient navigators to provide enhanced navigation services in tandem with case management standard of care services to reduce barriers to health care and improve health outcomes among women of color with HIV. These enhanced patient navigation services include assessing clients' barriers, needs, and acuity; developing a patient care plan in collaboration with the client; implementing structured educational sessions; providing referrals for needed services; providing support at medical appointments; and collaborating with the existing medical and case management team. The one-on-one educational sessions incorporate the following six self-management topics: HIV medications, medication adherence, lab values, managing stigma and disclosure, substance abuse and harm reduction, and mental health.

Program participants also engage with a peer facilitator (a Black woman with HIV) through individual sessions, six EPN-WoC group educational sessions and optional monthly support groups. Each of these options consist of an educational component and peer support. The one-on-one individual sessions with a peer facilitator give participants the opportunity to discuss disease knowledge and care topics that are personally relevant to them. Group sessions facilitated by the peer complement the main intervention by providing education and discussions based on the six EPN-WoC self-management educational session topics with the patient navigator and allows for the women to share their personal stories relevant to the topic so that they can learn from each other. The support groups provide an open forum for group members to discuss topics that are important and relevant to them.

Red Carpet Experience: The Red Carpet Experience is integrated in all aspects of the program, with patient navigators assisting clients with making appointments, providing appointment reminders, arranging transportation, and accompanying participants to medical appointments. Additionally, clients receive adherence packages consisting of various self-care items including but not limited to pill boxes, calendars, stress balls, exercise videos, affirmation cards, medical planner, gratitude journal, greeting cards, colored pencils, adult coloring books, and culturally relevant educational materials.
Trauma Informed Care (TIC): Stepping Stones utilizes a Trauma Informed Care model of care and practice that spans all aspects of programming. Staff participate in TIC trainings and participants are referred to providers who practice a TIC approach in delivery of services. The six principles of TIC that staff are trained in include 1) safety, 2) trustworthiness and transparency, 3) peer support, 4) collaboration and mutuality, 5) empowerment and choice, and 6) cultural, historical and gender issues. Using these guiding principles, the TIC approach is incorporated into Independent Service Plan planning and infused in the EPN-WoC educational components.
Results
As of February 2023, The Stepping Stones Program has recruited 38 participants, 79% of whom were referred by VOASELA's RWHAP. All clients have been retained in the program; however, one client passed away while enrolled. All clients completed baseline assessments, baseline acuity assessments, and service plans. Participant assessment completion is illustrated in Figure 1.
Patient Navigators have completed 1,050 encounters with the participants with an average of 28 encounters per participant. Twelve of the twenty (60%) participants enrolled for 12 months completed all six educational sessions and sixteen (80%) completed at least five.
The Peer Facilitator has completed 229 individual sessions with participants, 39 group education sessions, and 10 support groups. On average, there were 3 participants per group education session and each participant attended an average of three classes. Thirty percent of the participants enrolled for 12 months completed all six peer educational sessions; an equal percentage chose not to attend any of these sessions. Twenty-one of the 38 participants attended at least one peer support group. Of those who attended at least one peer support group, participants attended an average of three support groups with a range of 1-6. Client engagement is illustrated in Figure 2.
One-hundred and one adherence packages have been sent, with all clients receiving at least one. Six participants have received gas vouchers and 22 have received food assistance to meet their assessed needs as part of the Red Carpet Experience. All clients have received assistance with appointments including reminders and/or follow-up.
All Stepping Stones-VOASELA implementation staff (7) were trained in Human Subjects Research, HIPAA, Enhanced Patient Navigation for Women of Color Intervention, Motivational Interviewing, Trauma Informed Care, Cultural Humility and Implicit Bias, Trans-Equity, and Mental Health First Aid.
Challenges
Lessons learned throughout the intervention primarily stemmed from the challenges of providing services in a geographically rural and low-income setting.
The Program Director indicated that it was difficult to identify local, qualified staff to provide program services, in part due to the rural setting and the COVID-19 pandemic. Thus, additional time and resources were required to ensure participants had access to necessities such as housing, utilities, food, clothing, and urgent medical needs, so they could focus on HIV education and disease management.
Patient Navigators and the Peer Facilitator indicated that participants struggled to participate in program activities until other basic needs were met.
Virtual client services were implemented as a result of the COVID-19 pandemic. This required technical assistance to address lack of technological knowledge (for example, setting up Zoom for group sessions) and to obtain and manage Wi-Fi/hot spot connections. As a result, additional staffing hours were needed to troubleshoot these issues.
Some participants did not have access to mobile phones, computers, or Wi-Fi/hot spots. Therefore, in program Year 2, cell phones and data cards were added to the budget and provided to clients on an "as needed" basis to ensure participants could meaningfully engage in services virtually.
The initial program incorporated referrals to RWHAP case management for transportation assistance, which staffed a driver to transport participants to and from medical appointments. Additional transportation assistance in the form of gas vouchers was added to the program funding during Year 2 to accommodate a greater anticipated need.
Participants living in rural areas were impacted by stigma and isolation, likely exacerbated by COVID-19 to a greater extent than initially expected.
Replication
Staff members recognized how valuable virtual platforms were for the participants living in rural areas with transportation and child care needs; thus, the continuation of virtual services was used for the duration of the program and recommended for future projects in similar settings. Offering education-based or e-learning programs in a "self-led" style would allow participants to complete classes at their own pace and may further improve access to program services.
Per participant and staff interviews, participants greatly valued the social connectedness offered from both patient navigators and peer facilitators. Stepping Stones observed significant value and progress made when participants attended group sessions and established peer relationships. Staff reported that participants verbalized seeking guidance and encouragement from one another both within and outside of program activities.
Topics
Access
Black or African American
Chronic disease management
HIV and AIDS
Infectious diseases
The South
Trauma-informed care
Women

States served
Louisiana
Date added
February 16, 2023
Suggested citation: Rural Health Information Hub, 2023. Volunteers of America Southeast Louisiana's Stepping Stones Program [online]. Rural Health Information Hub. Available at: https://www.ruralhealthinfo.org/project-examples/1107 [Accessed 31 March 2023]
Please contact the models and innovations contact directly for the most complete and current information about this program. Summaries of models and innovations are provided by RHIhub for your convenience. The programs described are not endorsed by RHIhub or by the Federal Office of Rural Health Policy. Each rural community should consider whether a particular project or approach is a good match for their community's needs and capacity. While it is sometimes possible to adapt program components to match your resources, keep in mind that changes to the program design may impact results.