ASPIN's Certified Recovery Specialist Program
Summary
Need: Improved approach in addressing the behavioral health and primary care disparities of Indiana's underserved rural counties.
Intervention: A network was established that trained community health workers (CHW) to be certified health insurance enrollment navigators and provide mental health services.
Results: This year, ASPIN trained 61 CHWs, cross-trained 37 behavioral health case managers as CHWs, and 26 individuals in the Indiana Navigator Pre-certification Education.
Description
The Affiliated Service Providers of Indiana Network (ASPIN), a nonprofit behavioral health provider and education network, is the lead trainer for community health workers (CHWs) statewide through an e-learning format. With support from the Indiana Division of Mental Health and Addiction and the Indiana State Department of Health, ASPIN started a Certified Recovery Specialist (CRS) program that offers training for CHWs in insurance enrollment navigation, mental health delivery, and chronic care conditions through their Certified Community Health Worker Training Program.
Within their specified scope of practice, the work performed by CHWs and CRSs within community mental health centers is reimbursable through Medicaid Rehabilitation funds. Other healthcare providers can now also bill Indiana Medicaid for CHW services.
This program is funded by a Rural Health Network Development Grant and a Rural Health Outreach Grant from the Federal Office of Rural Health Policy (HRSA).

Services offered
ASPIN provides 3 training levels. Level One is a state-approved vendor for online and face-to-face CHW training. Level Two training involves CHW/Navigator training. Level Three includes training on chronic care conditions and some on-the-job experience.
Level One CHW training and certification provides:
Community Health Worker concentration – a 3-day in-person course or a 20-hour online course
Community Health Worker/Certified Recovery Specialist concentration – a 5-day course available to people in recovery from a mental health and/or substance abuse diagnosis
Addition of an endorsement to a CHW/CRS designation that targets recovery from a gambling or substance abuse disorder
Level Two ASPIN CHW/Navigator Network training provides:
ASPIN CHW training to become federal or state-certified navigators to serve 14 rural counties
3-day CHW training in rural areas via online training
8 hour Indiana Navigator Pre-Certification Training for the Indiana Department of Insurance (in-person or e-learning)
Continuing education courses approved by Indiana Department of Insurance through e-learning for rural sites
Level Three ASPIN CHW/ Navigator/Chronic Care training provides:
Level Four ASPIN CHW/Opioid Use Disorder & Substance Abuse Disorder training provides:
Community Health Worker concentration – a 3-day in-person course or a 20-hour online course
12 online modules on Opioid Use Disorder & Substance Abuse Disorder Scope of Work for CHWs
Job shadowing at a mental health facility (8 hours) and job shadowing at a local jail (4 hours)
Level Four is part of ASPIN's new Opioid Workforce Expansion Program and supported by HRSA
Results
Level One Training Results
(as of June, 2019):
511 active CHWs were listed in ASPIN's database, 229 of them are dually certified as a CHW/CRS
30 active CHW/CRSs have received additional training for a substance abuse endorsement, a gambling endorsement, or both
For current year, ASPIN has trained 15 CHWs
Level Two Training Results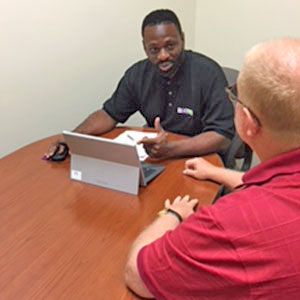 (as of June 2019):
Cross training of 228 behavioral health case managers as CHWs
Development of 9 Indiana Navigator Continuing Education courses taken by 386 individuals
201 individuals from 35 organizations trained in Indiana Navigator Precertification Education
Enrolled over 11,987 individuals in qualified health plans or Medicaid
Provided over 17,600 appointments to assist consumers with health insurance enrollment or health insurance utilization
Level Three CHW/Navigator/Chronic Care Training Results
(as of June 2019):
72 individuals completed the CHW training
41 individuals completed the chronic care program certification
34 individuals completed an optional job shadowing at a primary care and a mental health facility or work experience credit
More details about each CHW designation are available through ASPIN.
The Indiana Veterans Behavioral Health Network is also featured as one of RHIhub's Rural Health Models & Innovations.
Challenges
The diversity of stakeholders involved in building the CHW and Certified Community Health Worker curricula made it more difficult to come to a consensus in some areas. Stakeholders represented the following fields: academia, public health, the recovery community, state agencies, and field experts.
Consensus building was also a challenge due to the variations of CHWs throughout many healthcare specialties. There is not a national certification for CHWs, so each state defines their own state-specific policy.
Replication
The current curricula contains some elements that are Indiana-specific. However, module topics are easily adapted to other environments.
The curricula targets individuals seeking paid employment. Policies relating to participant selection, certification achievement, and retention are embedded within the program.
Funding combinations from state CHW certification programs and HRSA rural health grants provides a unique model for ASPIN's CHW training and implementation. Reimbursement for CHW services have been implemented at the state level, so those wishing to replicate this model should work closely with state Medicaid offices to assist with policy development and implementation. This CHW model has been presented to over 33 different states.
Topics
Behavioral health
Chronic disease management
Community health workers
Mental health
Networking and collaboration
Substance use and misuse
Veterans

States served
Indiana
Date added
March 18, 2014
Date updated or reviewed
November 18, 2019
Suggested citation: Rural Health Information Hub, 2019. ASPIN's Certified Recovery Specialist Program [online]. Rural Health Information Hub. Available at: https://www.ruralhealthinfo.org/project-examples/746 [Accessed 26 May 2022]
Please contact the models and innovations contact directly for the most complete and current information about this program. Summaries of models and innovations are provided by RHIhub for your convenience. The programs described are not endorsed by RHIhub or by the Federal Office of Rural Health Policy. Each rural community should consider whether a particular project or approach is a good match for their community's needs and capacity. While it is sometimes possible to adapt program components to match your resources, keep in mind that changes to the program design may impact results.