Scenic Bluffs Community Health Center Insurance Help Team
Summary
Need: To help inform western Wisconsin residents about their health insurance options under the Affordable Care Act.
Intervention: Certified application counselors provide assistance in outreach locations around the region.
Results: In the past year, more than 2,000 people received guidance on health insurance through this program, with 103 household applications completed.
Description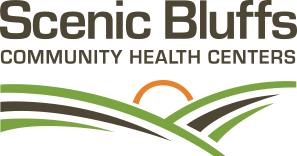 Scenic Bluffs Community Health Centers provides community-based primary care in western Wisconsin, serving rural residents including the isolated elderly, Old Order Amish, Medicaid dental patients, and Latino groups.
In order to help people in their service area learn how to get coverage and understand the health insurance options available under the Affordable Care Act, Scenic Bluffs undertook a coordinated health insurance outreach and enrollment program.
The health center employs 1 Certified Application Counselor (CAC), and 2 assistants who are referred to as the Help Team. They serve multiple roles in the health center, providing additional support to patients through referrals to social service agencies and assistance with prescription assistance programs.
The CAC helps with both Marketplace and BadgerCare enrollment. The Help Team offers services from its health centers in Cashton and Norwalk and at various outreach locations throughout Monroe and Vernon Counties.
The CAC targets the team's outreach to low-income residents, students (primary technical college students), Spanish speakers, and people accessing their healthcare services.
Services offered
Outreach and enrollment activities are ongoing but accessed at higher rates during the open enrollment season each year. Efforts that work well for Scenic Bluffs include:
Placing the CAC around the community on a regular schedule: libraries, healthcare, social services, food pantries, small businesses, and hospitals.
Publishing the calendar of outreach locations and sharing it widely.
Including a phone number for people to call and make appointments.
Ensuring that the CAC has access to adequate technology, including internet, printer, and photocopier.
Results
In 2018, Scenic Bluff's CAC processed and assisted 103 household applications for patients and community members. Help Team staff assisted more than 2,000 people with various enabling service needs.
Challenges
Those interested in starting a similar outreach program may want to consider these lessons learned:
The program had minimal success with enrollment events at computer labs. Near the end of the enrollment period, these had better turnouts, but early on, there was little interest.
Scenic Bluffs tried placing informational booths with staff around the community at off-hours, primarily at school sporting events. Not many people approached with questions at these venues.
The Health Insurance Marketplace website is extremely slow, which often leads to long wait times to enroll.
Retrieving lost usernames and passwords can be difficult because Marketplace does not give that information over the phone.
Procrastination to enroll will always be a problem. Early promotion should be a priority to help people get signed up on time.
Replication
Rural providers who want to help people find out about health insurance options should:
Gather information to become educated enough to identify people who should be accessing the Health Insurance Marketplace or Medicaid.
Be prepared to provide the information to patients.
Know where people can access a CAC and refer to that CAC.
Reach out to a local health center to inquire if they employ a CAC. Consider partnering and request their help at your healthcare site.
Topics
Benefit enrollment and application
Federally Qualified Health Centers
Health insurance

States served
Wisconsin
Date added
May 22, 2014
Date updated or reviewed
November 26, 2019
Suggested citation: Rural Health Information Hub, 2019. Scenic Bluffs Community Health Center Insurance Help Team [online]. Rural Health Information Hub. Available at: https://www.ruralhealthinfo.org/project-examples/752 [Accessed 28 September 2022]
Please contact the models and innovations contact directly for the most complete and current information about this program. Summaries of models and innovations are provided by RHIhub for your convenience. The programs described are not endorsed by RHIhub or by the Federal Office of Rural Health Policy. Each rural community should consider whether a particular project or approach is a good match for their community's needs and capacity. While it is sometimes possible to adapt program components to match your resources, keep in mind that changes to the program design may impact results.