Health without Borders
Summary
Need: To improve the health of communities in the south central region of New Mexico.
Intervention: A program was developed to specifically address diabetes prevention and control, behavioral healthcare, and immunization in Luna County.
Results: During the program, 1,500 immunizations were distributed, baseline measurements of participants improved, and 935 new patients were seen for behavioral health issues.
Description
The Health without Borders (HwoB) project was implemented by the Ben Archer Health Center (BAHC) of Luna County, New Mexico. The project is serviced through 2 of BAHC's clinics that are located in the village of Columbus and the city of Deming. Nearly 1/5 of Luna County is made up of first-generation immigrants, so language continues to be a barrier to getting education and healthcare. Only 11% of the population has earned a 4-year college degree or higher, and 1/3 are without health insurance.
At the start of the project, HwoB's goal was to improve access of coordinated healthcare and its overall effect on Luna County's residents. Based on the Comprehensive Public Health Management Plan for the Luna County – Palomas, Chihuahua Binational Corridor report, HwoB narrowed its efforts to diabetes prevention and control, behavioral healthcare, and immunization coverage. Contributors to the report were recruited to join in partnership with HwoB, along with the following organizations:
NM DOH Region 5/Deming LPHO
Binational Health Council
Southern New Mexico Promotora Committee
This project received support from a 2012-2015 Federal Office of Rural Health Policy Rural Health Care Services Outreach grant. After funding ended, the immunization, diabetes prevention and control, and behavioral health efforts have continued.
Services offered
Immunization
A 2011 community needs assessment discovered that there was a general lack of understanding about the safety of vaccines. Many of those questioned were unaware of their necessity, and healthcare providers were not recommending that patients get vaccinated. HwoB took action by sending promotoras door-to-door to offer vaccines on a personal level. They also held immunization events to promote awareness and offer immunizations outside of the clinic setting.
This RHIhub video gives a closer look at how HwoB delivers immunizations in Luna County.
Diabetes Prevention and Control
In 2009, diabetes was the 6th leading cause of death in the state of New Mexico and the 5th in Luna County. In response, HwoB:
Ran a diabetes prevention program for children called Just for Kids
Screened diabetic patients for depression using the Patient Health Questionnaire (PHQ-9) and gave referrals for behavioral health services
Organized home health parties for patients at risk of developing diabetes
Launched a community exercise campaign that included activities like the bicycle Ciclovia events to engage the community in healthy living practices
Hosted diabetes management and prevention classes for community members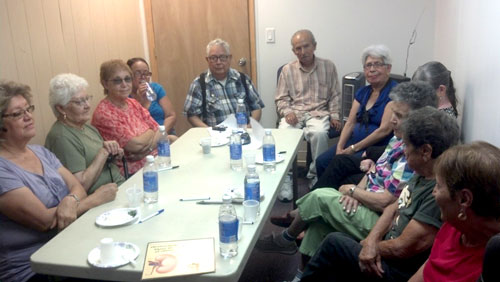 Behavioral Health
BAHC strives to use innovative approaches to meet the needs of the rural population along the U.S./Mexico border through these efforts:
Early Childhood Intensive Home Visiting
Mental Health First Aid
Circle of Security
Comprehensive Community Support Services (CCSS)
National Health Service Corps
Eye Movement Desensitization and Reprocessing (EMDR)
Integrated Primary Care and Behavioral Health
Telehealth
School-based services
Many people in Deming and Columbus have had a close family member murdered in border violence and have since developed Post-Traumatic Stress Disorder (PTSD). Below are steps HwoB took to address the effects of violence:
Results
Through the 3-year grant period, HwoB saw improvements in immunization, diabetes, and behavioral health in Luna County.
Immunization Results:
1,500 immunizations were administered
1,262 adults received flu and pneumonia vaccinations
200 diabetes patients were screened for depression
132 children received childhood and flu vaccines
After the initial grant funding period, the door-to-door immunization campaign was sustained through funds from the New Mexico Immunization Coalition and HRSA Maternal & Child Health, Healthy Start Program. The campaign was integrated into BAHC's Welcome Baby Healthy Start Program in 2015.
During the 2017-2018 campaign:
447 households received educational materials on immunizations and other health topics
117 vaccines were administered to children
206 immunization records were reviewed
749 chronic disease education classes provided to Luna County residents
Diabetes Prevention and Control Results: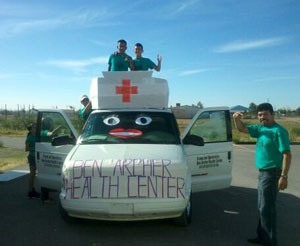 Baseline health measurements of patients improved, including Body Mass Indicator (BMI), blood pressure, and Hemoglobin A1C
Fruit and vegetable consumption increased
Participation in physical activity and strengthening exercises increased
From 2016-2017, BAHC staff provided 847 chronic disease education classes to Luna County residents.
Behavioral Health Results:
Overall use of behavioral health services throughout Columbus and Deming Counties increased
284 new behavioral health cases were seen at the BAHC in the year prior to the grant. During the grant period, 935 new patients were seen
The Health without Borders program is featured in RHIhub's Community Health Worker Toolkit.
Challenges
Providers had difficulty acclimating to the data entry methods required for the diabetic patient depression screenings
Technological challenges arose when aligning the clinics' electronic health records with the new depression screening procedure
Regularity and timeliness of appointments was difficult to maintain for binational, unemployed, or seasonal employees
There were often language barriers between English and Spanish speakers
The United States' multifaceted healthcare system made it confusing for Mexican immigrants who were accustomed to a more streamlined system
Due to poverty, patients had a hard time balancing the cost of preventive versus critical care. Unless services were subsidized or free, they tended to postpone clinic visits until an emergency deemed it necessary
Replication
Provide support and training to healthcare staff who are hesitant about adopting new electronic methods
Share data with your project's collaborative members in order to leverage funding and create sustainability for your program
Tailor non-traditional means to meet the needs of your community, such as HwoB's door-to-door immunization campaign
Topics
Behavioral health
Community health workers
Diabetes
Hispanic or Latino
Public health
Stress and stress disorders
U.S.-Mexico Border Region
Vaccination

States served
New Mexico
Date added
October 16, 2015
Date updated or reviewed
December 6, 2022
Suggested citation: Rural Health Information Hub, 2022. Health without Borders [online]. Rural Health Information Hub. Available at: https://www.ruralhealthinfo.org/project-examples/840 [Accessed 29 September 2023]
Please contact the models and innovations contact directly for the most complete and current information about this program. Summaries of models and innovations are provided by RHIhub for your convenience. The programs described are not endorsed by RHIhub or by the Federal Office of Rural Health Policy. Each rural community should consider whether a particular project or approach is a good match for their community's needs and capacity. While it is sometimes possible to adapt program components to match your resources, keep in mind that changes to the program design may impact results.