Project Lazarus
Summary
Need: To reduce overdose-related deaths among prescription opioid users in rural Wilkes County, North Carolina
Intervention: Education and tools are provided for prescribers, patients and community members to lessen drug supply and demand, and to reduce harm in prescription opioid use
Results: Opioid overdose death rates have decreased in Wilkes County
Description

Located in the Blue Ridge Mountains of North Carolina, Wilkes County is in the heart of a culture that lives in close-knit community that commonly shares their traditions and personal belongings, including self-medication practices and prescription drugs. This, among other reasons, has opened the door for substance abuse of opioids such as oxycodone, hydrocodone, fentanyl and methadone.
In 2007, Wilkes County experienced an average of 28.3 deaths per 100,000 people from unintentional drug poisoning. In 2009, the county's rates rose to be four times higher than other North Carolina counties (46.6 vs. 11.0 per 100,000 population). Deaths were mainly due to overdoses of opioids, pain relief medications that are used for both medical and recreational purposes.
The Wilkes County Health Department, along with other local organizations, responded to this problem by starting an opioid overdose prevention program called Project Lazarus. Though it began in North Carolina, it has since spread to 24 states as well as other military and tribal groups.
Project Lazarus empowers communities and individuals to do the following:
Prevent prescription medication overdoses
Present responsible pain management practices
Promote substance abuse treatment and support services
Partners of Project Lazarus include:
General community partners have included law enforcement, schools, hospitals, faith based organizations, human service agencies, behavioral and public health organizations, and substance abuse treatment facilities.
Project Lazarus is supported by a number of sponsors and grant funds and individuals, including:
Services offered
Project Lazarus connects communities to national and state resources, and assists with customizing prevention programs at the local level. Their program includes the following types of activities: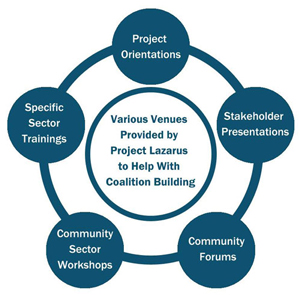 Educating and mentoring youth at school and community events
Resources for patients and families
Training and technical assistance to community groups, coalitions, and clinicians
Lazarus Recovery Services is a program of Project Lazarus that provides North Carolina Certified Peer Specialists to lead recovery support efforts.
In-person trainings and continuing medical education for prescribers
Toolkits that offer guidance to providers in the primary care, emergency, and care management settings; as well as provides information on community coalition building
Project Pill Drop medication disposal program and other community-based diversion control initiatives
Treatment and recovery resources and assistance on local levels
Harm reduction through access to naloxone, an antidote for opioid and heroin overdose. This naloxone training video was created by Project Lazarus:
Results
Since Project Lazarus began the program in Wilkes County:
The rate of overdose-related deaths has been reduced
A greater percentage of prescribing physicians have utilized pain agreements and a prescription monitoring program
There has been a 26% reduction in emergency department visits related to substance use/abuse within North Carolina counties that have implemented and embedded the Project Lazarus model
Unintentional overdose deaths in Wilkes County have decreased by 69% from 2009-2011 and are continuing their downward trajectory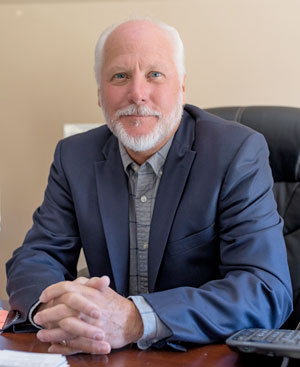 Awards and Recognition
:
Research, publications, and interviews relating to Project Lazarus:
Project Lazarus is also featured in RHIhub's Rural Prevention and Treatment of Substance Abuse Toolkit Program Clearinghouse.
Challenges
Social determinants to addiction, including unemployment rates, poverty, trauma, and depression
Funding/community personnel
Lack of public transportation in rural areas
Patient access to providers and treatment for pain and addictions
Depending on location, state-by-state laws may impact protections and access to naloxone.
Replication
Project Lazarus operates through the following organizational structure designed to be replicated in any community:
The steering committee is the group of liaisons that sustains the ongoing work of Project Lazarus.
Stakeholders are the decision makers from key sectors that assign resources, personnel, and finances to the project.
The coalition is formed by stakeholders who designate a variety of people from each sector to be involved in Project Lazarus.
The community is the aim of the project's educational and serving efforts.
Project Lazarus outlines activities through training and technical assistance that are made to be replicated in other communities.
The Project Lazarus Model, a more specific form of their public health model, has 3 core components (the hub) that must always be present, and seven methods (the spokes) which are adapted based on the specific needs of a community.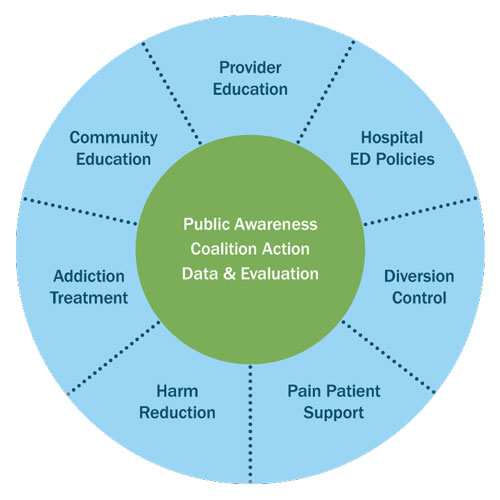 View more at Lessons Learned from Implementing Project Lazarus in North Carolina, a white paper based on webinars which summarizes key principles learned from implementing Project Lazarus.
Topics
Appalachia
Pharmacy and prescription drugs
Prescription drug misuse
Substance use and misuse

States served
National/Multi-State, North Carolina
Date added
December 11, 2015
Date updated or reviewed
November 1, 2021
Suggested citation: Rural Health Information Hub, 2021. Project Lazarus [online]. Rural Health Information Hub. Available at: https://www.ruralhealthinfo.org/project-examples/870 [Accessed 6 December 2022]
Please contact the models and innovations contact directly for the most complete and current information about this program. Summaries of models and innovations are provided by RHIhub for your convenience. The programs described are not endorsed by RHIhub or by the Federal Office of Rural Health Policy. Each rural community should consider whether a particular project or approach is a good match for their community's needs and capacity. While it is sometimes possible to adapt program components to match your resources, keep in mind that changes to the program design may impact results.