Medical Legal Partnership of Southern Illinois
Summary
Need: Legal barriers often prevent economically disadvantaged people in Southern Illinois from obtaining positive health outcomes despite receiving medical care.
Intervention: The Medical Legal Partnership of Southern Illinois (MLPSI) was formed to create a system where medical providers can refer patients in need of legal assistance to local attorneys.
Results: Over 5,100 patients have utilized MLPSI since its founding in 2002. The program has relieved over $8.1 million in medical debt for both hospitals and patients.
Description
The Medical Legal Partnership of Southern Illinois (MLPSI) is a combination of legal aid and healthcare to improve low-income patients' situations by addressing their social determinants of health. Attorneys and paralegals work with healthcare professionals to offer services to economically disadvantaged people in impoverished rural Southern Illinois counties that are designated Health Professional Shortage Areas (HPSAs) and Medically Underserved Areas (MUAs).

This collaborative effort was originally formed in 2002 between Southern Illinois Healthcare (SIH) (the largest healthcare provider in Southern Illinois) and Land of Lincoln Legal Aid (formerly Land of Lincoln Legal Assistance Foundation), a nonprofit organization.
Because MLPSI serves rural residents of Southern Illinois, their method differs than that of urban medical legal partnerships (MLPs). The variety of services provided by the number of legal professionals is the main difference. In a city, 1 MLP may specialize in a single population only (like pediatrics or geriatrics), but, like many other rural MLPs, MLPSI's services cover all ages, populations, and specialties.
Partnering healthcare professionals are trained to identify the potential need for legal intervention for their patients. Referrals made to MLPSI come mainly from the following partners:
In addition to Land of Lincoln, a variety of other legal professionals assist MLPSI in their advocacy for patients. Law students from Southern Illinois University School of Law, in-house case workers, and independent attorneys donate their time and expertise. MLPSI consults with the National Center for Medical-Legal Partnership and MLP Illinois (a collaboration of Medical Legal Partnerships located in Illinois) for further education, resources, and support.
The projected annual cost to run MLPSI is $232,158, which pays for legal services, project coordinators' salaries, paralegal-intake specialist's salary, and travel. The partnership is a joint venture between SIH and Land of Lincoln.
Services offered
Below are the primary ways MLPSI serves patients, outlined with the acronym I-HELP:
| | |
| --- | --- |
| | Income – Assists in appealing denials and/or terminations of food stamps, cash assistance, Medicaid, income support, public benefits, and social security disability. Provides advice and representation regarding consumer debt. |
| | Housing & Utilities – Secures housing subsidies, improves substandard conditions, prevents evictions, protects against utility shut-offs, provides foreclosure defense. |
| | Education & Employment – Secures educational services. Assists in the expungement and sealing of criminal histories to remove barriers to employment. |
| | Legal status – Clears criminal/credit histories, power of attorney, wills, and end-of-life documents. |
| | Personal & Family Stability – Secures orders of protection for domestic violence cases, divorce, and guardianship for children; assists with other family legal situations. |
Results
Over 5,100 patients have utilized MLPSI since its founding in 2002. This has resulted in more than 6,800 individual cases because patients often have more than one legal issue. Some of the partnership's largest accomplishments include the following:
Secured 2 healthcare partners (SIH and Shawnee Health Services)
Acquired a referral network of over 230 people from over 20 sites
Provides ongoing training for medical staff of these sites on health harming legal needs and their remedies
Relieved over $8.1 million in medical debt for both hospitals and patients
Developed systematic tracking method of socio-legal outcomes and projected health impacts
The MLPSI return on investment (ROI) model has been used as a national model for sustaining MLPs
MLPSI helped to establish new MLPs across the state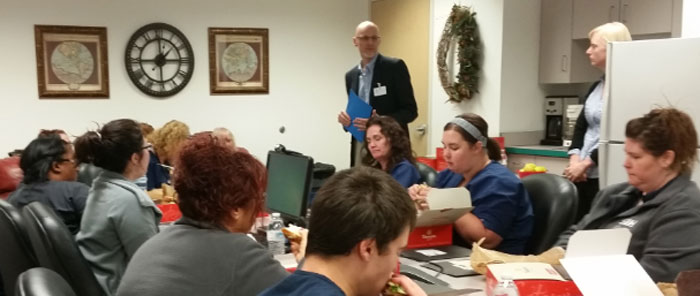 Read more about medical legal partnerships and their involvement in rural communities in the RHIhub Rural Monitor's Bringing Law and Medicine Together to Help Rural Patients. Other publications include:
Teufel, J., Brown, S., Thorne, W., Goffinet, D., Clemons, L. (July, 2009). Process and Impact Evaluation of a Legal Assistance and Health Care Community Partnership; Health Promotion Practice, (10)3, 378-385. Article Abstract
Teufel, J.A., Werner, D., Goffinet, D., Thorne, W., Brown, S.L., & Gettinger, L. (May 2012). Rural Medical-Legal Partnership and Advocacy: A Three-Year Follow-up, Journal of Health Care for the Poor and Underserved, 23(2), 705-714.
Teufel, J., Goffinet, D., Land, D., Thorne, W., (March, 2014). Rural Health Systems and Legal Care: Opportunities for Initiating and Maintaining Legal Care After the Patient Protection and Affordable Care Act, Journal of Legal Medicine, (35)1, 81-111.
Awards and Recognitions:
In 2012, MLPSI was honored by the National Center for Medical-Legal Partnership as Outstanding MLP of the Year.
Challenges
Since medical and legal practices are very different from one another, joining the cultures for this partnership was a challenge. Below are some additional barriers MLPSI encountered when setting up and administering their services:
Establishing a payer source in order to start the program. Financing their services through public means, like Medicaid, was complex and not a viable option for sustainability.
The time it took to train the medical providers in the benefits of the legal program and obtaining their buy-in. Once the providers saw success in their referrals, interest in referring more patients increased.
Communicating the value of MLPSI's services to their partners. One way they did so was encouraging medical providers to attend the Annual Medical-Legal Partnership Summit. Surprisingly, there was more willingness from the providers to commit to several days of training rather than a few hours in the middle of their busy weeks.
Receiving referrals for services that the Land of Lincoln Legal Assistance Foundation does not actually offer to patients. Specific training regarding this topic has helped to increase appropriate referrals and decrease inappropriate ones.
Replication
MLPSI shared key principles they learned through the process of setting up a successful MLP operation: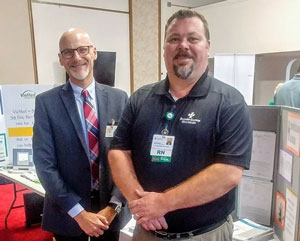 Consult with other Medical Legal Partnerships to get pointers as to how they set up their programs.
Because it is more common for a legal firm to seek out a medical partner, it is important to find the right healthcare partner in the correct way. Some facilities may have a community benefits department that would be more willing to help establish and work with the Medical Legal Partnership.
The National Center for Medical-Legal Partnership can be a valuable resource. Their national MLP conference is also open to both medical and legal professionals, offering help and teaching to varying degrees.
Investigate if your state has its own task force as a way to collaborate with other medical legal partnerships. MLPSI is a part of an Illinois task force, MLP Illinois, that meets monthly via phone for brainstorming and sharing of ideas.
With success comes growth and an increased need for time management. When MLPSI first started, they were small - only focusing on 1 healthcare clinic. Through their partnerships, they now provide service to more than 20 healthcare sites, employing more than 4,700 people. Since it is impossible to train each person, MLPSI strategizes and prioritizes the training of their partners by first evaluating the health harming legal needs of the area. From there, they cater their training efforts to the staff that have traditionally been handed these patients, rather the case management/social work staff.
Tools:
MLPSI created the SIH Medical Group Medical Legal Partnership Referral Form for their referring partners.
With a reputation for building a successful ROI model, MLPSI has recently strategized how to show inherent value for quality instead of quantity. Their new system the "CHART-IT" framework (Capturing Health - An Attorney Reporting Tool for Impact Tracking) evaluates 16 project health impacts that can be addressed through legal aid. They are divided into the following 6 categories:
Increased Access to Care
Improved Physical Environment
Improved Health Literacy
Mitigated Low Income and/or Food Insecurity
Reduced Systematic Healthcare Costs
Reduced Stress/Improved Mental Well-Being
The Medical Legal Partnership of Southern Illinois CHART-IT White Paper further explains the framework.
For more tools like these, visit the MLPSI Resources page.
Topics
Housing and homelessness
Human services
Income support and assistance
Networking and collaboration
Self-sufficiency
Uninsured and underinsured

States served
Illinois
Date added
October 14, 2016
Date updated or reviewed
July 21, 2022
Suggested citation: Rural Health Information Hub, 2022. Medical Legal Partnership of Southern Illinois [online]. Rural Health Information Hub. Available at: https://www.ruralhealthinfo.org/project-examples/929 [Accessed 7 June 2023]
Please contact the models and innovations contact directly for the most complete and current information about this program. Summaries of models and innovations are provided by RHIhub for your convenience. The programs described are not endorsed by RHIhub or by the Federal Office of Rural Health Policy. Each rural community should consider whether a particular project or approach is a good match for their community's needs and capacity. While it is sometimes possible to adapt program components to match your resources, keep in mind that changes to the program design may impact results.