Oct 19, 2016
Bringing Law and Medicine Together to Help Rural Patients
by Allee Mead
Renee* was desperate to find a way out of her abusive marriage. But, knowing her husband was monitoring her every move, she could not visit the community's Legal Aid office to seek help for herself and her children. So she went to the dentist.
Renee confided in the Northern Dental Access Center's on-site attorney, who helped her plan a safe escape. She later told the center, "When I saw that there was an attorney available while I was at the dental office, I could finally ask for help and feel safe."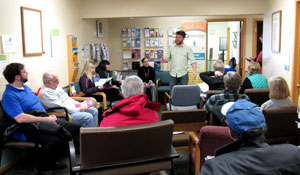 The nonprofit Northern Dental Access Center teamed up with Legal Services of Northwest Minnesota in 2015 to provide free legal advice to low-income people with health-harming legal needs. This medical-legal partnership (MLP) in Bemidji, Minnesota, is the first MLP within a dental clinic setting.
In addition to one-on-one consultations, the Northern Dental Access Center also offers "Know Your Rights" chat sessions that anyone in the community can attend. Each session focuses on legal issues such as consumer rights or public benefits. At the end of a session, attendees receive a wallet-sized guide so they can take the information home and share it with others.

Health-Harming Legal Needs
According to the National Center for Medical-Legal Partnership, a health-harming legal need is "a social problem that adversely affects a person's health or access to healthcare, and that is better remedied through joint legal care and healthcare than through healthcare services alone. It is a type of social determinant of health."
Much of a person's health is determined by environmental and social factors such as housing or access to healthcare. The average low-income individual deals with two or three health-harming legal needs at a time.
In traditional healthcare settings, a doctor may refer a patient to legal services. But the technical language in law and medicine can be difficult for the patient to understand, and he may spend precious time and money commuting between the doctor and lawyer. And the doctor may never know if the patient receives the help he needs.
A medical-legal partnership allows healthcare providers and lawyers to work together much more closely, as paralegals and public interest lawyers are brought into the healthcare setting. In an MLP, the patient can receive medical and legal advice in the same place.
Health and Law: Then and Now
Law has been shaping public health for centuries, most commonly as quarantines and food safety policies. According to Jill Krueger, director of the Network for Public Health Law – Northern Region, public health law had a focus on sanitation and infectious disease control from roughly 1850 to 2000.
The next emphasis came after September 11, 2001, as public health law focused on emergency preparedness for terrorist attacks and, later, natural disasters after Hurricane Katrina in 2005.
Some would say that law is the most powerful social determinant of all because it touches all of us.
While these emphases have not disappeared, the current era of public health law has a new focus on social determinants of health.
"Some would say that law is the most powerful social determinant of all because it touches all of us," explains Ellen Lawton, Co-Principal Investigator and Lead Research Scientist at the National Center for Medical-Legal Partnership.
Bringing lawyers onto a healthcare team began in the 1960s, as Jack Geiger (link no longer available) helped found the community health center movement. At the first community health center in Mississippi, Geiger hired a lawyer to help low-income patients solve legal problems that affected their health.
In the 1980s, the nation was hit hard by the HIV/AIDS epidemic. To fight legal discrimination and treat their patients, HIV/AIDS clinics needed help from lawyers in how to best care for all aspects of their patients' health and well-being.
The first medical-legal partnership began at Boston Medical Center in the mid-1990s. Lawton was a lawyer hired to be part of the healthcare team made up of physicians, nurses, and social workers.
In the wake of the Affordable Care Act, social determinants of health are at the forefront of discussions, as healthcare providers are working to address the many factors that affect their patients' health. The two most pressing concerns, according to Lawton, are housing and public benefits.
Strengths and Concerns in Rural Areas
Housing and public benefits are concerns that affect rural and urban locations alike, but the problems and solutions may be quite dissimilar. Krueger explains, for example, that access to food might look different in rural communities. Rural communities tend to have fewer businesses – and fewer places that accept WIC or SNAP benefits – than urban areas. Some rural communities may have to apply for government loan programs to keep their only grocery store in business.
"In a rural area, MLP attorneys cannot be as specialized as those in an urban setting," says Diane M. Goffinet, Senior Supervisory Attorney at Land of Lincoln Legal Assistance Foundation, Inc. Urban MLPs may have one lawyer or paralegal per department in the hospital or clinic, while rural MLPs may have a single employee.
However, Lawton reminds us of the strengths of rural communities. Smaller communities offer the opportunity for healthcare providers and lawyers to not only know of each other, but they also have a better understanding of their patient-clients' needs and situations. Lawton explains, "You know the community's resources very well. The gaps are easily identifiable – as are the resources, because there are so few of them!"
You know the community's resources very well. The gaps are easily identifiable – as are the resources, because there are so few of them!
Medical-legal partnerships, according to Lawton, are an effective way to address health-harming legal needs in rural communities: "One of the most powerful facets of medical-legal partnership is its adaptability to local conditions." MLPs work with whatever a community might have to offer. For example, a rural community might not be able to launch a whole new program with full-time staff, but the community could bring a lawyer onto its healthcare team part-time.
Triple Benefits of MLPs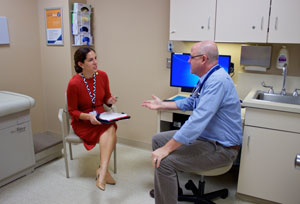 Lawton describes three types of benefits that patients receive through medical-legal partnerships. First, patients often find their stress levels reduced, thanks to an MLP. For example, if a patient's electricity is shut off due to late payments, yet she needs to refrigerate her medication, a legal team can help her set up payment plans with utility companies. Now the patient would not have to worry about her health or her bills, and her stress level is reduced as a result.
Second, patients become more engaged in their care. As patients begin to feel more control over their lives – as they receive needed public benefits or learn that they won't be evicted – they can begin to feel more control over their health as well.
Finally, patients' health has been shown to improve. Small-sample studies have recorded patients experiencing fewer asthma symptoms after legal intervention. Plus, reducing stress and feeling more in control of one's health can increase a patient's level of health and well-being.
Ideally, patients benefit because they never become patients.
"Ideally," Krueger says, "patients benefit because they never become patients."
Medical-legal partnerships are opportunities for lawyers as well. Traditionally, public interest lawyers work reactively: They wait for a client to enter their offices and raise a legal concern. According to the Legal Services Corporation, there is one legal aid lawyer per 6,500 low-income people. In some parts of the country, this number jumps to one lawyer per 13,000 low-income people.
Medical-legal partnerships allow patient-clients to meet with lawyers and address their legal concerns more quickly. Lawyers might be able to "prevent an eviction rather than react to an eviction," explains Lawton. And a more efficient system allows public interest lawyers to help more people.
Krueger loves learning more about healthcare professionals' specialties, as she works with epidemiologists and infectious disease specialists. Working with specialists in other disciplines allows her to see the world through more diverse perspectives and collaborate on developing policies to create healthier environments.
Medical-legal partnerships equip healthcare providers with the tools they need to address health-harming legal needs. For example, a lawyer on the healthcare team can help a patient sign up for needed public benefits while the provider can focus on the patient's physical health.
Looking Ahead
Lawton and Krueger see the future of addressing health-harming legal needs as data-focused. Data about a community can help those in healthcare and public health determine what that community's specific needs are and how best to address them. Plus, data can help show policymakers how prevalent a problem is and why certain changes need to be made.
MLPs, Lawton predicts, will move away from "a grassroots kind of partnering to a more structured partnership that collects data." In addition, this new type of partnership will require and provide standardized training and establish more investment in order to better connect patients with services.
Krueger also foresees stronger integration of oral health and mental health into primary care and education: "And not only in the sense of treating people with serious mental illness but also teaching kids better problem-solving skills or mindfulness practices in order to address chronic stress and promote greater well-being."
Medical-legal partnerships seem to be gaining popularity in an increasingly value-based healthcare system. As rural providers move to address social determinants and improve population health by adopting models like Accountable Care Organizations and Patient-Centered Medical Homes, they can benefit financially from implementing MLPs. "As we make that shift to doing more prevention work," Krueger explains, "we can contribute to better outcomes and fewer preventable deaths, at a lower cost."