New Mexico Mobile Screening Program for Miners
Summary
Need: To increase access to medical screening for miners in New Mexico.
Intervention: A mobile screening clinic with telemedicine capability screens miners for respiratory and other conditions.
Results: In a survey, 92% of miners reported their care as very good, while the other 8% reported it as good. The program has expanded to three other states.
Description
Miners in New Mexico have higher rates of hypertension (39%) and diabetes (16%) compared to the rest of the state's population, with age-adjusted rates of 27% and 10%, respectively. This mining population, which is 37% Hispanic and 33% American Indian, is also at risk for pulmonary conditions such as pneumoconiosis, asthma, and chronic obstructive pulmonary disease (COPD) and tends to live in remote areas.
Started in 1989 by Miners Colfax Medical Center in rural Raton, New Mexico, and the University of New Mexico Health Sciences Center in Albuquerque, the New Mexico Mobile Screening Program for Miners screens miners for respiratory and other health conditions, provides self-management information, and makes follow-up calls three months after a miner's visit. The program builds upon the National Institute for Occupational Safety and Health (NIOSH) mobile screening clinics used to improve healthcare access for miners.
A screening clinic is equipped with an advanced digital communication system for telemedicine and is located in a mobile medical unit specially outfitted to contain:
Digital chest X-ray unit
Examination room
Patient reception area
Sound-proof audiometry booth
Spirometry room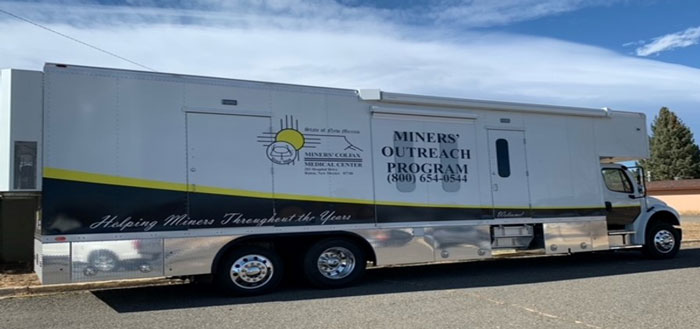 Each clinic staffs:
Physician assistant or nurse practitioner
Medical assistant/nurse technician, NIOSH-certified for spirometry
Radiology/audiometry technician
Program manager, if needed for more heavily attended clinics or to answer any questions about the program
The New Mexico Mobile Screening Program for Miners is funded by a Health Resources and Services Administration (HRSA) Black Lung Clinics Program grant and by a 2018-2021 Federal Office of Rural Health Policy (FORHP) Rural Health Outreach grant.
Services offered
After completing a form detailing their clinical and occupational history, miners are screened for the following conditions and disorders:
Hearing loss
Musculoskeletal
Respiratory
The clinics also perform a complete history and physical examination and then assess a miner's risk factors for:
Cancer
Cardiovascular disease
Diabetes
Exposure to smoke
Hypertension
Obesity
Obstructive sleep apnea
Substance use
Screening providers can recommend that miners see a pulmonary specialist. These meetings are scheduled for the same afternoon and conducted via telemedicine. Telemedicine offers miners access to specialist care from the University of New Mexico Health Sciences Center, and the service offers screening providers a chance to consult with these specialists.
In most cases, miners' insurance covers the screening visit; if the insurance does not, a miner is not billed for services. Miners are encouraged to get re-screened every two to three years. Program coordinators contact miners via mail and phone with information about re-screening.
Results
In a convenience-sample survey, all miners reported their care as good (8%) or very good (92%), and 100% would recommend the mobile screening clinic to others. The average return rate of visitors to clinics held in 2015-2016 was 45%.
In addition, the program was able to expand from New Mexico to rural communities in Montana, Utah, and Wyoming.
You can read more about ARMOT in our Rural Monitor article New Mexico Mobile Screening Program for Miners Brings Care to the Patients.
For more information:
Sood, A., Shore, X., Myers, O., Assad, N., Pollard, C., & Cook, L.S. (2019). Among All Miners, Coal Miners Demonstrate a Disproportionately High Prevalence of Obstructive Spirometric Abnormality and Chronic Bronchitis. Journal of Occupational and Environmental Medicine, 61(4), 328-34. Article Abstract
Evans, K., Lerch, S., Boyce, T.W., Myers, O.B., Kocher, E., Cook, L.S., & Sood, A. (2016). An Innovative Approach to Enhancing Access to Medical Screening for Miners using a Mobile Clinic with Telemedicine Capability. Journal of Health Care for the Poor and Underserved, 27(4A), 62-72. Article Abstract
Challenges
Program coordinators advertised upcoming clinics through radio ads, newspapers, and flyers but found that person-to-person communication works best: 50% of the surveyed miners reported hearing about the clinics from a friend or relative.
The majority of miners who are screened do not seek post-screening medical care. Program coordinators recommend that similar mobile clinics devote time and resources to post-screening case management.
Replication
Program coordinators are able to sustain the clinics because the vast majority of participants have insurance that covers screening and New Mexico's Medicaid program covers telemedicine. Depending on their state and population, similar programs may experience different levels of sustainability.
Topics
Access
Chronic respiratory conditions
Health screening
Hearing impairment
Mobile and episodic healthcare delivery
Occupational health and safety
Telehealth

States served
Montana, New Mexico, Utah, Wyoming
Date added
December 1, 2016
Date updated or reviewed
December 19, 2022
Suggested citation: Rural Health Information Hub, 2022. New Mexico Mobile Screening Program for Miners [online]. Rural Health Information Hub. Available at: https://www.ruralhealthinfo.org/project-examples/939 [Accessed 3 December 2023]
Please contact the models and innovations contact directly for the most complete and current information about this program. Summaries of models and innovations are provided by RHIhub for your convenience. The programs described are not endorsed by RHIhub or by the Federal Office of Rural Health Policy. Each rural community should consider whether a particular project or approach is a good match for their community's needs and capacity. While it is sometimes possible to adapt program components to match your resources, keep in mind that changes to the program design may impact results.