September 7, 2016
Filling Gaps and Avoiding Duplication: Community Paramedics and Ambulance Services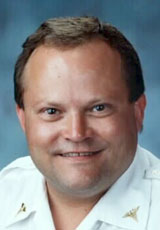 by Gary Wingrove, President of The Paramedic Foundation
Emergency Medical Service – specifically ambulance services and their practitioners, Emergency Medical Technicians and paramedics (collectively referred to as simply "paramedics") – tend to lag and learn from the other parts of healthcare when payment models or new care systems are adopted. For what is likely the first time, though, we have been in front of the changes resulting as part of the shift to new payment models and in fact can be leaned on and lend our expertise in out-of-hospital care.
We are the profession you trust more than any other. You welcome us into your home when you are at your most vulnerable point in life – the time when what happens in the next 30 minutes may in fact determine whether you live or die.
That's how you know us, but the reality is that we are the FINAL healthcare safety net and the ONLY healthcare provider in most of the towns of rural America. While maybe 30% of what we do is save a life, the other 70% of the time we are catering to your social needs, answering your healthcare questions, making sure your non-emergency transportation needs are met, picking you up when you fall down, and answering your phone call every time you wonder if you can safely take your children to urgent care in your car or if you should call 9-1-1 and get them to the emergency room instead.
All of that primary care- and public health-like work we have always done for you began to take shape into a coordinated system in 2005. That year, the International Roundtable on Community Paramedicine was formed with the nations of the United States, Canada, Australia, New Zealand, and the United Kingdom working toward a common goal of creating "Community Paramedic" services. Community paramedicine is a model of using existing highly skilled medical professionals (paramedics) within their existing scope of practice to perform non-emergency and scheduled assessment and primary care functions.
There are about 2,500 college-trained community paramedics in the United States now, and they are working in rural, suburban, and urban areas. In some places, they are embedded into Accountable Care Organizations, Shared Savings Medicaid plans, primary care clinics, public health departments, and hospitals. There are success stories across the United States and in other countries that when teams that include community paramedics that see patients in their homes and workplaces along with primary care clinic providers, hospitalists and discharge planners, the public health workforce, home health agencies, and similar entities and practitioners, the goals of reducing readmissions and creating savings are enhanced.
For the first time, paramedics and ambulance services have been perfectly positioned to help reach national goals by filling gaps and avoiding duplication. Embrace us as part of your team.
---
Back to: What do the recent changes to – and the transformation of – rural healthcare delivery mean for EMS access?