Mar 21, 2018
The "M" of MAT: Medications for Opioid Use Disorder
Back to What's MAT Got to Do with It? Medication-Assisted Treatment for Opioid Use Disorder in Rural America.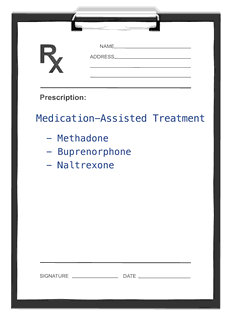 Three drugs are used to treat opioid use disorder (OUD). The U.S. Federal Food and Drug Administration has approved these medications as part of "whole-patient" treatment which includes counseling and behavioral therapies. MAT prescribing privileges require specialized training and special Drug Enforcement Agency (DEA) permission, known as a waiver.
These three medications — methadone, buprenorphine, and naltrexone — work in slightly different ways by either full or partial blocking of other opioids' brain effects. (See Table 1.) Medication choice is tailored to each patient, taking into account different situations such as pregnancy, mental health disorders, or the setting of incarceration. According to the American Society of Addiction Medicine, no matter which medication is selected, the goal is the same: getting the patient to feel normal, have little to no side effects or withdrawal symptoms, and have controlled cravings.
Experts point out that like diabetics who "relapse" and go from well-controlled sugars to uncontrolled sugar levels, MAT patients can also relapse. Just as insulin adjustments and nutrition counseling help the diabetic regain control of their sugars, medication adjustments and behavioral health interventions can help get the OUD patient back on the recovery track.
Researchers also note that organized MAT approaches need further evaluation in terms of thorough understanding of long-term benefits. The National Center for Injury Prevention and Control, part of the CDC, received recent funding for a study that will evaluate MAT by "a series of outcome measures including the associated benefits ( e.g., reductions in morbidity, mortality, and drug overdoses; improvements in socioeconomic outcomes and health-related quality of life [HRQOL]) and potential risks (e.g., side effects, diversion potential) of each treatment alternative."
Table 1. Medication Assisted Treatment (MAT) for Opioid Use Disorder
Methadone

Action: Reduces craving; brain has less desire to use a problem opioid. Prevents withdrawal.

Administration: Usually, patient comes to a clinic every day to get a personalized dose.

Prescriber: Usually dispensed through a licensed opioid treatment program (OTP), often referred to as a methadone clinic.

Buprenorphine

Action: Reduces craving; brain has less desire to use a problem opioid.

Administration: Patient waits to take the first dose until feeling the first symptoms of withdrawal. Usually taken daily to start, subsequent frequency and dose adjusted over time.

Prescriber: M.D./D.O. with DEA waiver can treat an initial 30 patients with a later application to extend to 100 patients.

However, the 2016 Comprehensive Addiction and Recovery Act (CARA) expanded privileges to nurse practitioners and physician assistants; also increased patient numbers to 275. In January 2018, the DEA updated its rules to accommodate CARA.

Buprenorphine combined with naloxone

Action: When used together, naloxone helps prevent misuse since misuse of other opioids will bring on withdrawal symptoms.

Administration: As with buprenorphine alone.

Prescriber: As with buprenorphine alone.

Naltrexone

Action: Blocks the brain's ability to experience euphoria, taking away the ability to "get high."

Administration: Patients must stop opioids before starting this medication, a process that must be supervised by the prescriber, usually over a period of 7 to 10 days. If in pill form, usually taken once a day with a frequency specified by prescriber. Also available in long-acting injectable form every 30 days.

Prescriber: Any licensed healthcare provider: M.D./D.O./Nurse practitioner/Physician assistant; No patient number limits.

Source: American Society of Addiction Medicine's Opioid Addiction Treatment A Guide for Patients, Families and Friends