Nov 01, 2023
MotherToBaby Gives Rural Pregnant and Breastfeeding Moms 'Fingertip Access' to Exposure Experts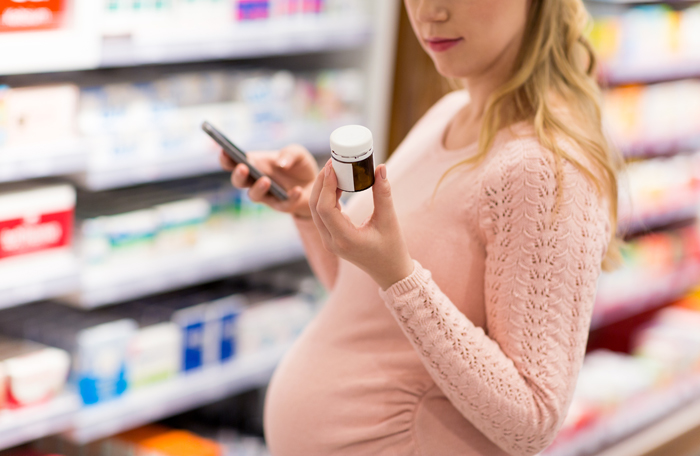 Aspirin, deli meat, sunscreen, spider bites: Lori Wolfe, CGC, can't think of a question that she and her colleagues at MotherToBaby haven't been asked.
Through the organization's free and confidential live chat, text, phone, and email services, pregnant and breastfeeding mothers can have their questions about potentially dangerous exposures answered as they arise.
The sooner we get the information into their hands, the better chance they're going to have of having a healthy baby.
"Our goal is to give pregnant people the best information possible so they can make good choices during pregnancy," said Wolfe, who serves as Director of MotherToBaby's regional North Texas affiliate. "The sooner we get the information into their hands, the better chance they're going to have of having a healthy baby."
A program of the national nonprofit Organization of Teratology Information Specialists (OTIS), funded by the Health Resources and Services Administration, MotherToBaby works to educate pregnant and breastfeeding mothers and their healthcare providers on the risks of all types of exposures, from medications to foods to chemicals found in household products. In rural areas, where living in an obstetrics care desert can mean delayed or infrequent pre- and postnatal care — and where existing healthcare providers may struggle to find the time to keep up with the latest research on exposures — MotherToBaby's free services can be especially helpful.
"There isn't a pregnant mommy out there who hasn't been worried about an exposure she's had," Wolfe said. "This gives them fingertip access to an expert that they're not going to have otherwise out in the rural area that they live in."
Rural Risks
In both rural and non-rural areas, it can be challenging to find reliable information on exposures in a timely manner, noted Claire Coles, PhD, Director of MotherToBaby Georgia.
There's very little accurate information out there, and when people want to know what's going on, they find it difficult to find that information.
"There's very little accurate information out there, and when people want to know what's going on, they find it difficult to find that information," Coles said.
But in Georgia's Black Belt and other rural parts of the state, where hospital closures and a shortage of obstetrics providers require two-thirds of rural mothers to travel outside of their home county to give birth, finding accurate information can become even harder. Seasonal workers in the state's agricultural areas also face challenges in accessing needed information and care during pregnancy and beyond, Coles said.
"There's a real problem in our rural communities with women not getting adequate care and not having access to care," Coles said. "And often they get late prenatal care as a result, or they don't get prenatal care at all."
When rural mothers are able to access prenatal care, their providers may be stretched too thin to keep up with the latest research on exposures, Wolfe said: "The healthcare field is so big that we can't be experts in all areas. When you've got your doctor or midwife out there who's treating everyone, there's just not enough time or enough resources for them to stay up to date on everything."
To help rural providers connect their patients with the most accurate and up-to-date information on exposures, MotherToBaby Georgia and North Texas each send providers educational brochures and other print materials that can then be distributed to patients. They also ensure that rural providers are familiar with MotherToBaby's online educational resources and text, call, email, and chat services, so that providers can refer their patients to these services if they have questions outside of their appointments.
In some cases, rural mothers may face different types of potentially dangerous exposures than non-rural mothers: fertilizers or pesticides in agricultural areas, a polluted water supply, or wildlife stings or bites, for instance, Wolfe said. In some rural Georgia communities, substance use rates are also particularly high, Coles added.
"They're at slightly higher risk for those kinds of things," Coles said.
A Range of Resources
In Georgia, MotherToBaby has connected with some healthcare providers through events like conferences and community health fairs, while others have found the organization through word of mouth from other providers. The organization also sends information and educational materials to public health agencies in all 159 counties across Georgia.
"No matter how we've found our way to each other, a big part of that relationship is finding out what thing they need, whether that is print materials or an extra source to refer people to, and then making sure I can connect them with what we've got to offer," said Hailey Hazard, MPH, CHES, Program Coordinator for MotherToBaby Georgia.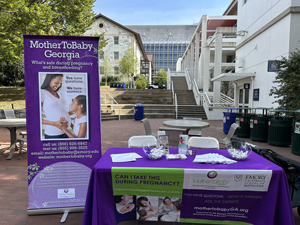 Print materials offered to providers include educational brochures on a variety of topics, such as substance use during pregnancy. MotherToBaby Georgia also hosts trainings and workshops for providers and community organizations on substance use during pregnancy and other issues as needed. A training performed for the South Georgia Farmworker Health Project included information about pesticides and other agricultural products that a pregnant farm worker might come in contact with.
"There is an effort to make [the training] tailored to whoever we're sharing it with," Hazard said. "But we do include some of the same things in every training as well," she noted, including information about how to refer people to MotherToBaby and what types of questions can be directed to the organization's phone and chat lines.
In North Texas, Wolfe works with student interns at the University of North Texas to identify providers in the region's most rural and lowest-income counties. From there, the students reach out to providers and offer to send a sample packet with information, educational handouts, and MotherToBaby-branded materials such as lip balm, pens, and miniature first aid kits to hand out to patients. Last year, MotherToBaby North Texas distributed more than 2,000 self-care kits to homeless shelters housing pregnant and breastfeeding women in Texas and nine other states served by the regional affiliate, including some shelters in rural areas.
"I've found that if people don't have your number at their fingertips, they forget about you," Wolfe said. "If you actually give them something useful, like a pen or first aid kit that they're going to keep and use, then they'll call you over and over."
Reaching Moms
Some mothers do call MotherToBaby repeatedly while pregnant and breastfeeding and, in some cases, throughout multiple pregnancies.
"They stick with us for years because once they find us, we're such an easy resource," Wolfe said.
To make their information accessible to as many mothers as possible, MotherToBaby North Texas writes all of its print materials at a junior high school reading level and offers most of its resources — including its phone services — in both English and Spanish. For people who don't want to reach out directly via phone, email, text message, or online chat, MotherToBaby offers more than 250 fact sheets on various topics on its website.
When you Google something and you get different perspectives or ideas, you're not quite sure who to trust.
"When you Google something and you get different perspectives or ideas, you're not quite sure who to trust," Hazard said. "People have been very happy to have somewhere to go where they can trust that the information they're getting is accurate."
MotherToBaby's services are confidential, with counselors asking for no identifying information from the mothers who call.
"It's really important that people know it's a private, confidential service, because if they use cocaine or another illegal substance they need to feel comfortable that they can call us and the information isn't going to go anywhere," Wolfe said. "What we've found over the years is that if you ask too many questions, you lose people."
But from the basic questions that MotherToBaby North Texas counselors do typically ask callers — about their ZIP code or home state, ethnic background, age, and income level — some patterns have emerged.
"We get a lot of teens, which we appreciate because I think it's hard for them to find a healthcare provider," Wolfe said. "We also get a lot of teenagers saying, 'I haven't told anybody yet, but I just found out I'm pregnant and I'm really worried about this.'"
While a majority of MotherToBaby Georgia's calls are from pregnant and breastfeeding individuals, a "significant percentage" come from healthcare professionals with their own questions about exposures or MotherToBaby's resources, Coles said.
"Everywhere we go and explain what we're doing, it's very much welcomed by communities because our services are really filling a need that is not otherwise filled," Coles said. "In areas where community resources are not readily available, this is providing a strong support for families and women."