February 26, 2015
North Dakota Student Earning PA Degree Through Distance Program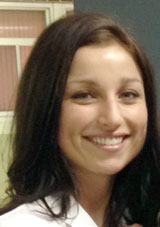 Student: Brittany Anundson
Hometown: Wishek, North Dakota
Undergraduate degree: Bachelor of Science in Respiratory Care
Program: University of North Dakota Physician Assistant Program
I am impressed with the organization of the program and the very knowledgeable, professional and kind faculty.


A medical provider in a rural area has many roles and responsibilities. To better prepare these professionals for the variety of cases and patients they will encounter, the University of North Dakota School of Medicine and Health Sciences offers a Physician Assistant program that allows students to utilize a unique combination of online course material, on-campus (didactic) courses and clinical experience at the site of the student's choosing.
This is what made the program so appealing to Brittany Anundson.
"I was able to work while taking online classes the first two semesters, spend a month here and there in Grand Forks, and then return to my home for clinicals," Anundson said. "Most other programs require you to stay on campus the entire time and I did not want to have to move my family."
This 24-month program is organized so that a student's first two semesters of online courses cover the topics of pathophysiology, pharmacology, anatomy and statistics. From there, students take five on-campus sessions over 18 weeks, each comprised of four to five classes, which teach practice examination and procedure techniques. Following this, the students complete their clinicals and are exposed to family medicine, emergency care, and surgery at their local sites while they complete the remaining online courses.
A unique aspect of the program is that students are able to select a primary preceptor from the local sites where they work to mentor them for their clinical rotations.
"The first two semesters prepare you with a great knowledge base that becomes more applicable during clinical practice," Anundson said. "The didactic allows you to learn and practice exam techniques on fellow classmates or actors, and prepares you for when you begin your clinicals."
Anundson, having grown up in a rural area, wishes to return to an underserved area to practice.
"A rural provider can be responsible for a vast range of patients, from the young to the old, from the healthy to the chronically ill," Anundson said. "This is enticing to me because of the exposure to different scenarios, patients and experiences."
To others wishing to apply to this program, Anundson says "do it and don't wait." But, she warns, "be prepared for a lot of independent learning, studying and a massive amount of information heading your way."
---
Back to: Rural Student Profiles | Winter 2015 Issue