May 18, 2016
The Opioid Epidemic: Testing the Limits of Rural Healthcare
by Zachary Toliver
This is the first installment of a two-part series dedicated to the opioid epidemic in rural communities. Read part two – The Opioid Epidemic: Rural Organizations Fight Back.
Opioids have seeded their way into every community and social class across the country. In rural areas, the epidemic is challenging the limits of healthcare delivery systems.
As the CEO of Margaret Mary Health (MMH) in Batesville, Indiana, Tim Putnam has seen first-hand the effects of opioid use in a rural community. From overdose, to blood-borne infections, to the need for treatment, MMH has been struggling to keep up with the increasing needs. In 2014, the hospital in the town of 6,500 people documented 34 cases of Hepatitis C, more than triple the previous year's number.
That same year, MMH had 27 overdose cases. According to the Centers for Disease Control and Prevention (CDC), the rate of death from opioid-related overdoses is 45 percent higher in nonmetropolitan counties.
Putnam, who is also an Emergency Medical Technician, knows all too well what it's like to respond to an overdose call.
"Ten-years ago, how many calls did we go on that were really life or death? It was just so rare," said Putnam.
MMH's service area is roughly an hour from Scott County, Indiana where the town of Austin has become an infamous example of the opioid-related catastrophe that rural communities face.
Austin had a "perfect storm" of social problems that left the town vulnerable to consequences of opioid use. Economic downturns had ravaged the community for years. But, conditions of economic distress are only the beginning to the opioid epidemic for rural communities.
Risks of Rural
Rural counties are particularly sensitive to substance use based on associated social determinants of health. Factors present in many rural communities like poor housing, poverty, and unemployment can increase the likelihood of substance use. Rural occupations are susceptible to physical injury which could introduce people to opioids by prescription. In addition, rural populations are typically older with more chronic illnesses and therefore, more prescription drugs overall. Sometimes, an overdose isn't necessarily from pre-meditated abuse, but rather from taking a concoction of prescribed pills for various conditions all at once.
"Today with overdoses, it's a lot higher death rate. In rural areas, response times are longer, and the math will tell you that this is a problem in rural areas," said Putnam.
First responders are vital to the outcome of an overdose. Yet many rural emergency services lack the resources to respond as quickly and effectively as they might like. Rural EMS system staffing often relies heavily on volunteers and lower-skilled staff. Rarely are highly-trained paramedics the first responders in a rural community.
"Your drugs of choice on an opioid run are naloxone and oxygen. Naloxone works right away in an IV. A paramedic knows within two heartbeats if they've given the right dose of naloxone to pull a patient out of an overdose," Putnam explained. "EMTs or other first responders are limited to a nasal injection which can take 3-5 minutes to work. If the patient hasn't been breathing for a few minutes, that time is vital."
Rural areas are also generally isolated from treatment facilities and addiction counseling. Nationwide, only 11 percent of patients seeking addiction treatment are able to receive care. In Austin at the height of the epidemic, the nearest methadone clinic was 40 miles away.
Recidivism rates are really high, but when you don't have any local treatment facilities, it's really easy for people to not even try.
"Recidivism rates are really high, but when you don't have any local treatment facilities, it's really easy for people to not even try," said Putnam.
If someone with addiction finally musters up the strength to seek help, there is no guarantee that treatment will be immediately available. Often, they are put on a wait list, sometimes for weeks or months before finding the help they need.
"A patient suffering a heart attack wouldn't wait a month for treatment," stated John Gale, the primary author of the National Rural Health Association's new policy paper on the rural opioid crisis.
The Source
With so much money allocated towards combating opioid use, it's fair to ask how the epidemic started in the first place. Regrettably, the epidemic now killing 30,000 people a year is often traced back to the best intentions of physicians in the 90s to treat chronic pain with new synthetic opiates.
"I was actually taught that patients in real pain were not likely to get addicted. We know better now," stated U.S. Surgeon General Vivek H. Murthy at a conference of healthcare journalists.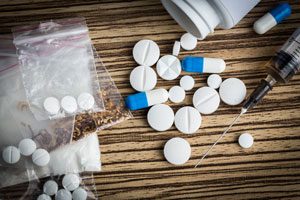 The CDC documented a tripling of overdoses from 1990 to 2008, and more than 75 percent of those deaths were attributed to prescription drugs.
"We don't want to see people suffering, but it's such a common thing to see a patient claim a 10 on a pain scale," stated Putnam. "The patients all know the game."
America consumes over 80 percent of the world's opioid supply, according to a 2008 article in Pain Physician. An overflow of prescriptions helped create a supply ripe for mistreatment. CDC researchers note that more than three out of four people who misuse prescription painkillers are abusing someone else's prescription. In poor rural areas, a five dollar copay for an opioid prescription can mean easy money made in the street.
Fortunately, prescription drug use in some areas may be leveling off thanks to new prescription guidelines and a strong focus on the danger of painkillers. Physicians in numerous states are now following protocols to reduce unnecessary prescriptions.
Symbiotic Chaos
Unfortunately, addiction doesn't go away when the prescription does. Tom Frieden, Director of the CDC, said that increased numbers of Americans are "primed for heroin addiction because they are addicted to or exposed to prescription opioid painkillers."
We've interviewed people who didn't have health insurance who are using heroin to manage pain because it was cheaper than buying a prescription.
"We've interviewed people who didn't have health insurance who are using heroin to manage pain because it was cheaper than buying a prescription," noted Gale.
Intravenous opioid use means more risk for transmission of blood-borne diseases such as HIV and hepatitis C. Austin, a town of 4,000 people, experienced an outbreak of 190 new HIV cases in just a year.
"We started seeing it about three years ago with heroin use among the youth," said Putnam. "It seemed to become available out of the Cincinnati market. Overdoses are significantly more commonplace now for both heroin and prescriptions."
Deputy Director of the Ohio Governor's Cabinet Opiate Action Team, Andrea Boxill, stated that a lot of heroin on the streets is laced with fentanyl, a powerful synthetic opiate 50 to 100 times more powerful than morphine. Unlike versions prescribed by physicians, street fentanyl is produced in clandestine labs overseas and mixed with heroin. Higher potencies of precariously cut substances have made getting high and maintaining the ability to breathe a difficult balancing act.
Users in Scott County were injecting oxymorphone (commonly prescribed as Opana).  In 2012, the company that manufactures oxymorphone modified its formula to curtail abuse. Users couldn't get the same intense high by grinding it up or taking it orally that they had been getting. The unintended consequences were that users turned to injecting it. This left many users more susceptible to heroin use.
"So they've made it harder to abuse, but they've made the consequences of abuse more dramatic," noted Gale.
Stigma & Criminalization
As heroin use increases, harm reduction programs are a strategy to stabilize the situation and protect users who are not yet ready for treatment, while working on longer term solutions. Harm reduction programs can take many forms, including:
Needle exchange programs,
Replacement therapies such as methadone or buprenorphine,
Programs that teach users about safer injection practices and avoiding overdose,
Making naloxone available to the public,
Condom distribution, and
Free HIV/HCV testing and counseling services.
However, these programs are controversial and are seen by some as condoning or enabling substance use or other unhealthy behaviors. In Indiana, there were laws prohibiting needle exchanges which influenced the rise of HIV and hepatitis. The bans were only lifted after the governor declared a state of emergency.
"People shooting Opana are using every couple of hours or so. They're running through needles so the chance of having a dirty needle is very, very high. They use needles until they break off in their arm," said Putnam.
Putnam noted that without harm reduction programs, communities could see a rise of issues the same way Austin did.
We have to stop thinking about substance use as a character flaw and criminal activity.
Those who see addiction as a personal choice are often quick to marginalize the illness as criminal activity. However, there are complex social factors that influence drug use —childhood trauma increases the probability of substance abuse (no longer available online), and people diagnosed with mood or anxiety disorders are about twice as likely to abuse drugs. Experts like Boxill and Gale note that people using opioids don't want to feel pain, whether it's emotional or physical.
"At some point it's a choice to do the drug, but people have addictive personalities or choose to self-medicate because they have other problems like anxiety or depression. Is that really an overt choice? We have to stop thinking about substance use as a character flaw and criminal activity," noted Gale.
The Fight Continues
The prospects of taking on America's opioid problem may seem overwhelming, but rural regions in many ways are ahead of the wave.
At the National Rx Drug Abuse & Heroin Summit, President Barack Obama called for greater treatment coverage nationwide, especially in rural counties where he described a spike in overdoses due to underfunded facilities and stigma. The President stated that treatment is severely underfunded, with 85 percent of counties having no easily accessible mental health facilities.  The bipartisan budget agreement signed in December 2015 included $400 million in funding for fighting the opioid epidemic the President's FY2017 budget includes $1.1 billion for further action. The White House Rural Council has been active in spearheading rural-specific opioid initiatives within the federal government.
In Ohio, there was an inkling that there was a problem, but only after data sets were pulled for rural treatment, hospital emergencies, naloxone dispensing, and overdoses was there enough insight to create the impetus for Governor Kasich's administration to act. Now Ohio has an arsenal of prevention, treatment, and outreach programs.
We have all been hit hard by this epidemic. That being said, what's happening in rural communities is what woke us up.
"We have all been hit hard by this epidemic. That being said, what's happening in rural communities is what woke us up," stated Boxill.
Pulling rural America out of its opioid-induced nightmare will take massive collaboration between federal, state, and local governments, as well as philanthropic and nonprofit organizations, healthcare providers, and other community partners.
"I think the fact that we have smaller communities and we can assemble key players a little more easily is an advantage in rural areas," said Gale.
But before the problems can be tackled, Boxill advises that rural community members need to be realistic about the problem in their own communities.
"What communities aren't accepting is, it's not somebody else's problems it's yours. If it happens to your neighbor, it really has happened to you. I am not just my brother's keeper, I am my brother."