Mar 23, 2022
Parent Partners Provide Mentoring and Support in Rural Iowa
by Allee Mead
Learn more about the Parent Partners program in RHIhub's Rural Health Models & Innovations.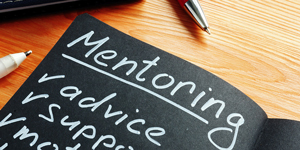 Melony Gravenish is Operations Coordinator for an Iowa program called Parent Partners, which pairs families who have had a child or children removed from the home with mentors with shared experience who have successfully navigated the state's Department of Human Services (DHS) system. Gravenish's journey with Parent Partners began after overcoming her own struggles with substance use.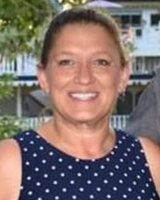 In 2005, she and her now-husband had been arrested for the presence of a meth lab in their small-town home. Her daughter, who was four at the time, was removed from the home and lived with Gravenish's mother. During a visit to the sheriff's office, drugs were detected in Gravenish's system and her juvenile court judge ordered her to complete inpatient treatment. "And I was only there for about 40 hours when they came and told me I wasn't 'bad' enough to be there," Gravenish said. "If I wanted to stay, I would have had to pay whatever the daily amount was. And I couldn't do that."
Gravenish then began an outpatient treatment program, met with a therapist, and joined a group called Moms Off Meth, a support group of women going through the child welfare system. She has been sober since March 2006. Gravenish's daughter was able to live with her again, around the same time Parent Partners got started.
From Three Pilot Sites to a Statewide Program
Parent Partners is a statewide program that supports parents involved in child welfare cases where a child or children have been removed from the home. The program is voluntary; parents who decline to participate in Parent Partners receive traditional child welfare services. The Parent Partners program pairs participating parents with mentors who have shared experience.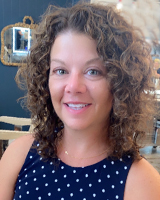 These mentors are parents who successfully navigated their own child welfare cases, and they help their clients access community resources like substance use treatment. Some qualifications to be a mentor include having been reunited with their child or children for at least a year (or having had a year to resolve issues related to situations in which the children were not reunited), having been substance-free for at least one year (if substance use was an issue), and completing all mandated trainings.
"Who better to support somebody else than a parent who has been there themselves?" Sara Persons, State Coordinator, asked.
Who better to support somebody else than a parent who has been there themselves?
Parent Partners began when Iowa's DHS leaders attended a conference and learned about peer-to-peer mentoring. In 2007, DHS set up three pilot sites, and the program expanded to 68 counties in 2012. Persons's organization, Children & Families of Iowa, was awarded a contract to manage a statewide rollout of the program, which was completed in 2015. Parent Partners is now available in all 99 counties, 88 of which are rural.
Persons said it's important to get backing before implementing a program like Parent Partners: "They had DHS leadership buy-in. They had vocal buy-in from agencies from across the state of Iowa…The state of Iowa identified that this was a much-needed support for parents."
Benefits of Mentorship in Child Welfare Cases
Challenges in Providing Substance Use Disorder Treatment to Child Welfare Clients in Rural Communities, a literature review released in January 2020 by the U.S. Department of Health and Human Services (HHS), lists peer mentorship as a potential strategy to overcome the barriers to helping child welfare clients access treatment in rural areas. The literature review says that peer mentors and groups like Narcotics Anonymous provide crucial support to parents in recovery. In addition, the peer mentors can be a source of inspiration for parents as well as child welfare workers, as examples of people who have successfully navigated their own journeys of recovery and reunification with their children.
Services for Clients and the Larger Community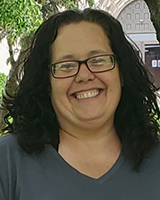 Parent Partners are mentors as well as coaches, liaisons, and advocates. They work with community-based organizations, social workers, and legal and other professionals to connect their clients with needed supports and services. At the beginning of a family's case, mentors visit their clients an average of four times each month.
Deanna Tipton described her role as a lead Parent Partner: "I support my clients through the DHS process, help them find resources, help them learn to advocate for themselves — just help them to find a better way of life." Some parts of her work, she said, include helping clients with transportation and helping some get their driver's license back.
I support my clients through the DHS process, help them find resources, help them learn to advocate for themselves — just help them to find a better way of life.
Gravenish said that parents as well as their mentors face challenges with "transportation, childcare, employment, housing — everything you can think of." She added, "Partnerships with agencies, with the community — That's how in a rural area you get around these barriers and the challenges that you have." In addition, the program has funds available, up to $400 per family, for needs like vehicle repairs or clothing for job interviews. From fiscal years 2016 to 2019, 302 individuals were assisted with these funds.
Despite these challenges, Persons said the mentors do great work: "Those Parent Partners are amazing in knowing the services and supports in and around those rural areas. They are constantly letting the parent know about things that are available in those areas and helping them to brainstorm how to get there and overcome some of those obstacles. They're a great bridge in those gaps of services."
Gravenish said of her time mentoring families, "I told everybody, 'I'm here to walk beside you and help you with whatever it is you need to be successful. If that's applying for jobs, if that's finding housing, if that's going to school, whatever it may be, I'm here to help you. Because I've been through this. I know that in order to get where I'm at now, I had to make major changes in my life.'" These major changes often include therapy and substance use treatment as well as education.
This education component extends to community education as well, since there is a stigma around parents who have been involved with the child welfare system. Gravenish herself remembers judging mothers whose children had been removed from the home until "I was one of those moms."
It took a long time for me to be able to realize that people aren't just mean. They don't know. They just don't know what it's like to be an addict. They don't know what people in recovery are like or that people do recover.
Gravenish has shared her story at conferences and community events to change people's perceptions of families who have been involved with child welfare. "It took a long time for me to be able to realize that people aren't just mean. They don't know," she said. "They just don't know what it's like to be an addict. They don't know what people in recovery are like or that people do recover."
Tipton echoed Gravenish's thoughts on stigma from the community: "When you have people that are out in a little town where there's only 200 people, there's not a lot of support there. A lot of people know who you are. They look at their past and they don't wanna be involved with them."
Support and Opportunities for Mentors
Mentors also have access to clinical support, provided by a master's-level clinician. Persons said, "The group goes and meets with the clinician once a month to…see how things are going. As we know, they're put back in very similar situations in which their case may have been. So we want to continue to have those conversations and make sure that they are healthy and they have the support that they need as well." Mentors can also meet with the clinician individually.
Just as the program offers clinical support to the mentors, Gravenish looks out for her coordinators to make sure they're accessing needed resources and not experiencing burnout.
She said one concern early on in developing the program was what to do if mentors relapsed: "Everybody's like, 'Oh my God, what if they relapse?' Well, what if they do? Then what are we going to do? We are gonna support them. They're not bad people and it's gonna happen. It just is. So we have processes and procedures around all that [to get them help]."
The program also serves as a professional opportunity for the mentors. Parent Partners mentors who have been in the program for some time and have shown leadership potential may be hired for positions like service area coordinators. Persons said half her staff are former Parent Partners.
For example, years ago Gravenish's DHS worker recommended that she get involved with the new program as it was just starting to develop, so Gravenish completed the Building a Better Future (BABF) training. Her area of northwest Iowa received a regional partnership grant for families involved with meth, and Gravenish was hired as a Parent Partner mentor under that grant.
She was a mentor for a year and a half before a leadership position opened up. "We needed a coordinator for our area and I found out that I'm not a very good follower," she joked. Gravenish became a coordinator supervising four or five counties. As the program grew, she became the coordinator overseeing 11 or 12 counties. When the program became available statewide in 2015, she became the service area coordinator overseeing 30 counties in western Iowa. In 2019, under a new state contract, she started her current position as the statewide operations coordinator.
Gravenish believes that there are now fourth-generation Parent Partner mentors in northwest Iowa: "The original Parent Partners [when the program began in 2007] — the parents that they mentored become Parent Partners and then they mentor parents, they become Parent Partners, and then they mentor and become Parent Partners…so that is a very good indication of how good the program is."
For example, Tipton started her Parent Partners journey as a client. After living with substance use for many years, she came to rural Ottumwa to start a treatment program and was assigned a Parent Partner. When she was in recovery and her children were able to live with her again, she wanted to become a mentor: "It turns out I'm really good at it because of my experiences. It's our experiences that give us the education for this kind of thing." Tipton has been clean for four years.
Some mentors work on their college degrees while working in the program. "It's amazing to see how many Parent Partners have gotten their degree, whether it's a two-year or their master's," Persons said. "We have one partner that is going on to get her doctorate."
Success Stories and Plans for the Future
Tipton remembers one client who was about to lose custody of her children: "Something inside of her just kind of broke and she just dove face-first into recovery." She was able to get an extension on her case to keep making changes, then her children were able to come home and her DHS case has since been closed.
Another client lost custody of her child but was still able two years later to get back into recovery and improve her relationship with her children. Tipton said that may not sound like a success story, but this client has been clean for two years: "Usually when people lose their kids, they don't have any reason to move on. They just go back into addiction and that's it."
Tipton said the health benefits of being in recovery go beyond stopping drug use: "Our brains go through a change. The fog starts to lift. We start living healthier. We start actually eating…In general, our minds and our bodies just get stronger. They get better."
Of course, the children benefit too when the parents are healthier. For example, Tipton said that when parents are using substances, "Our kids aren't getting to the doctors, they're not getting to the dentist, they're missing all that stuff. They're missing their vaccinations; they're missing whatever it is that they're supposed to be getting along the way."
"If you knew me six, seven years ago," Tipton said, "you would not wanna associate with me at all. But now I'm a stable person. I pay my bills. I have my own place. I have my own vehicle. I have a really good job. My kids are happy and healthy. So we can change. Things do get better. As long as we get out of addiction, we can start to build better lives."
Parent Partners also has data showing improvement in the families' lives. A 2019 Children and Youth Services Review article studied the program's outcomes between 2011 and 2014 and found that clients' children were more likely to return home than non-participants' children (62.4% of the time compared to 55.8%) and that clients were less likely to have another child removal within a year of the child returning home (removed from the home 13.4% of the time compared to 21.8% of the time).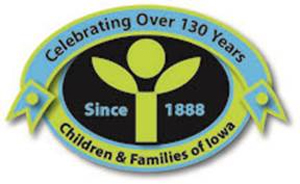 A 2019 annual report (no longer available online) shows that Children & Families of Iowa (CFI) received 1,554 referrals that fiscal year and provided mentoring support to 1,963 parents. CFI asked families upon exiting services to complete a family self-assessment. In analyzing 427 self-assessments, the organization found that 66.3% of parents' scores increased by at least one point compared to the self-assessments completed upon program entry. Parents indicated the most improvement on statements like "I feel comfortable when talking with my DHS worker or other service providers" and "I am able to effectively speak up for myself and family to DHS and other service providers."
The annual report also states that there are 155 parents who are mentoring or training to become mentors, with 105 of them fully trained.
In 2018, Parent Partners started a pilot program to provide six months of support after a parent's child welfare case closes. From October 2018 to June 2019, 14 individuals received this support. One individual accepted the additional support for two months, another disengaged with this support, and two others either relapsed or became re-involved with DHS. The other 10 had more positive experiences, either still engaging with the additional support or successfully closing out this support.
More recently, program coordinators are looking into ways to support families in order to prevent cases where children are removed from the home. This pilot, taking place in the counties of Linn and rural Appanoose and Wapello, enrolled 31 individuals from October 2018 to June 2019. During this time, there were only three referrals that led to a child being removed from the home.
Children & Families of Iowa is working with the University of Nebraska in Lincoln to collect data and evaluate the program and to study prevention efforts. In addition, Parent Partners received a promising rating from the California Evidence-Based Clearinghouse for Child Welfare. A July 2020 HHS brief highlights Parent Partners and eight other programs addressing substance use among families involved with child welfare.
The program hosts meetings open to the community for people to discuss gaps in services and families' needs, especially in rural communities. Persons, who lives in a rural area, said a strength in rural communities is their ability to "wrap around that family or help come up with problem-solving strategies to fill gaps in services and supports. In rural areas, they're all about community."
Persons said that the Parent Partners program has received inquiries from organizations in Colorado, Ohio, Oklahoma, and Wisconsin on how to replicate a similar program in their state. She said it's important to have "the parent voice at the table. And not just to check a box to have a parent at the table, but to really uplift their voice and hear what it is that needs some extra attention in the child welfare arena to better serve families and keep families together."