Mar 09, 2022
Educating Future Healthcare Providers: Health Literacy Opportunities for Webside Manners
Related Article
This is part two of a two-part 2022 Rural Monitor series on health literacy. Read part one: A New Era of Health Literacy? Expanded Definitions, Digital Influences, and Rural Inequities.
During the course of their training, health professions students learn this: the human body is complex, diseases are complex, treatment options are complex — and the language necessary to communicate these complexities with efficiency is also complex. Some students point out that often the evaluation of their skills includes an evaluation of how well they've mastered the complex language of healthcare.
Although health literacy (HL) experts acknowledged that medical jargon might be necessary within the profession, they outlined why communication with patients needs to be jargon-free. Research has demonstrated that jargon-heavy communication with patients is not only costly, but it can increase already-existing health disparities, especially for patients living in rural communities. With the current push to all things digital and online, these experts also pointed out that there is now an opportunity to step up health profession trainees' health literacy education. First steps in the education to transition from bedside to webside manners? Emphasize the need to swap medical jargon for plain language speech.
The Language Around Health Literacy
From its previous singular definition, HL's definition has expanded, a change recently made by the Office of Disease Prevention and Health Promotion's Healthy People 2030 initiative:
Personal health literacy: the degree to which individuals have the ability to find, understand, and use information and services to inform health-related decisions and actions for themselves and others.
Organizational health literacy: the degree to which organizations equitably enable individuals to find, understand, and use information and services to inform health-related decisions and actions for themselves and others.
Plain language speech: a communication style that allows listeners to understand any message the first time they hear it.
Medical Students and Health Literacy Education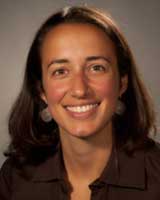 Some graduate medical educators are embracing the opportunity to integrate HL and plain language into curricula. Dr. Lauren Block, professor of Medicine and Science Education, Donald and Barbara Zucker School of Medicine at Hofstra/Northwell, Long Island, New York, leads one of the few formal comprehensive medical student HL curricula in the country. With the program described in an academic publication linked to the introduction of HL expanded definitions, Block said they got their official start in 2020. She explained that the program uses five tools per year from the 21 tools in the ARHQ Health Literacy Universal Precautions Toolkit. Also core to the curriculum is the digital decision-making tool, MyHealthfinder. She shared some of their logistic roll-out efforts.
"We sat down with our many stakeholders to get them comfortable with the concept of health literacy," she said. "We knew that to be successful we needed to be clear about how health literacy relates not only to clinical sciences, but to the entire medical school curriculum. That involved changing the organization's culture."
Block said the one unique aspect of the curriculum's implementation came out of the need for wide-sweeping approval for changes by the organization's many departments.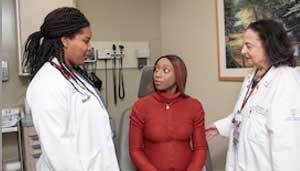 "All of a sudden, we realized that not only did the clinical teams need to be included, but everyone who works behind-the-scenes to deliver care — from the front desk staff administrators to the system's communication teams," she said. "That's the effort it takes for our patients to not only be able to understand what we're trying to communicate to them, but to feel comfortable with the information they're receiving and the decisions they're making for themselves."
Block said that they've given purposeful thought to the "digital" elements of their HL curriculum, or what they consider would be equal to skills needed to deliver virtual care. One example is teaching students to think critically about how different virtual patient encounter platforms best match patient needs, like which patient visits are appropriate for a phone visit versus a video. Block said this approach also includes teaching students comportment and communication styles for phone or video visits.
"Part of digital health is teaching our students how to conduct themselves during a telehealth visit," she said. "In order to make sure patients are understanding the information they're trying to share, students need to be aware of the pace of their speech, make sure to use plain language, limit shared information to what's needed rather than the student sharing everything they might know about a condition."
Block went on to emphasize one of the communication methods she feels is invaluable for both in-person or virtual patient encounters: teach-back.
The Teach-back Method
Teach-back is a quick method used by clinicians to gauge how well they've delivered a verbal health information message. In this 90-second video introducing the teach-back method, one expert points out that the method is actually an assessment of a clinician's teaching and communication skills rather than a test of the patients' understanding.

"We emphasize to our students to always — in order to promote understanding — use the teach-back tool. Ask what's understood about the shared information, rather than just telling patients information."
Med Students, Rural Newspapers, and Plain Language
In 2017, the Rural Monitor featured a 2-part HL series covering the rural aspects of HL, including Rural Health Literacy: Who's Delivering Health Information?. The article listed rural school nurses, librarians, faith-based organizations, public health departments, and Extension agents as health information sources. Additionally, the article pointed out the rural importance of local newspapers as disseminators of health information targeted to the local community.
The Targeted Rural Health Education Project, or TRHE, is a collaboration in which med students — and other health professions students — use HL concepts and plain language to write health education articles suitable for publication in rural newspapers.
Educating the Workforce Pipeline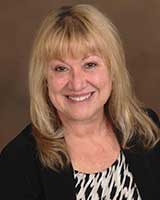 Dr. Laura Guyer has self-described as a HL advocate "since the day I began counseling patients about their diets, although we hadn't really consciously integrated the word 'literacy' then."
Guyer has incorporated health literacy in her University of Florida (UF) undergraduate courses. After over a decade at Florida's Suwannee River Area Health Education Center (AHEC), she said she was invited to return to UF as a faculty member to launch the first-of-its-kind undergraduate academic program, Health Disparities in Society. She shared that the majority of course participants were students interested in health careers and almost 55% were interested in medicine.
"I lectured on rural health, cultural competency, and especially emphasized health literacy principles," Guyer said, sharing that course included field work in the four rural counties outside Gainesville. "Most students were from very urban areas of Florida. When they returned from their field trips and shared their impressions, I could see them envision themselves as part of the solutions for those rural challenges. It was a very popular course especially for the pre-dental and pre-medical students. I still get emails from some of those students who are either in dental or medical school or their residencies, telling me how valuable that course was."
Three Health Literacy Tips for Undergraduate Students
When teaching undergraduates the basics of HL, Guyer said she reminds students that health is not systematically taught in grades K-12 and as a result — whether rural or urban — people are not prepared to manage their health. Reminding students that they are not just future healthcare professionals, but that in those roles they will also be future health educators, she said she emphasized several principles for these learners:
Assume all patients have either simple, incomplete, or even erroneous knowledge of health
Learn to explain complex medical conditions with everyday words
Incorporate teach-back into every interaction to assess and improve their own communication skills and to assess their patients' comprehension
As adjunct faculty at the university's medical school, Guyer is now turning her attention to HL for medical students. Additionally — in collaboration with the Suwannee River AHEC and the Florida Rural Health Association — she is leading a health literacy multi-session webinar series that "prepares providers and community educators for evaluating the health literacy needs of different audiences, choosing instructional strategies, and evaluating success."
One of the sessions she said she's passionate about covers today's use of digital media platforms by students and practicing healthcare professionals for health messaging.
"A lot of health professionals are using these digital apps that are really great platforms for very short videos that provide health information," she said. "They're a great tool. However, the professionals using the platforms are using technical terms and making assumptions that those terms are being understood by the viewers. They'll use jargon words like 'cannula' and 'saturation' and 'ventilators' that are unlikely to be understood by their audience. Putting together one of these short videos using health literacy principles will be a future part of our curriculum and a specific webinar focus."
Health Literacy Tips for Short Health Message Videos
For health-literate video health messages, Guyer has these recommendations:
Identify the target audience and their actual education needs
Provide information that is actionable, applicable, and useful for daily life
Avoid technical jargon, statistics, and the "nice to know but not necessary" information
More About Educating the Healthcare Workforce
The Accreditation Council for Graduate Medical Education (ACGME) is an organization "that sets and monitors the professional educational standards essential in preparing physicians to deliver safe, high-quality medical care to all Americans." Although the organization's original competency standards have no specifically-labeled HL competencies, most HL experts consider that many of the skills linked to the competency category, "Interpersonal and Communication Skills," embrace HL principles and promotes use of plain language speech. The competency's goals are geared to having every residency-trained physician communicating effectively — and with cultural competence — not only with patients, families, and the public, but also their peers, other health professionals, and other health-related agencies. With the ACGME's move to new metrics, communication skills are still monitored.
"What questions do you have?"
Health literacy and communication experts at Oregon Health & Science University recently published their results around a longitudinal medical school curriculum that included communication skills and HL principles. One element of the curriculum demonstrates how a simple turn of phrase — "Do you have any questions?" versus "What questions do you have?" — can impact patient engagement.
For practicing providers long out of their residency training, HL educators recognize the benefit of iterative plain language speech education. As Block and Guyer emphasized, HL educators need to take on the communication education needs associated with the virtual practice of medicine and video health messaging. In his 2020 academic article, Health Literacy and Clear Communication Best Practices for Telemedicine, HL expert Dr. Cliff Coleman provides a review of the pitfalls and benefits of virtual communication. He also suggested that future research studies address the "social dynamics of telemedicine interactions to empirically define and determine best practices for communicating with patients and caregivers." Tagged on to those recommendations comes another: specifically study how telemedicine impacts health disparities.
Virtual Communication Tips
Three of Coleman's tips include:
Have pen and paper ready to write a message in case the patient cannot hear you
Encourage patients and caregivers to have a pen and paper available for taking notes
Use teach-back method to confirm clear communication and patient comprehension
A 2022 report from the National Academy of Medicine, Providing Health Literate Virtual Health Services: Proceedings of a Workshop in Brief, included a review of provider survey responses giving their perspective on principles for successful telemedicine visits. With regards to health literacy, suggestions included allowing translators and families to connect to virtual visits.
Tele-Health Communication: Transforming Bedside into Webside Manners
The online life lived by rural Americans — those who live on the access side of the rural digital divide — allows digital access to health information and care in the form of their telehealth visits. Health communication experts pointed out it is of no surprise that "webside manners" are emerging as a virtual version of "bedside manners." Recent academic publications by headache specialists and palliative care experts provide insight into some of the differences and similarities between in-person versus virtual face-to-face visits where healthcare information is shared as an inherent part of any visit.
Dartmouth-Hitchcock Health (D-HH) in Lebanon, New Hampshire, is one such organization that is embracing and evolving webside manners. With hospitals and clinics in rural locations throughout New Hampshire and Vermont, the organization includes the most rural academic medical center in the country — of the 1.9 million people living in New England, only 170,000 people live within 30 miles of the academic medical center. In addition, the organization trains nearly 400 residents and fellows each year and provides education for students at Dartmouth's Geisel School of Medicine.
Prior to the COVID-19 pandemic, the organization's Connected Care and Center for Telehealth had provider-to-provider telehealth services in place. With that department's existing substantial infrastructure, experience, and operational — technical as well as clinical — expertise already in place, D-HH representatives said they were able to efficiently ramp up their outpatient visits when COVID surged. Dr. Kevin Curtis, medical director for the Connected Care center, shared how the early days of the COVID-19 pandemic led to training resources for faculty and other practicing providers as well as influencing the organization's graduate medical education offerings.
"Early in the pandemic, our outpatient telehealth visits went from 8 or 10 a day to a peak of 2,600 per day," he said. "That's an incredibly high percentage increase, right? Despite the fact that we'd had the benefit of having thousands and thousands of prior telehealth visits of some flavor over the prior decade — including TeleICU, TeleNeurology/Stroke, TeleICN [intensive care nursery], TelePsychiatry, TeleEmergency, and others — we now had this need that drove the big ask: 'Can you make video work now across all specialties and all services?'"
Katelyn Darling, director of TeleSpecialties and Operations for Connected Care, said the organization immediately went to work to create a curriculum for the staff attendings as well as their medical students, residents, and fellows.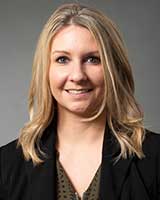 "In short order, we were able to create needed education not only around platform mechanics but also around rules and regulations, professional licensure and liability issues, prescription do's and don't's, but especially 'webside' manners and guidelines," she said.
Darling also shared that both resident and medical student telehealth electives are now available. She said, "This provides two benefits in particular: first, a foundation in webside manners and, secondly, a jumpstart into the telehealth world that will very likely be a normal part of their future career."
Curtis said he's been caught a bit by surprise when it comes to these residents and medical students doing rural site telehealth visits.
"They seem naturally skilled at providing this care," he noted. "Because I'm nowhere close to the average learner's generation, telehealth care delivery is a learned and practiced skill for me. But these learners were FaceTiming at the age of 10 or so. They seem to have a natural way of communicating and engaging with patients. They listen. They don't overtalk. They have a more natural inclination to the use of plain language in this setting. They think about what they can do and can't do when they can't be physically present with a patient. Sometimes it seems that they just need to be involved in a telehealth visit for five minutes to provide a ridiculous amount of added value to how we can evaluate patients during these virtual visits."
Darling said that HL and patient education remain a priority within their organization's telehealth division.
"Health literacy comes into the picture here not only for our learners but because there's a lot of education we need to provide for our patients and our communities for them to better understand how telehealth works and what it takes to ensure a successful visit," she said. "One of our biggest goals for all of our telehealth programs is to avoid transport and keep patients local. There's a lot more we can do in the patient education space around these visits to accomplish that goal."