August 23, 2017
Southwest Telehealth Resource Center Helps Rural Providers Connect
by Allee Mead

Patients in the Southwest face unique challenges in accessing healthcare: The states in this region – Arizona, Colorado, Nevada, New Mexico, and Utah – are in the top 13 biggest states in the nation. Such a large geographical area of desert and mountainous terrain means that rural patients often have to travel long distances and spend one or more days away from home and work to see a specialist (often located in an urban population center) in person.
In addition, the culturally diverse Southwest is home to large populations of American Indians and Hispanics/Latinos, so language is frequently a barrier to effective communication between patients and medical providers. Since many providers do not have local interpreters on staff, telehealth video communications technology can enable a remote interpreter to assist on-demand.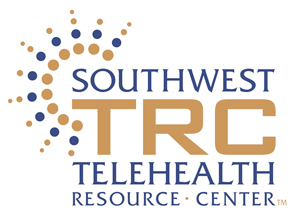 Clinics, hospitals, private practice healthcare providers, and public health offices in the Southwest can receive free technical assistance for implementing or expanding their telehealth programs from the Southwest Telehealth Resource Center (SWTRC). The SWTRC is one of 14 Telehealth Resource Centers (TRCs) in the United States: 12 regional centers and 2 national.
The TRCs were first funded in 2006 by a grant from the Office for the Advancement of Telehealth (OAT), a Federal Office of Rural Health Policy (FORHP) program, and the SWTRC was created in 2009. The 14 TRCs came together and formed the Consortium of Telehealth Resource Centers. "We all work very closely together to support telehealth," SWTRC co-director Dr. Elizabeth A. Krupinski said.
"All of the telehealth resource centers are excellent," said Natassja Manzanero, Telehealth Resource Center Program Coordinator at the Office for the Advancement of Telehealth. Since laws concerning telehealth and reimbursement vary by state, the TRCs help providers find the most current telemedicine and telehealth laws and regulations that apply in the state or states where the provider practices.
TRCs are also able to help providers – generally free of charge – in selecting the appropriate telehealth equipment, developing a business model for telehealth in their healthcare setting, and providing education to providers and patients on how to leverage telehealth technologies to improve access to healthcare services and improve health outcomes.
"Telehealth as a Great Strategy"
Fredda Kermes is Director of Professional Development, Clinical Projects, and Telemedicine at Summit Healthcare Regional Medical Center. "The Southwest Telehealth Resource Center has been invaluable to us in terms of all the information that they have curated and the training programs they have," she stated.
Summit Healthcare is an 89-bed rural regional medical center in the White Mountains region of Apache County. Located 200 miles from Tucson and 200 miles from Phoenix, the center serves more than 90,000 patients in a 3,000-square-mile area. Summit currently offers tele-concussion, tele-neurology, and tele-stroke programs and is working on offering tele-ICU, tele-pain, tele-burn, and tele-cardiology.
"We have some issues with access to care, especially for specialists," said Kermes, "so we see telehealth as a great strategy for us to develop services, to try to be able to keep our community at home for healthcare."
"Larger hospitals look at telemedicine and they don't understand why that's necessary," SWTRC co-director Dr. Ronald S. Weinstein said. "But they don't realize the uniqueness of their situation, where they can have an entire IT department, for example."
Many small hospitals don't have a fully staffed IT team or even a Chief Information Officer (CIO). Some hospitals may only have one IT person who works part-time. "We provide guidance and information on technology that would typically be provided by the CIO," Weinstein said of the SWTRC. These hospitals have access to consult with the SWTRC's dedicated group of engineers, who can also help with testing, troubleshooting, and providing information and resources for information security and healthcare industry regulations such as HIPAA.
Krupinski adds that she and Weinstein "are responsible for developing, implementing, and evaluating strategies to increase participation in the SWTRC by reaching out to programs and healthcare providers in rural, urban, and underserved areas for the Southwestern region of the United States."
A Wide Variety of Services
In addition to technical assistance, the SWTRC provides a national Clinical Telemedicine & Telehealth Service Provider Directory, which currently lists 120 companies. The SWTRC also sponsors the annual Telemedicine & Telehealth Service Provider Showcase, which will be held in Phoenix on October 2 and 3 this year. Both of these resources help healthcare providers looking to implement or expand telehealth services to find the right company that offers those services.
"I've gone to two of their showcases, and I have learned much from them," said Kermes of Summit Healthcare. "Telehealth is an evolving process, and there are lots of moving parts to it and lots of ways that it can be used. So those regional presentations have been very helpful to us."
The SWTRC also offers telemedicine training programs, which are available for a wide range of audiences including healthcare providers, administrators, and researchers. "Those training programs have been in place since about 2000," said Weinstein. "They were created because of the fact that very few providers did telemedicine at that time. It really was a new industry."
The SWTRC runs six training programs each year: three providing an overview of telehealth and three focusing on applications of telehealth. Weinstein reports that many people take both tracks of courses, and some – as they're promoted or as they move to a different organization – take the same course multiple times.
Summit Healthcare has been able to take the information it's learned from the SWTRC's training programs, webinars, and blog and educate its providers and staff, its governing board, and the larger community. The SWTRC's telemedicine online learning modules are posted in English and Spanish, and some modules are also posted in Mandarin, French, and Navajo.
"It would take us so much more time to develop resources like these," Kermes said, "so we've been able to readily share and get a lot more information out because of the resources that the SWTRC provides."
Kermes added, "I've actually had a couple of coordinators from some of the larger hospitals in Phoenix ask me how to develop some telehealth programs. I give them a list of resources, and the SWTRC is at the top of that list."
 "An Enormous Yield"
For example, the SWTRC provides onsite telemedicine training at the Flagstaff Medical Center (FMC). This urban facility, which is a major participant in the SWTRC-supported Northern Arizona Telehealth Alliance, offers a telemedicine service to its patients with congestive heart failure (CHF). FMC is the only level 1 trauma center north of Phoenix and the closest hospital for many northern Arizona residents, including rural American Indian populations. But many patients may still need to travel many hours to reach it.
With CHF, Weinstein said, "You can prevent readmissions to hospitals just by having people check their weight once a day." But hogans (traditional Navajo homes) don't have electricity, so the residents can't charge the electronic scales used in similar CHF programs. The medical center provides each CHF patient with a special electronic scale, solar panels to charge the scale, and a satellite phone to provide service in areas without cell towers.
Patients step on the scale once a day, and the scale transfers the information to a dashboard monitored by Flagstaff Medical Center. Patients who have gained two pounds since their last weigh-in are asked to adjust their diet, and patients who have gained three pounds are asked to take an additional diuretic tablet. Weinstein reports that taking this step allows a patient to avoid emergency hospitalizations, often costing as much as $93,000 in a year.
"I would say that's telemedicine in its simplest form," said Weinstein, "and yet with an enormous yield."
Above and Beyond
Summit Healthcare's Kermes reports that the SWTRC is also helpful when it comes to conferences. Summit has hosted two regional telehealth conferences, and SWTRC staff have been presenters at both, sharing their knowledge about legislation, regulations, standards, guidelines, best practices, payment, and program implementation.
Weinstein also created a video for Summit Healthcare to use in its second regional conference. "Anything that we've asked them to help us with, they've been willing and able," said Kermes.
Kermes adds that the SWTRC's expertise has even helped boost the number of attendees, as people wanted to hear experts like Weinstein and Krupinski speak. Once, Krupinski presented via teleconference, so she was able to share her expertise and demonstrate the technology in question. Krupinski has also helped Summit Healthcare with data collection and statistical analysis for publishing grant outcomes.
The whole group's just passionate about telehealth and its advancement. They are definitely leaders in the country in the work that they do.
"The whole group's just passionate about telehealth and its advancement. They are definitely leaders in the country in the work that they do," Kermes said. "I don't think we would have moved as far as we have in the world of telehealth in our organization if we did not have their support and guidance and partnership."