Sep 30, 2020
Wabanaki Public Health Serves Native People, Community, and Culture During COVID-19 Crisis
by Kathryn Rutz


"One great thing about being a service-based organization: when people need us more, we're there." Lisa Sockabasin works for Wabanaki Public Health based in Bangor, Maine. Their organization is one of the recipients of the Rural Tribal COVID Response (RTCR) grant, created by the Federal Office of Rural Health Policy to help rural tribal communities during the COVID-19 global pandemic. Indigenous communities are one of the demographics hit hardest by the current crisis, often already facing scarcity before the outbreak, lacking basics such as adequate stock of testing kits and personal protective equipment (PPE). To address this disparity, the grant funds a variety of efforts for the tribes, from offering hazard pay for providers and establishing robust telehealth services, to creating testing sites. Wabanaki Public Health has used these funds to continue their mission in serving their tribal communities, distributing much needed supplies and organizing socially distanced activities to maintain sacred spaces and interpersonal connections.
Wabanaki Public Health
The Wabanaki Public Health District was created in June of 2011 through a partnership with Maine's four federally recognized tribes, collectively known as the Wabanaki people. Wabanaki Public Health serves five communities that make up the district: the Houlton Band of Maliseet Indians, the Aroostook Band of Micmac Indians, the Passamaquoddy at Indian Township and at Pleasant Point, and the Penobscot Nation members on and off reservation. These sovereign nations work together with the state and federal government to tackle a variety of health problems facing tribal communities, from obesity to addiction. Their programs target the community holistically, with focus groups from youth to elders, building a nexus of programs to help support and educate Native people. Promoting and preserving both linguistic and spiritual components of their cultures is central to their work.
Lisa Sockabasin joined Wabanaki Public Health in 2018, and currently serves as the Director of Programs & External Affairs. She has a rich background in government and philanthropy, and was compelled to join the public health sector after an inspiring conversation with her father about service and compassion for others. When discussing her vision for the organization, she explains: "We are creating a multigenerational approach. It can be a place of healing, of service; [it] can be a place where you can reconnect with your culture and learn your language. This organization is a healing place — is home — and we will serve you. That's what we're building with Wabanaki Public Health."
We are creating a multigenerational approach. It can be a place of healing, of service; [it] can be a place where you can reconnect with your culture and learn your language. This organization is a healing place — is home — and we will serve you. That's what we're building with Wabanaki Public Health.
Over her two-year tenure, Sockabasin has seen the organization grow, ever expanding and evolving to meet the needs of their rural tribal community. One of the area's largest struggles is opioid use, and the community had long dreamed of building a treatment facility for those suffering from substance use and substance dependence disorders. First in 2019 and again in 2020, they were awarded grant funding through FORHP's Rural Communities Opioid Response Program (RCORP) to open a Tribal Opioid Treatment, Recovery and Wellness Center and to continue recovery and prevention activities that move Wabanaki communities to a higher state of recovery readiness. The Wellness Center's creation has been one of Wabanaki Public Health's greatest victories. Now tribal members facing these disorders have a place tailored not only to their physical needs, but a treatment facility aware of their cultural and communal needs as well. In recovery, they are supported by their community, which in turn may remove stress factors like loneliness and feelings of isolation that cause sufferers to turn back to substances.
This approach is key to Wabanaki Public Health's success. The organization often must grapple with historical problems as well as newly emerging issues such as the COVID-19 pandemic. They look to their community and culture for creative solutions — WPH develops the strategies and the practical steps it will take to reach their next goal, even if it may take years or be uncertain. Wabanaki Public Health is not afraid of failure. "This is a story of not-perfection," as Sockabasin puts it, "We might not be there yet, but we're working towards it."
Wabanaki Public Health COVID Response
Wabanaki Public Health was awarded the RTCR grant in May of 2020. This has enabled them to hire new staff members and create a variety of programs promoting public health in their communities. They have distributed much needed supplies like hand sanitizer, drinkable water, and produce. Drinkable water has long been an issue facing Wabanaki communities, most notably for the Passamaquoddy tribe. Their water source, Boyden Lake, often has sediment that turns faucet water brown and murky even after processing by the treatment facility — members of the tribe have instead been using a single pump at a public well, lugging water back to their homes for drinking, cooking, and even washing. This difficulty has only been exacerbated by quarantine restrictions. Therefore, clean water has become one of the cornerstones of Wabanaki Public Health's COVID response, distributing as much bottled water as they can, with dedicated staff hauling water from the well to people's homes when bottled water is unavailable.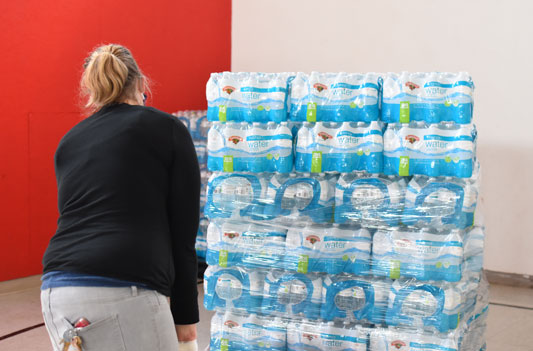 Food scarcity has been another issue that Wabanaki communities faced even before COVID, as their communities are home to many families with lower incomes, and due to the rural nature of most Wabanaki tribal communities, these families have to travel further for food. Wabanaki Public Health was able to establish an emergency food bank with apples and potatoes for those in need, thanks to donations from Ricker Hill Orchard and local potato farmers. To date, they have distributed six thousand pounds of apples and fifteen thousand pounds of potatoes across the five communities. For those who might need some guidance on how to cook, Wabanaki Public Health's newsletter and Facebook page promote simple, healthy ways to prepare both.
Wabanaki Public Health is also providing Elder Care Packages. Older adults are one of the most vulnerable populations affected by COVID, and those in rural tribal communities are no exception. The care packages were created as a way to make sure elders had the resources they needed without potentially being exposed to the virus. Each package contains essentials such as water, toilet paper, and sanitizer, as well as projects like sudoku books to help keep the elders engaged, as Wabanaki Public Health acknowledges the mental toll taken by self-isolation.
This inspired another key element in the Elder Care Packages: each comes with four colored squares signifying different levels of emotional and physical need. These squares are hung on the door as a way for elders to quickly communicate with members of Wabanaki Public Health without risking contact. Each color has a meaning: blue for a resident who is feeling lonely, red for an elder who is experiencing symptoms and needs help, yellow for a household short on supplies, and green to say that all is well. For those elders who put up a blue square, Wabanaki Public Health has started a conversation program where other members of the community will reach out with a phone call, supporting mental and emotional health by community cohesion — one of the organization's greatest strengths. Staff make their rounds twice a day, acknowledging how quickly needs can change and making sure no elders fall through the cracks.
During the pandemic, Wabanaki people have been unable to gather for sacred events, and the community feels the loss of those practices and ceremonies that play such an integral part in their social lives, maintaining mental and spiritual health. To continue to promote health through culture and connection, Wabanaki Public Health has also found ways to continue to hold ceremonies by incorporating social distancing guidelines. While fostering a sense of connection through culture, they create an antidote to isolation and a way for the community to care for itself.
Wabanaki Public Health has delivered a mobile smudging ceremony, where cultural medicine such as sage and sweetgrass are burned in the back of an open vehicle. The vehicle crawls slowly through their communities as medicines are received by the waiting community. These ceremonies are broadcast live and recorded so those who cannot attend in person may still participate, including those tribal members who live outside of the Wabanaki Public Health district. As the vehicle passes by, the community knows the healing ceremony has reached their friends, neighbors, and family — it is a symbol of unity and strength to promote healing and connection to each other.
I don't know where we'll be next year. What I do know is that we'll lean into the challenges…
While COVID continues to impact the nation and create an uncertain future, Wabanaki Public Health remains a strong support for the people they serve. From distributing resources to promoting culture and creating connection, they continue to strive for their goals. As Lisa Sockabasin explained, "I don't know where we'll be next year. What I do know is that we'll lean into the challenges, we'll talk about our struggles, and we'll get through it…we know we will have successes and we will have failures …both providing an opportunity for us to move forward."