Oklahoma
Oklahoma covers 68,667 square miles, with a 2020 estimated population of 3,959,353 people – 1,304,265 living in rural Oklahoma (USDA-ERS). Oklahoma City, the state capital, is the largest city in the state. The state's other large cities include: Tulsa, Norman and Lawton. According to 2021 data from the U.S. Census Bureau, an estimated 74.0% of the state's population is white, 7.8% is African-American, 2.4% is Asian, 9.4% is American Indian or Alaska Native, 0.2% is Native Hawaiian or Other Pacific Islander, and 11.1% is of Hispanic or Latino origin.
Oklahoma Rural Healthcare Facilities
40
Critical Access Hospitals

110
Rural Health Clinics

100
Federally Qualified Health Centers
*

48
Short Term/PPS Hospitals
*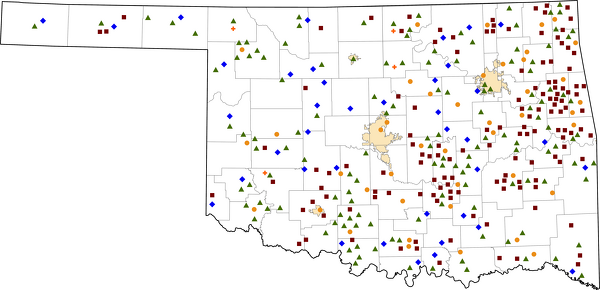 *Sites located outside of Urbanized Areas according to
data.HRSA.gov
. January 2022.
Selected Social Determinants of Health for Rural Oklahoma
Most Oklahomans have some form of health insurance coverage, although 14.5% of its residents lack health insurance (Kaiser, 2020). According to the USDA Economic Research Service, the average per capita income for Oklahomans in 2020 was $49,878, with the rural per capita income at $42,046. The ERS reports, based on 2019 ACS data, that the poverty rate in rural Oklahoma is 17.6%, compared with 13.8% in urban areas of the state. 13.7% of the rural population has not completed high school, while 11.1% of the urban population lacks a high school diploma according to 2015-2019 ACS data reported by ERS. The unemployment rate in rural Oklahoma is 5.9%, while in urban Oklahoma, it is 6.3% (USDA-ERS, 2020).

For a national comparison, please see an overview of the United States.


Data Sources
Kaiser Family Foundation State Health Facts; U.S. Census Bureau QuickFacts; USDA Economic Research Service: State Fact Sheets
Contacts
Oklahoma Office of Rural Health
Phone: 405.945.8608
Works with rural communities to ensure their healthcare infrastructure is effective and economically viable by broadening and improving the access and quality of healthcare services, stabilizing rural hospital finances, and educating the public and policymakers about rural health issues.
view details
There are more organizations related to Oklahoma in the organizations section.