Dorothea Nelson, Information Specialist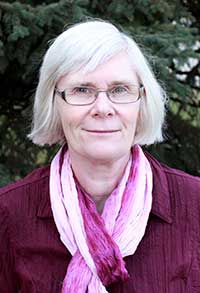 Dorothea Nelson has been an Information Specialist for the Rural Health Information Hub since 2015.
Dorothea writes and maintains topic and state guides, adds new resources to the RHIhub website, and fields requests from people seeking information on rural healthcare-related issues through our Resource and Referral Service. This position allows Dorothea to combine her personal experience, having lived in rural areas for over 30 years, and her expertise as a reference librarian. Dorothea's focuses are on the healthcare workforce, specifically education and training, recruitment and retention, and J-1 Visa Waivers; and emergency medical services and community paramedicine. She also acts as the liaison to states in the Northeastern and Southeastern United States, as well as U.S. Territories and Commonwealths.
Dorothea's understanding of rural issues is personal; not only has she lived in rural communities for most of her life, she also raised a family in rural communities. Concerns related to attracting providers or services closing were far from academic, and that experience informs the work she does on behalf of rural health organizations, communities, and residents.
Dorothea received her Bachelor of Fine Arts in piano performance from Jacksonville University, her Master of Library Science from Emory University, her Master of Arts in history from the University of North Dakota, and has only her dissertation remaining for a Ph.D. in music education from the University of North Dakota. Prior to joining the RHIhub staff, Dorothea was Head of Technical Services for the Oregon Institute of Technology Learning Resources Center and taught library science and piano at Mayville State University.
Contact Dorothea at 701.777.6032 or by email at dorothea@ruralhealthinfo.org.