Rural Health Information Hub Partners
The Rural Health Information Hub (RHIhub) is a collaboration of the University of North Dakota Center for Rural Health (UND-CRH), the Rural Policy Research Institute (RUPRI), and the NORC Walsh Center for Rural Health Analysis.
The Center for Rural Health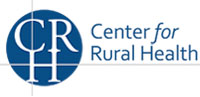 The Center for Rural Health (CRH) is the lead partner and operational base of the RHIhub. Located within the University of North Dakota School of Medicine and Health Sciences, CRH works to connect resources and knowledge to strengthen the health of people in rural and tribal communities. The CRH staff has extensive knowledge and understanding of rural healthcare issues, systems, community dynamics, and organizational arrangements.
CRH is home to the North Dakota State Office of Rural Health, the Rural Health Reform Policy Research Center, the Rural Health Research Gateway, and many other programs that serve rural communities in North Dakota and across the nation. The work of CRH is focused on seven areas:
Rural health workforce
Working with rural communities and healthcare facilities
Native American health
Rural health research
Evaluation of rural health programs
Rural health policy
Educating and Informing
Rural Policy Research Institute (RUPRI)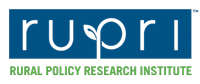 A founding partner of the RHIhub, the Rural Policy Research Institute (RUPRI) is a national interdisciplinary research institute sponsored by the University of Iowa. RUPRI's mission is to provide objective analysis and facilitate public dialogue concerning the impacts of public policy on rural people and places.
RUPRI identifies and mobilizes teams of researchers, analysts, and practitioners from institutions across the nation to investigate complex current and emerging issues in rural and regional development. RUPRI's capabilities include research, decision support tools, policy analysis and engagement, and dissemination and outreach. Major priority policy interests are in rural-urban linkages, the integration and alignment of health and human services to address community health and social determinants of health and rural wealth creation, mobility, and inequality.
RUPRI's national network of collaborative partners provide objective, timely research capacity to decision makers throughout the policy process.
RUPRI contributes its expertise to RHIhub in the areas of rural health research and policy analysis and rural human services program design and policy analysis.
NORC Walsh Center for Rural Health Analysis
NORC at the University of Chicago is an independent research institution that delivers reliable data and rigorous analysis to guide critical programmatic, business, and policy decisions. Since 1941, NORC has conducted groundbreaking studies, created and applied innovative methods and tools, and advanced principles of scientific integrity and collaboration.
The Walsh Center for Rural Health Analysis is part of the NORC's Public Health Research Department. Its mission is to conduct timely policy analysis, research, and evaluation that address the needs of policy makers, healthcare workforce, and the public on issues that affect healthcare and public health in rural America.
NORC's extensive experience focusing on the issues that affect rural providers and populations dates back to 1952 when it conducted its first rural health study entitled "A Study of the Prevalence of Chronic Illness and Needs for Care in a Rural Area." This focus on rural research continues—the NORC Walsh Center for Rural Health Analysis partners with East Tennessee State University on the Rural Health Equity Research Center, one of the rural health research centers funded by FORHP.
The NORC Walsh Center contributes its expertise to RHIhub in the creation of the rural health evidence base base through development of evidence-based toolkits and reviews of rural health models and innovations.