Kristine Sande, Rural Health Information Hub Director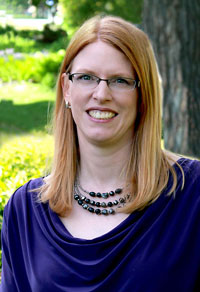 Kristine Sande has been involved in rural health issues at the national level for over 18 years. She has been with the Rural Health Information Hub since its inception in 2002, and has served as the Program Director since 2005.
As director, Kristine works with the program's partners and funder, making certain that the RHIhub addresses the needs of its users. She assures quality control, facilitates communication with relevant stakeholders, and manages the overall strategy of the RHIhub. Kristine describes her job as keeping all the various pieces moving and — in her own words — as "email."
Interestingly, in many ways it seems like Kristine's entire life has led her to this role. She was drawn to rural health because of some of her earliest life experiences. She grew up on a family farm in North Dakota with her parents both serving in the North Dakota legislature at different times, instilling in her the value of investment in community and the direct impact that policy could have on people's lives. When working as a nursing assistant in her rural community, she saw firsthand the difference it makes for a family to have an ailing loved one receive care in their own community — from people who know them and are personally invested in their welfare.
In college, Kristine studied economics and business, acquiring skills that would one day be necessary for managing the business side of the RHIhub. At the same time, she worked in a library, gaining an understanding of the research and resource-finding that the RHIhub specializes in. After college, she worked for a rural electric cooperative, where she saw how a community coming together could solve a uniquely rural problem. She also gained firsthand understanding of the types of big-picture challenges that rural communities often face as well as insight into the way they can be addressed at a community level.
Since 2002, Kristine has worked for the North Dakota Center for Rural Health where she serves as the Associate Director for Information Dissemination. In this role, Kristine is the program director for TruServe, an activity tracking service, as well as for the RHIhub.
Kristine received a bachelor of business administration in economics, with a minor in mathematics, and a master of business administration from the University of North Dakota. She received the Meritorious Service Award from the University of North Dakota in 2010. She is a member of the Rural Quality Advisory Council and the National Rural Health Association's Board of Trustees and Rural Health Congress, and participates in the Public-Private Collaborations in Rural Health initiative.
Contact Kristine by email at kristine@ruralhealthinfo.org.