Makenzie Atherton, Content Development Coordinator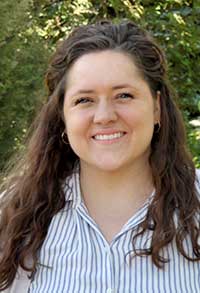 Makenzie Atherton joined the Rural Health Information Hub in 2017 and has been the Content Development Coordinator since 2019.
Makenzie is responsible for the development of original content and provides oversight to content added by others. She assists with quality assurance and usability activities, coordinates program activities, and contributes to project evaluation. Formerly an Information Specialist, Makenzie also has experience maintaining state and topic guides, adding resources to the site, and providing customized assistance through our Resource and Referral Service.
Makenzie received her Bachelor of Science degree in Education and Human Sciences with a focus on Nutrition from the University of Nebraska, Lincoln. She received her Master of Public Health degree with a focus on biostatistics from the University of North Dakota.
While pursuing her Masters, Makenzie was a graduate assistant with another program in the North Dakota Center for Rural Health, the Evaluation of Cardiac System of Care, a rural healthcare delivery grant. Upon graduation, she transitioned to a full-time position. In this role, Makenzie evaluated a grant that provided a mechanical CPR device to every ambulance and hospital outside of metro areas in seven states. She also worked with the states to develop training tools and resources for rural EMS agencies and hospitals. Traveling through seven mostly-rural states provided a great appreciation for rural areas and for the unique and diverse experiences she had there, discovering what made each rural town special.
Contact Makenzie at 701.777.8003 or by email at makenzie@ruralhealthinfo.org.