Maren Niemeier, Information Resources Manager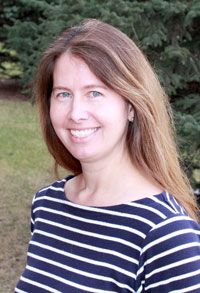 Maren Niemeier joined the Rural Health Information Hub in 2003, and has been the information resources manager since 2008.
In this role, Maren is responsible for the information architecture of the RHIhub and oversees the creation of much of our original content. Maren was drawn to the RHIhub by her belief in the importance of increasing healthcare equity. With family connections to rural North Dakota, Maren saw first-hand the difficulty people in rural areas had in meeting their healthcare needs.
Like Maren herself, Maren's mother was a medical librarian, so much of Maren's childhood was spent satisfying curiosity by learning how to seek out necessary information. She feels there is something especially satisfying in helping people find the information they need. In many ways, Maren's childhood of paging through encyclopedias is very similar to the work she does at the RHIhub. Maren finds and organizes information so that it is widely accessible to those who need it, but she also finds the gaps in that information and finds ways to fill it effectively. Her oversight of the writers for the Rural Monitor, our Topic Guides, and our Rural Health Models and Innovations allows her to do just that — identify where information is missing or inaccessible, and fill that need.
Maren received a Bachelor of Arts degree in Mathematics from Cornell University and her Master of Library and Information Science degree from the University of Texas at Austin. While at the RHIhub, Maren previously worked as the Lead Information Specialist and was the Information Resources Manager for the Health Workforce Information Center, a past project of our parent organization, the University of North Dakota's Center for Rural Health. She has also worked as an Associate Fellow at the National Library of Medicine, a Digital Service Librarian at the Chester Fritz Library, and as the Network Coordinator for the Midcontinental Region of the National Network of Libraries of Medicine.
Contact Maren at 701.777.8001 or by email at maren@ruralhealthinfo.org.