Matt Bruflodt, Information Specialist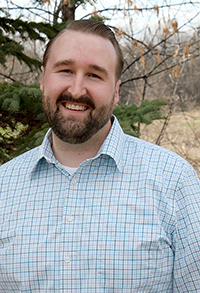 Matt Bruflodt has been an Information Specialist for the Rural Health Information Hub since 2017.
In this role, Matt writes and maintains topic and state guides, adds new resources to the RHIhub website, and provides customized assistance through our Resource and Referral Service. In Matt's view, this means being a jack of all trades, because although he does have areas of expertise, he needs to be able to answer questions on a myriad of rural health topics. He feels that a lot of what he does is problem-solving: figuring out what is needed, if it exists, and where it fits. Matt's focuses are on behavioral health and oral health, agricultural health and safety, migrant health, veterans' health, and tribal health. He also acts as a liaison to states primarily in the western United States as well as U.S. territories and commonwealths.
Although Matt did not originally set out to work in rural health, he came well-prepared. He's lived in rural areas for most of his life and especially appreciates the close proximity to nature and the quiet that is so elusive in urban areas. Additionally, several members of his family work in healthcare, providing him with exposure to and investment in health issues.
Matt received his bachelor of fine arts in creative and professional writing with a minor in philosophy as well as his master of arts in English from Bemidji State University. Prior to the RHIhub, Matt worked as a Program Specialist for Indians into Medicine (INMED), a comprehensive program designed to assist American Indian students in pursuing health professions at the University of North Dakota. In this position, Matt worked with information related to American Indian healthcare and health education and was also involved in managing and maintaining grants and running the INMED summer program.
Contact Matt by email at matt@ruralhealthinfo.org.