Naomi Lelm, Senior Project Coordinator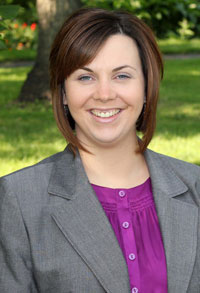 Naomi Lelm has been with the Rural Health Information Hub since 2003, and has been the senior project coordinator since 2012.
Naomi is responsible for maintaining the high quality of the content of the website and making certain the RHIhub operates economically so that it can provide the best possible service to its users. She also supervises many of the RHIhub content staff, providing the support they need to do their jobs well. In her time here, Naomi has taken on aspects of many of the roles played by RHIhub staff, which uniquely qualifies her to understand the various moving pieces. Her previous work experience with a non-profit taught her the importance of a team approach—of working outside of your job description and jumping in where you are needed. This ability to be flexible and willingness to adapt to the needs of a given project has defined Naomi's role here, which evolved as the RHIhub itself did.
Naomi grew up in a small town in North Dakota whose local hospital closed a few years after she was born. The nearest hospital was a half hour away, and there was only a volunteer ambulance service, no 911. This meant that any otherwise commonplace childhood accidents could have been disastrous. This early awareness of that distance and the importance of access was significant in shaping Naomi's worldview and continues today in concern for family members with chronic disease or who need specialty care and continue to face long distances. She was drawn to working in rural health in large part because of these experiences.
Naomi received a Bachelor's of Science degree in Business Administration from the University of Mary in Bismarck, North Dakota.
Contact Naomi at 701.777.0679 or by email at naomi@ruralhealthinfo.org.