Angel Flight East's Rural & Rare Reach Program
Summary
Need: Free, non-emergency air travel for children and adults in need of medical treatment far from home who live in rural areas of the Northeast.
Intervention: Angel Flight East, a free medical flight service, has expanded their focus to include more patients from rural areas, as well as those with rare medical conditions.
Results: Since adding the Rural & Rare Reach program, Angel Flight East has made contact with over 100 Critical Access Hospitals and more than 300 FQHCs for referrals. Ongoing promotional efforts with rural health organizations are helping to increase the awareness of flight services to rural locations.
Description
Angel Flight East (AFE) is dedicated to rural health by facilitating free air transportation to children and adults in need of medical treatment far from home. AFE is based in Montgomery County, Pennsylvania and serves the Northeast United States. While AFE flies patients from all over a 14-state territory, it has seen an even greater need for patients living in rural areas and those with rare medical conditions who often have to travel far distances for treatment.
In 2017, the Cencora Impact Foundation, the charitable arm of a wholesale pharmaceutical distribution and service company, provided Angel Flight East with a $20,000 grant. With the funds, Angel Flight East created a program called Rural & Rare Reach. Managed by a director and several volunteers, the program is focused on broadening access to high-level medical care to rural residents and those with rare diseases or cancer types or serious congenital conditions. Some of the funds will be used to specifically promote AFE services to rural healthcare providers and patients.
Over 400 AFE pilot volunteers fly patients to specialty medical facilities for a variety of medical needs, including treatments, clinical trials, and regular check-ups. Medical facilities to which AFE flew patients in 2021-2022 include, but are not limited to:
Services offered
Angel Flight East services include:
Medical transportation for those who are medically stable and able to walk
Compassion flights for persons traveling to care for or visit a seriously ill family member
Disaster response to assist in relocating displaced residents
Air transport for transplant recipients (follow-up appointments only)
To be eligible for an AFE mission, a person must have a compelling need, as well as be ambulatory and medically stable to fly on a general aviation aircraft.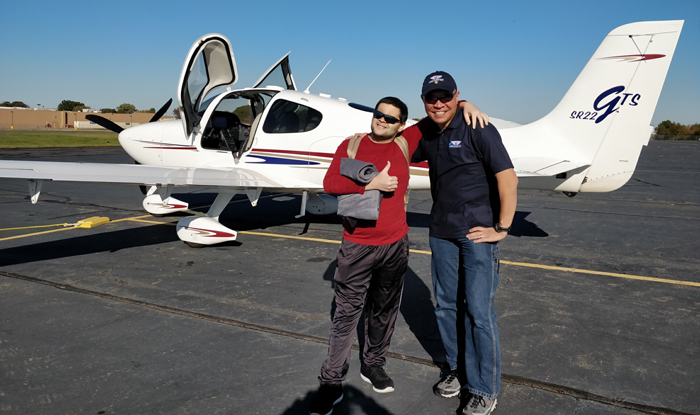 Results
Since adding the Rural & Rare Reach program:
275 additional volunteer pilots have signed on to provide free flights
50 rural patients have been flown by AFE (10% of flights in FY2022 were for rural passengers)
AFE has made contact with 162 Critical Access Hospitals and 370 Federally Qualified Health Centers for referrals
Flights have increased by 47% from FY2021 to FY2022 (from 680 to 1,000)
In 2019, AFE staff attended multiple rural conferences hosted by State Offices of Rural Health and State Associations of Rural Health. By exhibiting at these events, AFE connected with rural influencers who have helped spread the word about their services. AFE is implementing a Crew Resource Management (CRM) system to help track all outreach efforts for the Rural & Rare Reach program.
Angel Flight East is one of seven Angel Flight organizations operating as independently run nonprofits. Read about another service, Angel Flight West, in RHIhub's Rural Health Models & Innovations. The Rural Monitor article, Taking Flight: Charity Airplane Services Transport Patients to Medical Care, features additional flight services and their impact on rural health.
In the News:
Replication
Air Care Alliance is an organization that helps coordinate charitable flight missions for healthcare and disaster relief. More than 70 charitable flight organizations accept referrals from healthcare facilities and applications from patients, but not all of them have a rural reach. Making an extra effort to include rural and remote locations can help fill in the healthcare access gap for many people in need. Here are some steps flight organizations can consider to broaden their rural reach:
Apply for funding specific to rural outreach projects. Consider federal, state, or philanthropic sources. The RHIhub keeps a current record of transportation funding opportunities.
Increase promotional efforts to rural health organizations like the State Offices of Rural Health and Rural Health Associations. These groups can guide outreach efforts and make connections with rural healthcare facilities.
AFE flights can be submitted by a passenger or medical professional online or over the phone.
Topics
Access
Transportation

States served
National/Multi-State, Pennsylvania
Date added
November 25, 2019
Date updated or reviewed
October 7, 2022
Suggested citation: Rural Health Information Hub, 2022. Angel Flight East's Rural & Rare Reach Program [online]. Rural Health Information Hub. Available at: https://www.ruralhealthinfo.org/project-examples/1074 [Accessed 28 September 2023]
Please contact the models and innovations contact directly for the most complete and current information about this program. Summaries of models and innovations are provided by RHIhub for your convenience. The programs described are not endorsed by RHIhub or by the Federal Office of Rural Health Policy. Each rural community should consider whether a particular project or approach is a good match for their community's needs and capacity. While it is sometimes possible to adapt program components to match your resources, keep in mind that changes to the program design may impact results.