Mar 30, 2016
Providing Patients with Access to Nutritious Food
by Jenn Lukens
Thanks to one man's vision, Fairview Hospital of Great Barrington, one of three Critical Access Hospitals in Massachusetts, has become known as a leader in creating progressive, nutritional value for its community.

Roger Knysh, a long-term employee of Berkshire Health Systems' foodservice department, directs all dietary activity within its affiliate, Fairview Hospital. He has made it his mission to provide daily access to nutritious options for patients, staff, and the community.
Drastic changes for Fairview began in 2006, when Knysh signed the Health Care Without Harm's Healthy Food Pledge on the hospital's behalf. Fairview was the first hospital in Massachusetts to sign the pledge, and Knysh immediately got to work implementing its requirements to provide fresh, healthy food for those they serve.
Roger understands that the hospital sets the tone for the community. We take care of sick people, but in a broader sense, we are setting a standard as a role model.
Lauren Smith, director of Community Relations at Fairview Hospital, testifies that it has become a much healthier place than 25 years ago when tuna fish sandwiches and white bread were cafeteria staples. Today, their menu features fresh Jersey milk, low-sodium soups, whole-grain breads, all-natural beef, and recipes made with produce from the hospital's garden. In a state that has been a frontrunner of the farm-to-table movement, Fairview is seen as an initiator. "Roger understands that the hospital sets the tone for the community," says Smith. "We take care of sick people, but in a broader sense, we are setting a standard as a role model."
Building a Sustainable Model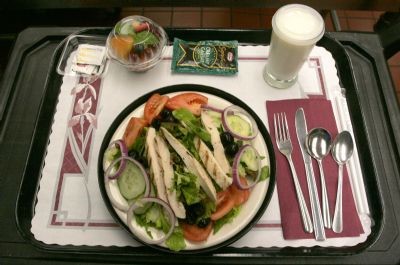 After signing the Healthy Food Pledge, Knysh decided one of the best ways to provide fresh food was by growing their own. He constructed an on-site private hospital garden that produces tomatoes, cucumbers, onions, lettuce, garlic, basil, peppers, and broccoli, to name a few. The produce is planted and harvested by foodservice staff and used in Fairview's kitchen on a regular basis. The 40-foot by 20-foot garden has continued to expand every year, creating a sustainable source of fresh fruits and vegetables.

The Wholesome Wave's Fruit and Vegetable Prescription Program (FVRx) [now called Wholesome Rx] is another program working to create access to nutritious food for patients. This national program, which has been implemented in 12 states and 35 rural and urban healthcare facilities, makes fresh produce affordable for patients who suffer from diet-related health problems. Headquartered in Bridgeport, Connecticut, FVRx is gaining ground in underserved areas as a simple way doctors can provide nutritious incentives for patients. Providers can "prescribe" nutritious food in the form of free vouchers which are typically equivalent to a dollar a day. The vouchers can be redeemed for fresh produce at local food retailers. Donations and grants from local foundations, city and state agencies, as well as hospital investments, have been used to fund the incentives.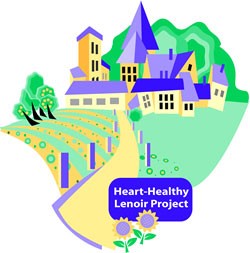 The Heart Healthy Lenoir Project (HHL) is a research-based initiative intended to identify models that make a difference in people's health. Funded by the National Heart, Lung, and Blood Institute, HHL creates resources and tests ways to reduce heart-related problems in Lenoir County, North Carolina. One method that has proven true is nutrition education.
Dr. Alice Ammerman, professor of nutrition in public health and director of University of North Carolina's Center for Health Promotion and Disease Prevention, has been an active researcher for HHL. As fried food and barbecue are favorites of many in the region, part of Ammerman's work is developing new recipes and teaching North Carolinians how to cook their Southern comfort foods in healthier ways.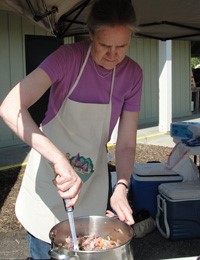 "Eating locally-produced food is becoming more popular around the state," commented Ammerman. "The problem is that many people no longer know how to cook from scratch, and young people have lost the art of cooking. We try to adapt local favorites to be healthier, showing people that they don't have to give up what they enjoy for a healthier diet."
HHL also helps those who can't afford nutritious food. "Food baskets and community supported agriculture (CSA) efforts tend to be higher-end projects," says Ammerman. "We have done some work to make them affordable for most people by cost-offsetting."
For example, HHL has helped several veggie vans and small farmers' markets launch in Lenoir County. To cut the price for patients and community members, hospitals and insurers in some areas help subsidize the cost of fresh produce.
Going Above and Beyond
The successes of Fairview Hospital, FVRx, and HHL are largely due to their willingness to go above and beyond to ensure that as many people as possible gain regular access to nutritious food.
Knysh, who has been honored as Foodservice Director Magazine's "Foodservice Director of the Month," says that high standards and large goals are often met in unconventional ways, "Foodservice directors have to take risks. When we started doing all of this, it was pretty unheard of."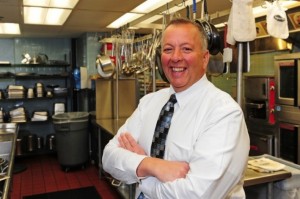 Knysh took a big risk in 2010 when Fairview Hospital became one of the first in the nation to remove sugar-sweetened beverages from room service menus, staff meetings, vending machines, and the cafeteria. The task was not easy. At first, he experienced some push-back, but constant staff education and support from Fairview's administration kept the momentum going. The staff and community have since come to embrace this change, among many.
Smith agrees with Knysh on the necessity of being unconventional. "We are at a place with hospital food where expectations are low. (Healthcare facilities) that are changing things are going to get that 'wow factor' back," predicts Smith.
In Skowhegan, Maine, Dr. Michael Lambke, family practice doctor and medical director of Redington-Fairview General Hospital (RFGH), works hard to help his patients fully benefit from FVRx. In order to receive an FVRx prescription, his patients must enroll in a six-month course developed by Lambke and his medical team. Sessions engage patients in fun, physical, and nutritional activities such as hula-hooping, dancing, hiking, and cooking lessons. Community organizers skilled in motivational interviewing are brought in to encourage patients in their healthy adaptations. Because of this tactile approach, "We have great retention…and are making a significant impact not just on the child, but also on their family members," attests Lambke.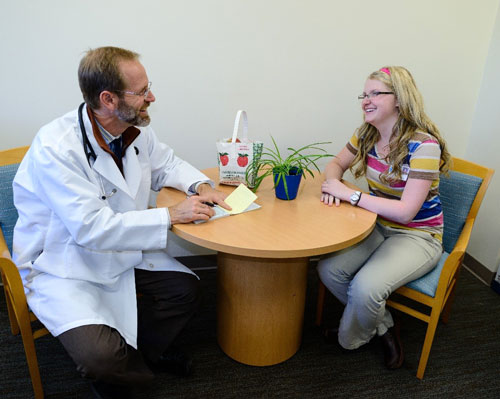 Educating Providers and Patients
In order to educate patients on nutrition and healthy food choices, providers themselves need to know how to best conduct that conversation. HHL and FVRx have created some key resources to equip providers to incorporate nutrition discussions when treating a patient.
Dr. Tom Keyserling, professor at UNC School of Medicine and internist at multiple hospitals in North Carolina, contributes to HHL research. As a doctor, he describes one of the difficulties medical providers face. "One of the challenges of primary care is figuring out how to convey meaningful lifestyle messages in short office visits. After (medical care) is given, there is not much time for lifestyle counseling. Doctors need to have tools to use and resources to turn to," stated Keyserling.
This dilemma has motivated much of HHL's work. The past few years, researchers have developed materials to make it easier for clinicians to have nutrition discussions with their patients. Keyserling now uses Healthy Eating Materials, Healthy Lifestyle Tips, and other HHL tools during office visits.
As FVRx is moving into more underserved territories, FVRx Senior Program Manager Amanda Morgan recognizes that rural providers know the challenges their patients face as well as the best solutions to their health problems. "They are in a unique position to help their patients understand the connection between the food they are eating, the lifestyle choices they are making, and the impact those are having on their health," stated Morgan.
Through offering a prescription for healthy produce, FVRx provides a tool that can aid rural physicians' efforts. "With the FVRx program, providers can make explicit connections between educating patients about the importance of consuming fruits and vegetables and empowering them with resources to facilitate those healthier food choices," said Morgan.
Optimizing Local Partnerships
One key principle of all three programs is teamwork. The more people that are working together, the easier it is to achieve goals than if working alone. Partnerships have played a large role in increasing awareness of their services and the overall impact on their patients' health.
For Knysh, partnerships have been built through purchasing foodstuffs from local farmers and organizations like Berkshire Grown, instead of strictly buying from foodservice vendors. "We developed a shared vision of building an alternative food system that is deeply rooted in the concept of supporting local producers and vendors," stated Knysh.
Working with local partners can further pique interest from the community. Smith has seen that Knysh's efforts to not only enhance Fairview's menus, but also shop locally, have made a big difference in Great Barrington's relationship with the hospital. The cafeteria is proof, as non-patients flood in at noon for a healthy and tasty meal. "Roger has opened the door to people by raising awareness of all of our healthy resources around the area, attests Smith. "Now, the community doesn't stay outside. The community is coming in."
In most cases, food retailers are interested in having an opportunity to be a part of a program that is increasing their community's access to affordable, healthy food.
Similarly, local partnerships are vital for FVRx. Patients can only redeem their prescriptions at locations that have agreed to accept them. "Nationally, there is a lot of excitement for fruit and vegetable prescription programs," said Morgan. "In most cases, food retailers are interested in having an opportunity to be a part of a program that is increasing their community's access to affordable, healthy food."
From a doctor's perspective, Lambke says that localized partnerships are key to finding solutions for food insecurity, obesity, and other health-related issues in rural areas. "There are many misconceptions and biases around these issues," stated Lambke. "It is helpful to build a structure around the FVRx program that includes meeting with farmers, nutritionists, physicians, and community health educators to enable ways of improving processes and have open communication when problems develop."
His efforts have paid off. The Skowhegan Farmers' Market has become one of the most successful in Maine. By partnering with it, RFGH and Lambke have been able to improve the health of many of their town's residents.
In Lenoir County, Ammerman advocates for health on an individual and organizational level. Her partnership efforts with HHL encourage local businesses like hospitals, restaurants, and grocery stores to offer healthier food and beverage choices that positively affect their customers' health (for instance, adding less sugar to their sweet tea). While Fairview Hospital, FVRx, and HHL have taken different approaches, Ammerman reflects the heart of all three programs with her motivation to increase patients' access to nutrition's food, ultimately, "making the healthy choice the easy choice."