Shortage Designations
Shortage designations identify geographic areas, population groups, and healthcare facilities that lack sufficient access to healthcare providers.
Federal shortage designations include:
Health Professional Shortage Areas (HPSAs)

Primary Medical Care
Mental Health
Dental

Medically Underserved Areas (MUAs)
Medically Underserved Populations (MUPs)
These designations determine eligibility for a variety of federal and state programs, including the Federally Qualified Health Center (FQHC) program and the National Health Service Corps (NHSC) programs.
It is important to note that programs using HPSA designations to determine eligibility might use the HPSA data as of a certain date in order to facilitate program operations. For example, the NHSC freezes the HPSA list and scores on January 1st of each year. The NHSC Jobs Center lists eligible HPSAs and corresponding HPSA scores, as used by NHSC programs.
Frequently Asked Questions
---
What is a Health Professional Shortage Area (HPSA)?
HPSA designations indicate shortages of healthcare professionals who provide primary care, dental, and mental health services, and are designated by the Health Resources and Services Administration (HRSA). HPSAs may be:
Geographic, based on the population of a defined geographic area
Population-specific, for a subset of the population in a defined geographic area, such as those whose incomes are below 200% of the federal poverty level (FPL)
Facility-based, such as public or nonprofit private clinics, state mental health hospitals, and federal or state correctional facilities
In addition, there are safety net clinics that automatically receive shortage designation status. These include:
The primary factor used to determine whether a location may be designated as a HPSA is the number of full-time equivalent healthcare professionals relative to the population, with consideration given to high need indicators such as a high percentage of the population living at or below 100% of the federal poverty level (FPL).
For further information on HPSAs, visit HRSA's Shortage Designation page.
---
How many HPSAs are there in rural and frontier areas of all states and U.S. territories?
The number of HPSAs in rural or non-rural areas can be found through the HRSA Data Warehouse:
Scroll down to the section titled Quick Reports
Select Designated HPSA Statistics
Open the report
These numbers are updated daily. A list of designations is published annually in the Federal Register to officially withdraw designations that have a status of proposed for withdrawal or no new data submitted.
---
Where are HPSAs located?
To search for HPSAs by state and county, see HRSA's HPSA Find tool.
The following maps show designated HPSAs for primary care, dental health, and mental health.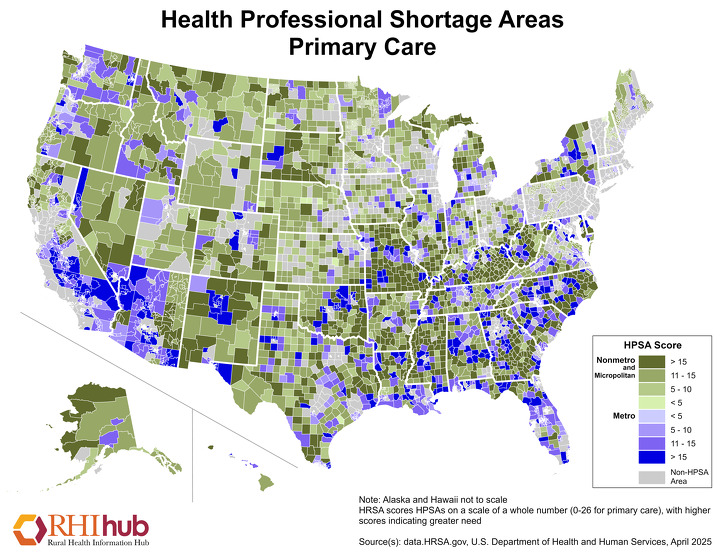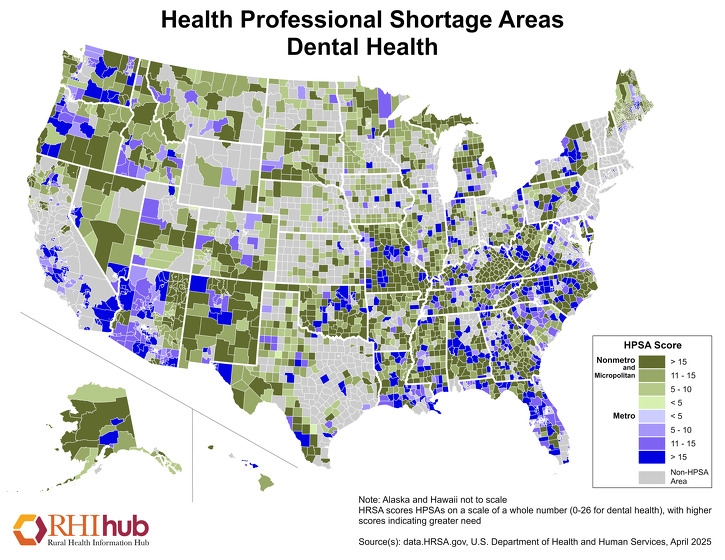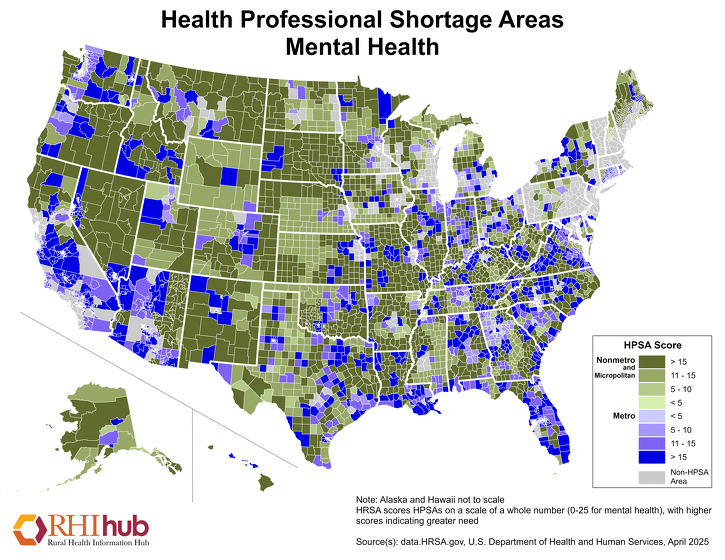 ---
What is the process in applying for HPSA designation?
It is recommended that you contact your state Primary Care Office (PCO). State PCOs conduct needs assessments on their states, determine what HPSA designations to apply for, and submit to HRSA all HPSA designation applications for their state. After submission by a State PCO, HRSA reviews all new or updated HPSA designation requests and makes the final determination on all designation applications submitted. Review and evaluation of a designation application may take up to 90 days for determination by the HRSA Division of Policy and Shortage Designation.
For more information on applying for HPSA designation, visit Health Professional Shortage Area (HPSA) Application and Scoring Process.
---
How are HPSA designations determined?
There are 3 types of designations:
Geographic areas
Population groups
Facilities
Each designation has its own requirements and is available for primary care, dental health, and mental health.
Geographic area HPSA eligibility is based on three determining factors:
A rational service area
A population-to-provider ratio that exceeds a specific threshold
The contiguous area resources must be deemed to be over-utilized, excessively distant, or otherwise inaccessible
If a geographic area does not meet designation criteria, but a specific population group does have access barriers, the population group may be eligible for HPSA designation. In such cases, the access barriers must be identified, and a population-to-provider ratio for that particular population group must be identified and exceed a specific threshold.
Certain facilities may receive facility HPSA designation if they meet minimum criteria described in regulation. For more information, visit Health Professional Shortage Areas (HPSAs). HPSA scores range from 1 to 26 for dental care, and 1 to 25 for primary care and mental health.  Higher numbers show greater need. For more information, see Health Professional Shortage Area (HPSA) Application and Scoring Process.
---
I understand that a new process for federal shortage designations is being developed. What is the status?
The Negotiated Rulemaking Committee on the Designation of Medically Underserved Populations and Health Professions Shortage Areas was formed in 2010, as mandated by the Affordable Care Act (Section 5602). The committee was to work with HRSA to develop a comprehensive methodology and criteria for the designation of MUPs and HPSAs. The committee met over 14 months, completed their work in 2011, and issued a Final Report to the Secretary. However, the committee did not reach full consensus on a proposed methodology, so the Department of Health & Human Services (HHS) will proceed to develop an interim final rule, as required by statute. The interim final rule proposed by HRSA will be reviewed within HHS and the Office of Management and Budget (OMB) prior to its publication in the Federal Register.
HRSA has developed and implemented a Shortage Designation Management System (SDMS), designed to aid State Primary Care Offices (PCOs) in submitting applications and HRSA Project Officers in processing and reviewing these applications. HRSA anticipates updating geographic, population, and Other Facility (OFAC) HPSA designations by July 2017, using standardized and PCO-provided data. In preparation for this change, the Shortage Designation Project Team ran an Impact Analysis to evaluate the effect that data sets in SDMS may have on HPSA designations and scores. Results were released by the Shortage Designation Branch nationally and to state PCOs in January 2017.
---
What is a Medically Underserved Area (MUA) and Medically Underserved Population (MUP)? Is there a list of each?
Medically Underserved Areas (MUAs) and Medically Underserved Populations (MUPs) are shortage designations that indicate a lack of primary care services for an area or a population. MUAs and MUPs are based on four factors, including the ratio of population to primary care providers, infant mortality, high poverty, and the percentage of the population over age 65. A list of MUAs and MUPs can be found at HRSA's Data Portal Results. To search for MUAs and MUPs by state and county, visit HRSA's website, MUA Find.
For further information on MUA/MUP designations, visit HRSA's website, Medically Underserved Areas and Populations (MUA/Ps) or contact your state Primary Care Office.
---
Are there also state-level health workforce shortage designations?
While many states use the federal HPSA designations for state program eligibility, some have created their own state-level shortage designations. These classifications are not uniform, but rather are designed to be state-specific. They may be used to determine eligibility for state-level workforce programs.
To learn whether your state has state-level shortage designations, contact your state Primary Care Office.