Healthcare Access in Rural Communities
Access to healthcare services is critical to good health, yet rural residents face a variety of access barriers. A 1993 National Academies report, Access to Healthcare in America, defined access as the timely use of personal health services to achieve the best possible health outcomes. A 2014 RUPRI Health Panel report on rural healthcare access collects additional definitions of access, along with measures that can be used to determine access.
Ideally, residents should be able to conveniently and confidently access services such as primary care, dental care, behavioral health, emergency care, and public health services. According to Healthy People 2020, access to healthcare is important for:
Overall physical, social, and mental health status
Prevention of disease
Detection and treatment of illnesses
Quality of life
Preventable death
Life expectancy
Rural residents often experience barriers to healthcare that limit their ability to obtain the care they need. In order for rural residents to have sufficient healthcare access, necessary and appropriate services must be available and obtainable in a timely manner. Even when an adequate supply of healthcare services exists in the community, there are other factors to consider in terms of healthcare access. For instance, to have good healthcare access, a rural resident must also have:
Financial means to pay for services, such as health insurance coverage that is accepted by the provider.
Means to reach and use services, such as transportation to services which may be located at a distance, and the ability to take paid time off of work to use such services.
Confidence in their ability to communicate with healthcare providers, particularly if the patient is not fluent in English or has poor health literacy.
Confidence in their ability to use services without compromising privacy.
Confidence in the quality of the care that they will receive.
This guide provides an overview of barriers to healthcare access in rural America and how communities and policymakers can help improve healthcare access for rural residents. The guide includes information on barriers to care, including workforce shortages, health insurance status, distance and transportation, poor health literacy, and the stigma of certain conditions such as mental health or substance abuse issues for those in rural communities.
Frequently Asked Questions
---
How does the lack of healthcare access affect population health and patient well-being in a community?
Health Status and Health Care Access of Farm and Rural Populations, states that both farm and rural populations experience lower access to health care along the dimensions of affordability, proximity, and quality, compared with their nonfarm and urban counterparts. Nonmetropolitan households are more likely to report that the cost of healthcare limits their ability to receive medical care. In more remote counties, patients have to travel long distances for specialized treatment. These patients may substitute local primary care providers for specialists or they may decide to postpone or forego care from a specialist due to the burdens of cost and long travel times.
According to the 2014 report, Access to Rural Health Care - A Literature Review and New Synthesis, barriers to healthcare result in unmet healthcare needs including lack of preventive and screening services, treatment of illnesses, and preventing patients from needing costly hospital care. A vital rural community is dependent on the health of its population. Access to medical care does not guarantee good health; however, access to healthcare is critical for a population's well-being and optimal health.
The challenges that rural residents face in accessing healthcare services contribute to health disparities. To learn more about disparities in health outcomes, see RHIhub's Rural Health Disparities topic guide.
---
What are barriers to healthcare access in rural areas?
Health Insurance Coverage
Individuals who do not have health insurance have reduced access to healthcare services. An April 2017 issue brief from the Kaiser Family Foundation, The Role of Medicaid in Rural America, reports that 12% of the rural nonelderly population are uninsured, based on an analysis of 2015 American Community Survey data. There is variation between the rates of states that expanded Medicaid (9%) and those that did not (15%).
Health Care Access and Use Among the Rural Uninsured, identifies some key facts on the rural uninsured:
Uninsured people face barriers to care compared to people with health insurance coverage.
Rural uninsured are more likely to delay or forgo medical care because of the cost of care compared to those with insurance.
According to a June 2016 ASPE issue brief, 43.4% of uninsured rural residents report that they do not have a usual source of care and 26.5% delayed or did not receive care in the previous year due to cost. A 2014 issue brief from the Kaiser Family Foundation points out that the rural uninsured, when compared to their urban counterparts, face greater difficulty accessing care due to the limited supply of rural healthcare providers who offer low-cost or charity healthcare.
The affordability of health insurance is a concern for rural areas. In an August 2016 webinar, Geographic Variation in Health Insurance Marketplaces: Rural and Urban Trends in Enrollment, Firm Participation, Premiums, and Cost Sharing in 2016, researchers from the RUPRI Center for Rural Health Policy Analysis point out that rural areas tend to have fewer insurance companies offering plans in the Health Insurance Marketplaces. Premium increases tend to be higher where there is less competition among insurers.
Workforce Shortages
Healthcare workforce shortages have an impact on access to care in rural communities. One measure of healthcare access is having a usual source of care. Having an adequate health workforce is necessary to providing that usual source of care. Some health researchers have argued that determining access by simply measuring provider availability is not adequate to fully understand healthcare access. They contend that access measures should include healthcare service use and nonuse. For example, counting people who could not find an appropriate provider of care.
A shortage of healthcare professionals in rural America can limit access to care by limiting the supply of available services. As of September 2018, 57.27% of Primary Care Health Professional Shortage Areas were located in rural areas, according to a data.HRSA.gov Preformatted Report. To view the most current figures, select the report Shortage Areas, Health Professional Shortage Area (HPSA) – Basic Primary Medical Care: Designated HPSA Statistics.
Primary Care HPSAs are scored on a range from 0-25, with higher scores indicating greater need for primary care providers. This November 2017 map highlights nonmetropolitan areas with primary care workforce shortages, with areas in darker green indicating higher nonmetro HPSA scores: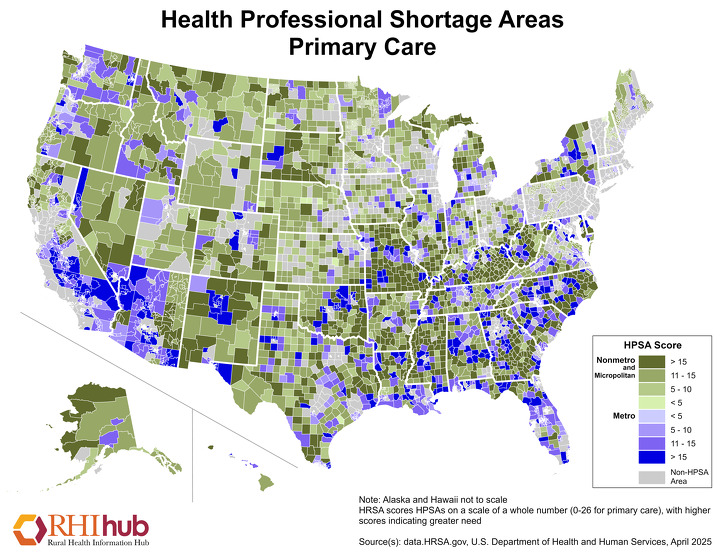 Distance and Transportation
People in rural areas are more likely to have to travel long distances to access healthcare services, particularly specialist services. This can be a significant burden in terms of both time and money. In addition, the lack of reliable transportation is a barrier to care. In urban areas, public transit is generally an option for patients to get to medical appointments; however, these transportation services are often lacking in rural areas. Rural communities also have more elderly residents who have chronic conditions requiring multiple visits to outpatient healthcare facilities. This becomes challenging without available public or private transportation. RHIhub's Transportation to Support Rural Healthcare topic guide has more resources and information about these issues for rural communities.
Social Stigma and Privacy Issues
In rural areas, where there is little anonymity, social stigma and privacy concerns are more likely to act as barriers to healthcare access. Residents may be concerned about seeking care for issues related to mental health, substance abuse, sexual health, pregnancy, or even common chronic illnesses due to unease or privacy concerns. This may be caused by personal relationships with their healthcare provider or others that work within the healthcare facility. In addition, concerns about other residents noticing them utilizing services such as mental healthcare can be a concern. Co-location or integration of behavioral health services with primary care can help.
Poor Health Literacy
Health literacy, which impacts a patient's ability to understand health information and instructions from their healthcare providers, is also a barrier to accessing healthcare. This is a particular concern in rural communities, where lower educational levels and higher incidents of poverty often impact residents. To learn more about low health literacy in rural America, see What are the roles of literacy, health literacy, and educational attainment in the health of rural residents? on RHIhub's Social Determinants of Health for Rural People topic guide.
---
Why is primary care access important for rural residents?
Primary care is the most basic and, along with emergency services, the most vital service needed in rural communities. Primary care providers offer a broad range of services and treat a wide spectrum of medical issues. The American Academy of Family Physicians characterizes primary care as:
"A primary care practice serves as the patient's first point of entry into the health care system and as the continuing focal point for all needed health care services…Primary care practices provide health promotion, disease prevention, health maintenance, counseling, patient education, diagnosis and treatment of acute and chronic illnesses in a variety of health care settings"
A 2005 Milbank Quarterly article, Contribution of Primary Care to Health Systems and Health, identifies key roles that primary care access plays in preventing disease and improving health. Primary care serves as a first entry point into the health system, which can be particularly important for groups, such as rural residents and racial/ethnic minorities, who might otherwise face barriers to accessing healthcare. Some benefits of primary care access are:
Preventive services, including early disease detection
Coordination of care
Lower all-cause, cancer, and heart disease mortality rates
Reduction in low birth weight
Improved health behaviors
Access to Quality Health Services in Rural Areas – Primary Care: A Literature Review, a section of the of the 2015 report Rural Healthy People 2020: A Companion Document to Healthy People 2020, Volume 1, provides an overview of the impact primary care access has on rural health. Rural residents may not get the preventive screening that can lead to early detection and treatment of disease. Limited rural access to primary care is also related to poor health outcomes due to chronic conditions such as diabetes and heart disease. The report also identifies rural primary care access for children as a challenge.
---
What types of healthcare services are frequently difficult to access in rural areas?
Obstetric Services
Closure of Hospital Obstetric Services Disproportionately Affects Less-Populated Rural Counties, an April 2017 policy brief from the University of Minnesota Rural Health Research Center, highlights the challenges rural women face in accessing obstetric (OB) services. Between 2004 and 2014, 179 rural counties lost OB services, due either to the closure of the hospital or of the OB unit, resulting in only 46% of rural counties having in-county hospital OB services. Of the 179 rural counties losing OB services during that period, 150 were noncore counties, leaving just 30% of these counties with OB services.
The 2014 committee opinion from the American College of Obstetricians and Gynecologists, Health Disparities in Rural Women, reports that prenatal care initiation in the first trimester was lower for mothers in more rural areas compared with suburban areas. Access to delivery and related services is also a concern with the authors reporting that less than one half of rural women live within a 30-minute drive to the nearest hospital offering perinatal services.
Obstetric Services and Quality among Critical Access, Rural, and Urban Hospitals in Nine States, a 2013 report on the results of a study to assess the quality of childbirth-related care in different hospital settings, concluded that Critical Access Hospitals performed favorably on obstetric care quality measures when compared to urban hospitals, with some variation across states.
Mental Health Services
Access to mental health providers and services is a challenge in rural areas. As a result, primary care doctors often provide mental health services while facing barriers such as lack of time with patients and adequate financial reimbursement.
As of September 2018, 53.39% of Mental Health Health Professional Shortage Areas were located in rural areas, according to a data.HRSA.gov Preformatted Report.
Due to the lack of mental health providers in rural communities, telehealth is increasingly being used to provide services. Mental health services delivered via telehealth has been shown to be effective, as reported in a June 2016 technical brief from the Agency for Healthcare Research and Quality. By using telehealth delivery systems, mental health services can be provided in a variety of local community settings including rural clinics, schools, residential programs, and nursing homes. RHIhub's Telehealth Use in Rural Healthcare topic guide has many more resources on how telehealth can improve access to care. RHIhub's Rural Mental Health topic guide also has additional resources on rural access to mental health services.
A shortage of mental health and substance abuse providers in rural communities has led to new models for providing services using allied behavioral health workers. According to the 2012 report, Behavioral Health Aides: A Promising Practice for Frontier Communities, many states are developing behavioral health aide (BHA) models. Some models of care include:
Behavioral health aides as care coordinators
Behavioral health aides as support workers
Peer counselors and peer specialists
Promotoras (or community health workers) with supplemental training in mental health
Oral Health Services
Oral health affects physical health, emotional health, and the ability to get a job, both in urban and rural areas. Despite its importance, access to dental services is very limited or difficult in many rural and remote communities.
One barrier to oral health access is the fact that most health insurance plans do not cover dental services. According to the 2011 National Academies report, Advancing Oral Health in America, a smaller proportion of rural residents have dental insurance compared to urban residents.
Another issue limiting access to dental services is the lack of dental health professionals in rural areas. A June 2015 WWAMI Rural Health Research Center report, Dentist Supply, Dental Care Utilization, and Oral Health Among Rural and Urban U.S. Residents, reports that rural adults used dental services less and had more permanent tooth loss that urban adults, which may be related to the lower supply of dentists in rural areas. The per capita supply of generalist dentists per 100,000 population, based on 2008 data, was 30.1 for metropolitan areas, compared to 21.9 per 100,000 for nonmetro areas.
A 2009 WWAMI RHRC report, The Crisis in Rural Dentistry, offers potential solutions to increase the dental health workforce with the goal of improving access to services including:
Providing rural training tracks during dental education.
Admitting dental students who have a background in rural areas and who are more likely to practice in a rural community.
Providing dental students the opportunities to obtain a broad range of dental skills which will be needed in a rural practice.
Helping rural communities recruit and retain oral health providers through local community development programs.
RHIhub's Oral Health in Rural Communities topic guide has more information about oral health disparities in rural America and ways to address those disparities.
Substance Abuse Services
Despite great need, there is a definite lack of substance abuse services offered in many rural communities.
A 2015 American Journal of Alcohol and Drug Abuse article, Rural Substance Use Treatment Centers in the United States: An Assessment of Treatment Quality by Location, reports that rural substance abuse treatment centers, compared to urban centers, had a lower proportion of highly educated counselors. Rural treatment centers also offered fewer wraparound services and specialized treatment tracks.
Detoxification is an initial step in treatment of substance abuse that focuses on withdrawal from the substance, minimizing medical complications that may result. The authors of Few and Far Away: Detoxification Services in Rural Areas report that 82% of rural residents live in a county without a detox provider. This geographic distance is a barrier to care that results in patients who might forgo or delay the treatment that they need. In addition, if a rural area does not have a detox provider, that service is often delegated to the local emergency room or the local jail which are not the most appropriate location for detoxification services.
Access to medication-assisted treatment is also limited in rural communities. A WWAMI Rural Health Research Center policy brief reports that 60% of rural counties lacked a physician with a waiver to prescribe buprenorphine as of 2015. Buprenorphine is used to treat opioid use disorder and can be prescribed and monitored in an office-based setting.
RHIhub's Substance Abuse topic guide has model programs for addressing substance abuse treatment in rural areas.
---
How do rural healthcare facility and service closures impact access to care?
The closure of rural healthcare facilities or the discontinuation of services can have a negative impact on the access to care in the community.
Local rural health systems are fragile; when one provider closes, it can impact care and access across the community. For example, if a surgeon leaves, C-section access declines and obstetric care is jeopardized. If a hospital closes, it may be harder to recruit physicians.
Factors affecting the severity of the impact of a closure may include:
Distance to the next closest provider
Availability of alternative services
Availability of transportation services
Socioeconomic and health status of individuals in the community
Traveling to receive services places burden on patients including cost and time. For people with low incomes, no paid time off of their jobs, physical limitations, or acute conditions, these burdens can significantly affect their ability to access care.
A recent increase in rural hospital closures, particularly Critical Access Hospitals, have been in the news frequently, with articles such as Rural Hospital In East Georgia To Close, Citing Economic Pressures and In the Tennessee Delta, a Poor Community Loses Its Hospital — and Sense of Security discussing the negative effects in particular rural communities. A significant concern for rural communities losing their hospital is the loss of emergency services. In emergency situations, any delay in receiving care can have serious adverse consequences.
An April 2015 policy brief from the North Carolina Rural Health Research Program, A Comparison of Closed Rural Hospitals and Perceived Impact, identifies the following potential impacts on healthcare access due to hospital closure:
Unstable health services, particularly diagnostic and lab tests, obstetrics, rehabilitation, and emergency medical care
Rising emergency medical services costs
Residents not receiving needed care or services due to lack of transportation
Greater impact on access for the elderly, racial/ethnic minorities, the poor, and people with disabilities
The North Carolina Rural Health Research Program has a list and map of rural hospitals that have closed from January 2010 to the present. Rural health experts believe that rural hospital closures are likely to continue because many rural hospitals have tight operating budgets with little room for financial loss.
The 2013 report, Change in Profitability and Financial Distress of Critical Access Hospitals from Loss of Cost-Based Reimbursement, discusses how changes in reimbursement to Critical Access Hospitals could have a large negative effect on their profitability and financial stability. If more Critical Access Hospitals across the United States close, rural residents will need to travel longer distances to receive care.
Maintaining pharmacy services in rural towns can also be a challenge, particularly when the town's only pharmacist nears retirement. When a community's only pharmacy closes, it creates a void in services to which residents must adapt and find alternate ways to meet their medication needs. According to Causes and Consequences of Rural Pharmacy Closures: A Multi-Case Study:
"Rural residents rely on local pharmacies to provide pharmacy and clinical care management and coordination. The absence of a pharmacy may be disproportionately felt by the rural elderly, who often have a greater need for access to medications and medication management services…Increased distance to the nearest pharmacy may result in decreased access to pharmacy services for this population. Access to medications may be maintained through mail-order, delivery, or telepharmacy; however, providing clinical and in-person consultative services to remote populations may be a challenge."
---
What are some strategies to improve access to care in rural communities?
Many strategies are being used to improve access to healthcare in rural areas:
Delivery Models
Two rural healthcare models that have been supported by the Federal Office of Rural Health Policy (FORHP) include:
Frontier Extended Stay Clinics (FESC)
Clinics in frontier communities which help seriously ill patients or injured patients who cannot be immediately transferred to a hospital due to adverse weather conditions or other concerns.
Frontier Community Health Integration Program (FCHIP)
A program to develop and test new models to improve access to quality healthcare services in frontier areas.
Team-based care models, such as Patient-Centered Medical Homes (PCMHs), can also extend primary care services in rural communities. Learn more about rural providers using the medical home approach and care coordination.
A June 2017 RUPRI Health Panel report, After Hospital Closure: Pursuing High Performance Rural Health Systems without Inpatient Care, provides case studies of three rural communities that transitioned to new models of care, as well as discussing a range of different delivery options for communities that lack hospital inpatient care.
Affiliation with Larger Systems or Networks
Local rural healthcare facilities may choose to join healthcare networks or affiliate themselves with larger healthcare systems as a strategy to maintain or improve healthcare access in their communities. Doing so may improve the financial viability of the rural facility, provide additional resources and infrastructure for the facility, and allow the facility to offer services it could not otherwise provide. However, the benefits of affiliation with a healthcare network may come at the expense of local control.
A 2014 RUPRI Rural Health Policy Analysis policy brief, Trends in Hospital Network Participation and System Affiliation, 2007-2012, reports that affiliation with other hospitals or healthcare systems may help rural hospitals with the transition to providing value-based care. The same brief notes that rural hospitals are following the general trend in healthcare of greater system affiliation, but not at the same rate as urban hospitals.
Efforts to Improve the Workforce
Having an adequate workforce is necessary to maintain access to healthcare in a community. In order to increase access to care, rural communities can make sure that they are making the best use of all healthcare professionals. This might include allowing each professional to work at the top of their license, using new types of providers, and working in interprofessional teams.
There are many initiatives to increase the qualified healthcare workforce in rural areas. RHIhub's Rural Healthcare Workforce topic guide discusses how rural areas can address these workforce shortages, such as partnering with other healthcare facilities, increasing pay for staff, adding flexibility and incentives to improve recruitment and retention of healthcare providers, and using telehealth services. The guide also discusses state and federal policies and programs to improve the supply of rural health professionals, such as loan repayment programs and visa waivers.
Telehealth
Telehealth is increasingly seen as a key solution to help address rural health access issues. Through telehealth, rural patients can see specialists in a timely manner while staying in their home communities. Local healthcare providers can also benefit from specialists' expertise provided via telehealth. RHIhub's Telehealth Use in Rural Healthcare topic guide provides a broad overview of how telehealth is being used in rural communities to improve healthcare access. Learn about specific programs underway in rural areas, as well as resources and funding that can be used to support telehealth solutions.
---
What can be done to help rural veterans access healthcare?
One of the primary barriers for rural veterans to access healthcare services is the long travel distance to the nearest Veterans Affairs (VA) health facility. Some veterans do not qualify for certain VA benefits or they are not aware of facilities that are available to them. The VA creates partnerships with local community health facilities to provide telehealth services and also allow veterans to see providers closer to home, such as the Veteran's Choice Program. The VA also works to improve access by using mobile VA clinics and community-based outpatient clinics. To learn what the VA is doing to address Veteran's healthcare access, see RHIhub's Rural Veterans and Access to Healthcare topic guide.
---
What is different about healthcare access for American Indians, Alaska Natives, and Native Hawaiians?
According to the Kaiser Family Foundation brief, Health Coverage and Care for American Indians and Alaska Natives, American Indians and Alaska Natives (AI/ANs) face health disparities including high uninsured rates, barriers to accessing care, and poor health status.
Indian Health Service (IHS) provides healthcare and prevention services to American Indians and Alaska Natives. IHS has been historically underfunded to adequately meet the healthcare needs of American Indians and Alaska Natives which has been a barrier to access for this population.
IHS is a provider of healthcare services and is not considered to be healthcare coverage. The National Center for Health Statistics reports, in Health of American Indian or Alaska Native Population, that 21.4% of the nonelderly AI/AN population was uninsured in 2015.
AI/ANs are eligible to participate in the Health Insurance Marketplaces under the Affordable Care Act. RHIhub's Rural Tribal Health topic guide has more resources on this topic.
---
What organizations work to improve rural healthcare access?
Organizations that help meet the needs of rural communities and work to ensure the availability of essential healthcare services include: