Rural Mental Health
There is a significant need for mental health services in rural America. According to the Results from the 2016 National Survey on Drug Use and Health: Detailed Tables, 18.7% of residents of nonmetropolitan counties had some sort of mental illness in 2016, which amounts to over 6.5 million people. In addition, 3.9%, or approximately 1.3 million, residents of nonmetro counties experienced serious thoughts of suicide during the year.
While the prevalence of mental illness is similar between rural and urban residents, the services available are very different. Mental healthcare needs are not met in many rural communities across the country because adequate services are not present. Providing mental health services can be challenging in rural areas. According to WICHE's Rural Mental Health: Challenges and Opportunities Caring for the Country, the following factors are particular challenges to the provision of mental health services in rural communities:
Accessibility – Rural residents often travel long distances to receive services, are less likely to be insured for mental health services, and less likely to recognize an illness.
Availability – Chronic shortages of mental health professionals exist and mental health providers are more likely to practice in urban centers.
Acceptability – The stigma of needing or receiving mental healthcare and the fewer choices of trained professionals who work in rural areas create barriers to care.
This topic guide focuses on mental health — the biological component of behavioral health — in rural areas and helps health and human services providers in their efforts to develop, maintain, and expand mental health services in rural communities. It also highlights challenges and important issues in mental healthcare delivery, such as workforce shortages, access issues, anonymity, stigma, integration of mental health services into primary care, and suicide prevention. Information regarding substance abuse is found in RHIhub's Substance Abuse Topic Guide.
Frequently Asked Questions
---
Where can I find mental health statistics for rural populations?
The Substance Abuse and Mental Health Services Administration (SAMHSA) is the primary source of information on behavioral health and provides an annual survey of detailed data by geographic location on the prevalence of several behavioral health measures in their annual Results from the 2016 National Survey on Drug Use and Health: Detailed Tables. Topics with data applicable to rural mental health include:
Mental illness in the past year
Co-occurring mental illness with substance abuse disorder
Serious mental illness
Mental health treatment/counseling
Unmet mental health treatment
Serious thoughts of suicide
The data for these topics are available by age, geographic characteristics and socioeconomic characteristics. The geographic characteristics are detailed by geographic region of the U.S. and county type. County type is divided into population data classes:
Large metro
Small metro
250,000 – million
< 250,000
Nonmetro
Urbanized, 20,000 or more in urbanized areas
Less urbanized, 2,500 – 20,000
Completely rural, < 2,500
RHIhub's Finding Statistics and Data Related to Rural Health provides additional resources related to behavioral health data.
---
What are the workforce challenges in providing rural mental health services?
According to WICHE's Rural Mental Health: Challenges and Opportunities Caring for the Country, the most significant challenge preventing rural Americans from receiving care is the lack of mental health professionals providing mental health services in rural and frontier areas.
To further complicate the challenges of providing mental health services, the most disadvantaged and under-resourced communities are often those with the most severe need for mental healthcare providers. County-Level Estimates of Mental Health Professional Shortage in the United States reports that higher levels of unmet need for mental health professionals exist in counties that were more rural and had lower income levels.
As of September 4, 2018, HRSA identified 2,672 mental health professional shortage areas designated in rural areas. It is estimated that it would take 1,851 practitioners to remove the designations. For the most current figures, see HRSA's Designated HPSA Statistics.
This map identifies nonmetro HPSAs based on November 2017 data.HRSA.gov data: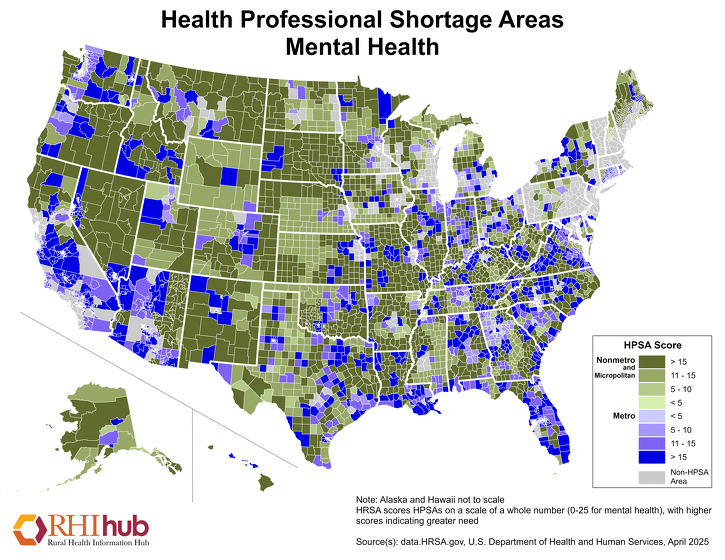 The data.HRSA.gov interactive map of Mental Health Professional Shortage Areas (HPSA) identifies the total number and geographic location of Mental Health HPSAs by state and county.
---
What other challenges affect access and the provision of mental health services in rural areas?
Travel distance, lack of public transportation, and uninsurance are commonly identified as challenges to accessing healthcare in rural areas. Reimbursement issues and the social stigma of needing mental health services are also identified as significant challenges that affect access and the provision of mental health services in rural areas.
Reimbursement
The reimbursement offered by payers such as Medicaid, Medicare, and private insurers has a significant impact on the ability of rural providers to offer mental health services. The publication, Encouraging Rural Health Clinics to Provide Mental Health Services: What are the Options?, notes that Rural Health Clinics may be reluctant to start providing mental health services when reimbursement rates are low. In addition, it found that high no-show rates among mental health clients and high numbers of uninsured patients further exacerbates the issue of low reimbursement rates paid by Medicaid and others.
Providing mental health services via telehealth, sometimes referred to as telemental health or telebehavioral health, has shown promise in helping to alleviate the lack of mental health services in rural areas. However, reimbursement is also a challenge for telehealth services. For additional information about telehealth services and associated reimbursement issues see: Telehealth Use in Rural Healthcare.
Stigma
Nearly 1 in 5 adults in the U.S. experiences a mental disorder within any given year according to the National Alliance on Mental Illness. Yet, the misconceptions, myths, and cultural taboos associated with mental illness may be the most significant barriers that keep people with mental disorders from seeking and receiving treatment in rural areas. Factors that may influence rural residents to avoid seeking care include such issues as:
Lack of understanding and knowledge of mental illness, sometimes even among healthcare staff
Prejudice or stigma towards people with mental health disorders, often based on fear and unease
Secrecy about mental illness in the community and general hesitancy to seek care
Perception of a lack of confidentiality and privacy in small towns with closely-tied social networks
While there are drawbacks to small communities when it comes to mental health, there are positives as well. The close-knit nature of rural communities can also mean that residents are more likely to rally around each other and provide community support in times of need. This strong external support group can help facilitate a person's success in treatment and also help support the family's efforts in attending to the care seeker.
---
What can a rural community or healthcare facility do to minimize the challenges of accessing and providing mental health services in a rural area?
There are several approaches that can be tried in rural communities to minimize the challenges of providing mental health services and expanding the mental health workforce. Some of the most commonly used practices to deal with workforce issues include:
Expanding the use of telemental health services
Offering loan repayment programs and state tax waivers
Providing clinical rotations in a rural setting to grow-your-own workforce
In recent years, health policy experts and healthcare providers have begun to encourage closer integration of mental or behavioral health and primary care services. It is assumed that integration will increase access to mental healthcare services, particularly in rural communities, as well as increase quality of care through enhanced coordination of services. In rural areas, where behavioral health workers and primary care providers are in short supply, integration is vitally important. Integration of these services is an effective strategy for maximizing the use of scarce rural healthcare resources and improving the quality of care for both behavioral health and primary care patients. Several promising examples of integrated service delivery are available in RHIhub's Rural Health Models and Innovations.
In addition, education and awareness efforts targeted toward rural residents have been used to increase familiarity and comfort with mental health issues. An example of this is the Mental Health First Aid public education program. This program helps laypeople identify, understand (and thereby reduce the stigma), and respond to signs of mental illnesses and substance use disorders.
---
What are some of the benefits of integration of mental health services into primary care in a rural community?
Numerous studies, including this 2010 Maine Rural Health Research Center report, have shown that typically patients in rural areas who need mental health services see their primary care provider first. Often it is the primary care provider who initially diagnoses the need for mental health services. In addition, a high percentage of mental healthcare for rural patients is already provided by primary care providers, so integrating the services of a mental healthcare provider into primary care setting can expand on what is already being done. Efficiency of service and ease of use also create a level of coordinated care and access that benefits both the patient and the provider.
The integration, or even the co-location, of mental health services with primary care services can also help to reduce or eliminate the effects of the powerful social stigma associated with mental illness in many rural areas. Social stigma prevents many rural citizens from obtaining needed services, but it is less of a deterrent when behavioral health professionals see patients in primary care settings. The integration of behavioral health and primary care services also reduces the challenge of maintaining anonymity. Rural patients may be reluctant to be seen in settings where their privacy might be compromised but more willing to seek mental healthcare from the more common and accepted primary care clinic. For additional information about the integration of mental health services into primary care see: The Future of Rural Behavioral Health and A Guidebook of Professional Practices for Behavioral Health and Primary Care Integration: Observations from Exemplary Sites
---
Is there a resource for rural primary care providers and other healthcare professionals that can connect patients to mental health services and treatment?
When there are few resources to provide direct mental health services in a community, local healthcare professionals may need to refer patients to facilities outside of the community. The Substance Abuse and Mental Health Services Administration (SAMHSA) maintains the 2016 National Directory of Mental Health Treatment Facilities, an online listing of federal, state and local government, and private facilities that provide mental health treatment services.
---
Where can rural veterans and rural healthcare providers assisting veterans find information about mental health services in their rural areas?
Rural healthcare providers and veterans can find information about mental health services for veterans in their area by contacting either their closest VA medical center or community-based outpatient clinic (CBOC). To access contact information, go to the Veterans Health Administration Locations tool and enter the zip code of the veteran to create a list of CBOC and VA medical centers, their telephone numbers, physical address, driving directions, and links to their website. See the VA Mental Health website for a broad overview of mental health programs available to veterans. Additional information can be found in: Guide to VA Mental Health Services for Veterans & Families
---
How do suicide rates in rural areas compare to urban areas?
Numerous reports indicate the suicide rate in rural counties is consistently higher than in larger urban counties. A 2017 CDC report, Trends in Suicide by Level of Urbanization — United States, 1999–2015, discusses possible causes for the geographic disparity and includes this chart showing how the disparity has widened in recent years:
From 2004 and 2013, small towns/cities (micropolitan) and rural counties experienced a 20% increase while the large central metropolitan counties displayed a 7% increase. In 2013, the suicide rate in rural counties was 17.6 deaths per 100,000 compared with large central metropolitan counties at 10.3 deaths per 100,000. For more details and data sources, see the QuickStats report.
How can our community take action to prevent suicides?
The Suicide Prevention Resource Center (SPRC) is a premiere source of information on the topic of suicide prevention. The following resources and tools can be helpful to rural communities working on suicide prevention efforts:
You can also contact the Suicide Prevention Resource Center for assistance. SPRC can connect you with people, organizations, and resources in your rural community, state and nationally and provide technical assistance and training on suicide prevention.
---
What resources are available for suicide prevention efforts?
The U.S. Department of Health and Human Services (HHS) considers suicide a significant public health problem and is involved in prevention activities. Several federal agencies collaborate and direct necessary prevention resources, services, and programs that are both public and private. Federal resources on suicide prevention include:
In addition to the resources provided by the federal government and the Suicide Prevention Resource Center, these organizations also provide additional suicide prevention information:
---
How can our school take action to prevent suicides?
According to Preventing Youth Suicide in Rural America: Recommendations to States, suicide is the third leading cause of death among youth (ages 10-24) in America. Rural schools can play an important role in preventing suicide among rural youth by:
Becoming involved with your state or community's suicide prevention coalition and learn how to coordinate your school's efforts with state or community efforts.
Visiting SPRC's Customized Information pages for Teachers and School Mental Health Providers to learn more about how to respond to students and staff at risk for suicide.
Implementing a school-based suicide prevention program, which includes a comprehensive set of interventions, such as:

Gatekeeper training
Screening for mental health
Health education curriculum that includes suicide prevention and/or mental health
Peer mentoring
School-based mental health services
Crisis response
Postvention

See SAMHSA's Preventing Suicide: A Toolkit for High Schools for assistance in developing a strategy to prevent suicide and promote behavioral health.
Offering a Mental Health First Aid training program in your rural community for individuals to learn how to help people who are in a crisis.
To review guidelines for school-based suicide prevention programs, please refer to the University of South Florida's Youth Suicide Prevention School-Based Guide. The guide also includes tips on responding following a suicide or suicide attempt in the school community. For more information on any of the items listed above, please visit the SPRC Online Library or contact one of the SPRC Prevention Specialists.