Rural Long-Term Care Facilities

See the Rural Healthcare Surge Readiness for up-to-date and critical resources for rural healthcare systems preparing for and responding to a COVID-19 surge, including information for Long-Term Care.
Long-term care facilities provide residential living arrangements and a variety of services for people who are unable to live independently at home and may need help with:
Activities of daily living
Chronic healthcare needs
Mental or physical rehabilitation
Nutritional programs and services
Occupational and physical therapy
Skilled nursing care
Rural long-term care facilities may include:
Nursing homes – Provide residential accommodations, help with activities of daily living, and 24-hour skilled nursing care.
Assisted living facilities – Provide housing and services to people who need assistance but do not require round-the-clock skilled nursing care. Support may include help with activities of daily living, meals, housekeeping, medication management, transportation, and social and wellness programs.
Residential services for people with developmental or other disabilities – Provide housing and nonmedical care and services for children or adults with disabilities or functional limitations. Many different names are used for facilities of this type, including assisted living, adult living facilities, group homes, developmental homes, community-based residential facilities, and others.
A scarcity of long-term care facilities in rural communities can cause hardship and difficult choices for individuals and their families. In such cases, people who need long-term care must decide, in consultation with their families and other caregivers, if home care is possible or if relocation to a facility outside of their community is necessary. A move to another community can be stressful, and family members might not be able to visit as often as they would like. Communities also experience economic loss and diminished social connections when people leave.
Frequently Asked Questions
---
What services do rural long-term care facilities provide?
There is a range of services provided by residential care facilities, depending on the needs of the residents at a particular institution. Basic services include living space, food services, housekeeping services, supervised care, medication management, and collaboration with healthcare. Some also provide physical, occupational, or music therapy, transportation, and social programs and activities.
---
What are the characteristics of residents of rural long-term care facilities?
Some residents simply need help performing activities of daily living, such as dressing, eating, toileting, and bathing, while others need a higher level of care. According to the University of Minnesota Rural Health Research Center's 2017 policy brief Medical Barriers to Nursing Home Care for Rural Residents, patients in long-term care facilities may suffer from complex medical problems such as obesity, dementia, high blood pressure, and behavioral or psychiatric disorders. In order to address these issues adequately, nursing homes may require extra equipment and staff members who have received advanced training. The researchers found that other possible solutions to these challenges include increased funding, more beds, and elimination of the current Medicare requirement of a three-night inpatient hospital stay.
U.S. nursing home survey data from 1999 to 2008, as reported in The Urban-Rural Disparity in Nursing Home Quality Indicators, shows that when compared with their counterparts in urban and micropolitan facilities, nursing home residents in small or isolated rural towns are more likely to:
Have their costs reimbursed by Medicaid
Suffer from:

Dementia
Psychiatric illness
Depression
Developmental disability
---
Where are long-term care facilities located?
Long-term care facilities are located in rural areas across the U.S. The map below shows locations of one type of long-term care facility, dually certified Skilled Nursing Facilities, in rural areas of the United States. These institutions have certification both as a nursing facility (NF), which can provide long-term care to Medicaid recipients, and as a Skilled Nursing Facility (SNF), which offers rehabilitative care to Medicare patients. Dually certified facilities can have both NF beds and SNF beds.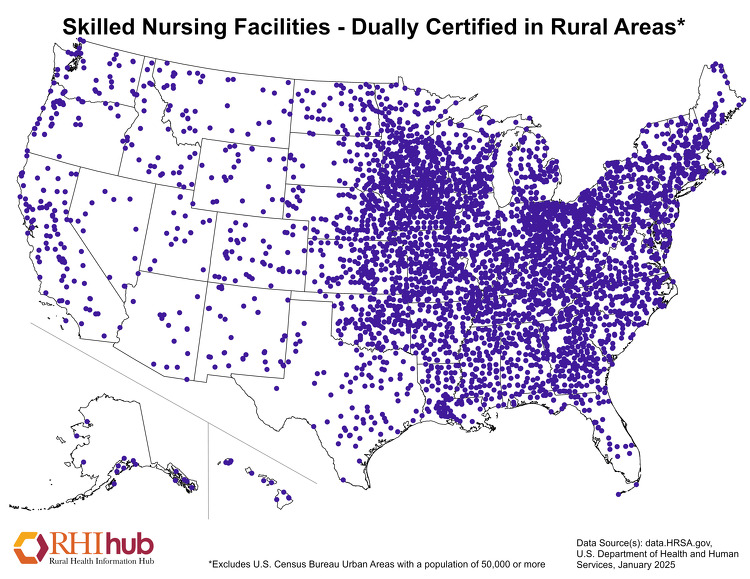 ---
How is long-term care paid for?
Long-term care can be financed through various public and private sources, each with its own rules on what services are and aren't covered:
Medicaid
Pays for a large share of long-term care services. Patients' assets and income must be below a certain level and must meet state eligibility requirements related to the amount of assistance needed.
Private Pay
The resident and his or her family pay for services, using sources such as:
Personal savings
Social Security income
Family donations
Long-term care insurance
Reverse mortgages
Annuities, pensions, and life insurance options
Veterans Affairs
Veterans are eligible for medical benefits services, which may include long-term care. For specific information, visit the U.S. Department of Veterans Affairs Geriatrics and Extended Care: Paying for Long Term Care website.
Medicare
Medicare provides only short-term reimbursement for care in long-term facilities, and does not cover non-skilled services related to activities of daily living. It pays for skilled nursing facility care or rehabilitation services within 30 days following a 3-day hospital inpatient stay, for a maximum of 100 days per benefit period.
For more information on Medicare Part A (Hospital Insurance), see Medicare.gov: Skilled Nursing Facility (SNF) Care.
Health Insurance
May provide reimbursement for short-term, skilled, medically necessary care in a long-term care facility.
---
How does the lack of access to home and community-based services affect utilization of assisted living and nursing homes in rural areas?
In recent years, there has been more emphasis on Medicaid home and community-based services (HCBS) that can allow older adults and people with disabilities to remain in their homes. The Maine Rural Health Research Center's policy brief Are Rural Older Adults Benefiting from Increased State Spending on Medicaid Home and Community-Based Services? notes that in 1995 HCBS services accounted for 18% of all Medicaid long-term support services spending, but by 2013 that percentage had risen to 50%.
However, in rural areas, adequate services may not be available. According to the National Advisory Committee on Rural Health and Human Services' 2010 report,
The greater supply of nursing homes in rural areas, along with a lack of home and community-based options for rural seniors, may result in increased nursing home placements.
The lack of community-based options may also result in greater burdens for friends and family, as well as lower quality of life for those remaining at home. In addition, states are allowed considerable flexibility in allocating Medicaid funds and those with higher concentrations of urban residents may emphasize services to this population, rather than to their rural counterparts.
---
How prevalent is the provision of long-term care services by Critical Access Hospitals?
In rural communities, Critical Access Hospitals (CAHs) play a vital role in providing long-term care services.
In the March 2011 policy brief Provision of Long Term Care Services by Critical Access Hospitals: Are Things Changing? rural hospitals were studied to assess whether and how the provision of long-term care services by CAHs has changed and how their involvement with long-term care services compares with other hospitals. The study showed that, as of 2008, CAHs were more likely than other rural hospitals to provide core long-term care services, although provision of long-term care services by all rural hospitals had declined in recent years, likely due to reimbursement changes. The publication states that in 2008, 42.4% of CAHs provided Skilled Nursing Facility care, 17.1% offered intermediate care, and 25.4% had a separate nursing home-type long-term care unit.
---
What effect do assisted living facilities and nursing homes have on the local economy?
Assisted living facilities and nursing homes not only serve patients and their families, but may also be one of the larger employers in some rural communities. These facilities and their employees contribute to the local economy through local spending for supplies and services, as do friends and relatives who visit facility residents.
According to the National Center for Rural Health Works' 2017 document The Economic Impact of Rural Nursing Homes, data from a sample of rural nursing homes showed that the facilities surveyed had employment impact of between 70 and 259 employees, and a labor income impact of $3.3 million to $12.0 million when wages, salaries, and benefits were considered. People with various skill levels are needed as workers in these facilities, thus providing job opportunities for rural residents who may not have had years of training, as well as for those who are healthcare professionals.
---
What types of workforce issues do rural long-term care facilities face?
The National Direct Service Workforce Resource Center's 2011 document Strengthening the Direct Service Workforce in Rural Areas notes that rural long-term care facilities face unique workforce challenges. These include:
Geographic isolation
Transportation limitations
Lack of opportunities for training and continuing education
Chronic provider shortages
High rates of turnover among staff
The same document notes that LTC workers often need specialized training, which may be difficult to obtain in rural areas. In such cases, employers must provide the training themselves, or help employees get training in another location or online.
Healthcare workers who are not themselves from rural areas may be disinclined to relocate, thus contributing to the workforce shortage. For this reason, some locations promote grow-your-own programs, in hopes that young people will remain in the area or return there after receiving certification or completing their degrees.
---
What mental health needs exist in rural long-term care facilities and how can they be addressed?
A 2013 study noted that over the previous twenty years there had been an increase in the number of nursing home residents who suffer from severe mental illness. Many have been diagnosed with dementia, depression, or schizophrenia, and there is a great need for onsite mental health services in long-term care facilities.
This high level of need among nursing home residents is a particular challenge for rural facilities, where there is often a lack of basic mental health infrastructure and significant shortages of mental health professionals.
In Mental Health Services in Rural Long-term Care: Challenges and Opportunities for Improvement, the authors propose methods for increasing the rural mental health workforce as well as using training programs delivered by telemedicine to build competencies of existing members of the rural health workforce. Using telemental health to provide services to rural nursing home residents is another key suggestion. For one example, see the University of Vermont Medical Center's telepsychiatry consultation service for rural nursing homes.
---
How does the quality of care of rural long-term care facilities compare with other facilities?
According to the University of Minnesota Rural Health Research Center's 2015 policy brief Nurse Staffing Levels and Quality of Care in Rural Nursing Homes, although federal regulations specify minimum staffing levels for certified nursing homes, there is considerable variation in state-level requirements. Researchers found that facilities with higher proportions of RNs in their nursing staffs tended to have a higher quality of care. However, many rural areas have a shortage of RNs and a greater number of older adults within their populations.
A 2013 journal article, Nursing Home Quality: A Comparative Analysis Using CMS Nursing Home Compare Data to Examine Differences Between Rural and Nonrural Facilities, compared the quality of rural and non-rural nursing facilities, using the Centers for Medicare and Medicaid Services Nursing Home Compare data. Of the 15,177 nursing homes sampled, 69.2% were located in non-rural areas and 30.8% in rural. The study tested the overall, health inspection, staffing, and quality measure ratings, and found that rural nursing homes performed better in overall ratings and health inspections.
---
What type of funding is available to build long-term care facilities in rural areas?
The U.S. Department of Agriculture offers a variety of funding opportunities, including direct loans and grants, for construction in rural communities. The Strategic Economic and Community Development Program makes it possible for the USDA to put priority on projects that promote regional economic development through several funding programs. These include:
---
How is technology/telehealth used to meet the needs of those living in long-term care facilities in rural areas?
Nursing homes in rural areas often do not have 24-hour coverage by physicians, and as a result, patients may sometimes be transferred to a hospital unnecessarily if intervention is needed at a time when a physician is not present. This can result in higher costs and a greater risk of medical complications for patients. However, when telemedicine is used for consultation with off-site medical professionals, the cost is typically lower and patients may have better outcomes.
A 2014 Health Affairs article examined the use of telemedicine in 11 nursing homes, and found that there is considerable variation in the amount of engagement with telemedicine services. One potential cause is that, although the nursing homes pay for the technology, it is often Medicare that reaps the cost savings for patient care. The authors conclude that policy changes may be necessary in order for long-term care facilities to engage fully with telemedicine services that will benefit both patients and institutions. For one example of a successful model, see the SD eResidential Facilities Healthcare Services Access Project.
---
What is the role of rural nursing homes in providing post-acute care?
Patients who need extra help when recuperating after hospital discharge often find that a temporary stay in a nursing home is ideal for their needs. They may require wound care, IV medications, feeding tubes, dialysis, rehabilitation or occupational therapy after joint replacement, or other specialized care. In this situation, the expectation would be that the nursing home stay would be of limited duration, and the patient would return to his or her previous living situation after healing and regaining strength.
Post-acute care in rural areas may also be provided in hospitals with fewer than 100 licensed beds that have received CMS approval to participate in the Medicare swing bed program. Under this arrangement, beds may be used, as needed, either for acute care or for post-hospital skilled nursing care. For more information, see the North Carolina Rural Health Research Program's policy brief, Discharge to Swing Bed or Skilled Nursing Facility: Who Goes Where? and the What is a swing bed? section of the RHIhub Critical Access Hospitals (CAHs) topic guide.
The Rural Monitor article Rural Post-Acute Care: Improving Transitions to Enhance Patient Recovery gives examples of the ways in which rural residents can benefit from post-acute care provided by skilled nursing facilities and other providers.
---
How are quality initiatives such as antibiotic stewardship implemented in long-term care facilities?
According to the 2018 article Nursing Home Infection Control Program Characteristics, CMS Citations, and Implementation of Antibiotic Stewardship Policies: A National Study, infection control is a priority in long-term care facilities for the following reasons:
Shared dining and recreational spaces increase the risk of transmitting disease.
Residents experiencing cognitive decline may not be able to communicate disease symptoms to staff.
Historically, many nursing home infection prevention programs have suffered from problems such as inadequately trained staff and high turnover rates.
Clinicians may not be available when infection management decisions need to be made.
To address these risks, CMS requires that nursing homes employ a trained infection preventionist whose main responsibility is infection control, and have in place an infection control program with an antibiotic stewardship component. The CDC document The Core Elements of Antibiotic Stewardship for Nursing Homes describes practical ways for nursing home staff to initiate or expand antibiotic stewardship activities. These include:
Leadership Commitment – Demonstrating support for appropriate antibiotic use
Accountability – Identifying which staff members are responsible for overseeing stewardship activities
Drug Expertise – Establishing access to pharmacists or people with experience in this area
Action – Implementing one or more policy or procedure to improve antibiotic use
Tracking – Monitoring one or more measures of antibiotic use and one or more outcomes from antibiotic use in the facility
Reporting – Providing feedback on a regular basis to relevant staff members
Education – Making resources available so that clinicians, nursing staff, patients, and families can learn about antibiotic resistance and ways to improve antibiotic use
The CDC offers additional documents to help promote antibiotic stewardship in nursing homes, including:
---
How are residents' oral health needs met in long-term care facilities?
The 2016 report Evolving Delivery Models for Dental Care Services in Long-Term Care Settings: 4 State Case Studies notes that dental services in nursing homes are limited, despite the fact that residents tend to have poorer oral health than people who live independently. Medicaid and Medicare regulations specify that LTC patients enrolled in these programs have access to basic dental care supplies and must have a dental assessment, but this can be done by nursing staff rather than by a dental professional. There is no certification requirement specific to oral healthcare providers working in long-term care facilities.
There are practice models being implemented in some rural locations that help with provision of oral healthcare to underserved long-term care facilities. These include:
Use of mobile equipment, so that patients need not be transported to a dental office
Telehealth technology
Rotations for dental students in LTC settings
Continuing education courses in geriatric oral care
Collaborative practice models between dentists and dental hygienists or therapists, where allowed
Programs like Missouri's Oral Health Alliance help increase access to oral health services for LTC patients by reaching out to dentists, hygienists, and local health departments who can then provide screenings and healthcare at LTC facilities. The Alliance also educates caregivers by showing them effective oral healthcare techniques and teaching them how to spot cavities and mouth sores.
The National Rural Health Association's 2013 policy brief Rural America's Oral Health Care Needs recommended that access to oral health services be improved for residents of rural long-term facilities by increasing Medicaid reimbursement for dental work, making the administrative burden of participation in the program less cumbersome, and providing reimbursement for procedures instead of reimbursement per visit.
---
Last Reviewed: 12/13/2018