Human Services to Support Rural Health
Human services play a vital role in ensuring that rural families have the resources to support their own health. The availability of safe and affordable housing, income supports, food assistance, job training, and other critical services help poor and vulnerable rural residents take care of themselves so they can stay healthy. When faced with health challenges, people who have their basic needs met are better able to direct their resources to recovery and take steps to avoid future challenges.
Addressing the social determinants of health through the provision of human services has the potential to help control healthcare costs and attain a more efficient healthcare system. Ensuring that patients who use the healthcare system frequently, such as those with chronic conditions, have their other needs met may lessen the stressors that contribute to their chronic conditions, reduce the amount of healthcare resources they require, and reduce unnecessary hospital readmissions. This would free up healthcare providers to address the needs of other patients and also to focus more on preventive care and population health.
Rural healthcare providers and facilities can assist patients with finding human services to meet their basic needs through prescribing benefit programs, providing referrals, or coordinating services with human services providers. Likewise, rural human services providers may find working with healthcare providers is an effective way to identify unaddressed human service needs. Connecting human services to healthcare can help make limited resources go further and leverage the close-knit nature of rural communities.
This guide focuses on a wide-range of human services that impact healthcare, including:
Income supports like Temporary Assistance to Needy Families (TANF) and Earned Income Tax Credits (EITC)
Weatherization and energy assistance
Housing
Job training
Child welfare programs, including child care, adoption and foster care
Access to healthy food and to transportation also impact health. These issues are covered separately in RHIhub's other topic guides:
Frequently Asked Questions
---
How does the availability of human services for rural residents impact their health?
Human services can play an important role in low-income rural residents' health status. Access to support services and networks gives individuals a chance to improve their well-being, reducing stress that can adversely impact health, and allows them more time and resources to better care for their own health and the health of their families.
The need for human services is great in many rural communities. According to The USDA Economic Research Service's Rural Poverty & Well-Being, the 2015 poverty rate was higher in nonmetro areas (17.2%) compared to metro areas (14.3%) and in some nonmetro regions, like the South, poverty was as high as 21.7%.
Human services that can have an impact on rural residents' health status include:
Income supports, such as Temporary Assistance to Needy Families (TANF) and the Earned Income Tax Credits (EITC)
Supplemental Nutrition Assistance Program (SNAP)
Weatherization and energy assistance
Affordable housing
Job training
Child welfare programs including child care, adoption and foster care
Transportation
A May 2015 U.S. Census Bureau report, Dynamics of Economic Well-Being: Participation in Government Programs, 2009–2012: Who Gets Assistance?, shows that non-metropolitan participation in six national assistance programs is higher than for the nation as a whole: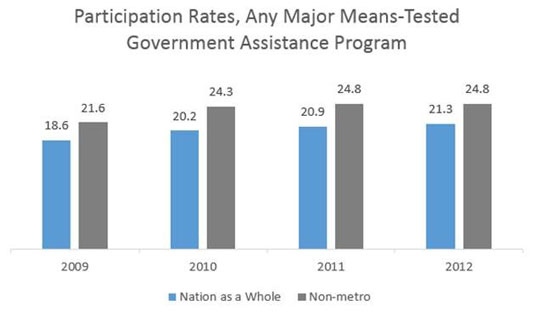 ---
What are some rural housing and weatherization programs?
The U.S. Department of Agriculture (USDA) provides direct assistance to low-income rural homeowners and renters. Rural Housing Service programs assist with the purchase and rehabilitation of single and multi-family homes. Its programs offer mortgage financing and loans to low-income and working families who are unable to obtain financing from conventional sources. The Multi-Family Housing Rental Assistance Program is also available for low-income rural residents.
The U.S. Department of Housing and Urban Development (HUD) offers programs to assist individuals and rural communities with access to affordable and safe housing, including:
The Housing Assistance Council (HAC) is a national organization which helps local organizations build affordable homes for low-income residents in rural communities. HAC offers low-interest loans and technical assistance to organizations in all rural areas.
The Low Income Home Energy Assistance Program (LIHEAP), which is offered through the U.S. Department of Health and Human Services, helps low-income households pay their energy bills, improve home weatherization, or complete energy-related minor home repairs to reduce energy consumption. The Weatherization Assistance Program from the U.S. Department of Energy helps low-income families permanently reduce their energy bills by making homes more energy efficient through repairs and installation of better weatherproofing.
The Healthy Homes Program works to protect the health of children and families by addressing a variety of home environmental health hazards including mold, lead, allergens, asthma, carbon monoxide, pesticides, and radon, which can all cause disease or injuries. Healthy Homes grants are available to organizations, state and local governments, federally-recognized Indian Tribes and colleges and universities. These grants can be used to develop effective hazard intervention methods and provide public education to decrease housing-related environmental safety problems.
---
How do income assistance programs help rural low-income families?
The Earned Income Tax Credit (EITC) provides a refundable tax credit for low-income working individuals and families. The amount of the benefit depends on the recipient's income and family size. The document Earned Income Tax Credit Plays Outsized Role in Rural reports that a higher percentage of non-core rural taxpayers (23.4%) received EITC payments compared to metropolitan taxpayers (19.8%).
Temporary Assistance to Needy Families (TANF) provides time-limited financial assistance and services to low-income families. TANF benefits are funded through block grants to states and federally recognized Indian tribes. Both states and tribes have some flexibility in how they implement the program. The report TANF in Rural America: Informing Re-authorization compares rural-urban differences in TANF participation rates and reports that in 2009 over 11% of rural low-income families received TANF benefits compared to almost 14% of urban low-income families. The smaller percentage of low-income rural families using TANF could be due to their lack of access to social services and a larger stigma with receiving government assistance in rural communities.
Healthcare providers can help their patients access income assistance programs by directing them to their local human services agencies or online resources. Benefits.gov provides information and links to federal and state benefit programs, including Temporary Assistance to Needy Families (TANF), state general assistance programs, Supplemental Security Income (SSI), unemployment benefits, and a variety of other programs that can help rural low-income families.
---
What types of job training programs are available in rural communities?
Job training programs help workers develop and improve their skills to obtain and keep steady employment. Workforce Development Boards are a network of federal, state and local offices that support workers and employers. They oversee American Job Centers, which help businesses address workforce needs and help jobseekers with job training and finding employment. The Northern Rural Training and Employment Consortium in Northern California is one example of a rural program providing job training and employment services to build and support a strong rural economy.
The National Farmworker Jobs Program helps migrant and seasonal farmworkers as well as their families with services such as education, job training, housing and childcare. The federal program partners with state and community organizations to help workers obtain employment.
---
How are challenges of addressing child welfare different in rural communities?
The Child Welfare Information Gateway, which is part of the Administration for Children and Families, provides rural child welfare resources for professionals to improve children's health and welfare, reduce child abuse and neglect, increase the number of adoptions, and support foster parents.
Child Care
Accessing reliable and affordable child care is an important aspect for child welfare and may be a challenge for many rural working families. The number of skilled and available child care providers in rural areas is more limited than in urban communities and child care centers are less common. Many residents rely on informal arrangements with family and friends for child care. Although these arrangements can be less expensive and more flexible, caregivers are generally not licensed and may lack formal training. Local social service agencies and the Child Care Resources Inc. (CCRI) can address these concerns by helping providers become licensed, and by supporting a training infrastructure that includes education on child safety and early childhood development.
Child Abuse and Maltreatment
The report Understanding Child Abuse in Rural and Urban America: Risk Factors and Maltreatment Substantiation provides a comparison of child maltreatment cases in rural and urban areas. The authors report that rural families with a substantiated child abuse report — cases with sufficient evidence to conclude child abuse has occurred — are more likely to experience multiple stressors such as drug and alcohol issues, domestic violence, and mental health issues. Geographic isolation and a lack of access to social services can be a barrier for rural families to receive intervention services and programs which promote a healthy family life.
Foster Care and Adoption
The article Finding Homes for Rural Foster Children discusses difficulties finding foster homes in rural areas, resulting in many foster children having to leave their community for care. All foster parents must be licensed by the state to provide foster care, which requires background checks, tuberculosis testing, home inspections, and training on the child welfare system. Religious organizations, community groups, and county offices could help foster families by providing financial help to pay for background checks and home modifications for people who are willing to provide foster care. Rural Adoptions: A Different Kind of Rural Trust provides examples of successful adoption initiatives in rural communities.
---
How do human services programs interact with the healthcare system?
The interaction of the human service system with the health system is not a new approach to services. In fact, it has been known by many names, including:
Integrated health and human services
Wrap-around services
Community health
Care management
Community Oriented Primary Care
Integration of services is becoming more accepted, and its importance more acknowledged.
In Place-based Policies and Public Health: The Road to Healthy Rural People and Places, a brief history of this approach is described, from its beginnings in the 1980s. Community Oriented Primary Care (COPC) was one of the first examples for primary care to consider health determinants and health improvement beyond the visit to the physician. Then, in the early 2000s, a National Advisory Committee on Rural Health and Human Services report and a National Academies report called for improved coordination across health and social services and a consideration of community health issues.
The Federal Office of Rural Health Policy administers the Rural Health Care Services Outreach Grant program, which has as one of its goals to promote community health service collaboration. Many of the grantees design programs that integrate with human service providers. The RUPRI Rural Human Services Panel examined these grantees to find examples of health and human service integration. In the resulting report, Stimulating Local Innovation for Rural Health and Human Services Integration: A Critical Review of ORHP Outreach Grantees, the Human Service Panel found particular themes to integrated health and human service programs in rural areas:
Integration does not guarantee overall savings, and costs versus savings may not be evenly distributed among partners.
Evidence-based approaches to service integration may not necessarily be proven to work in a rural setting.
Communities experiencing demographic changes or new challenges, such as increased drug use, may benefit most from service integration.
Other key community organizations, such as schools and the courts, can be included, though they likely will need support and program flexibility.
Behavioral health integration with primary care was the most common type of service integration, and a natural next step would be prevention programs for at-risk groups.
Sustainability of any additional positions, such a behavioral health specialist, should be considered.
Delivering services where clients are, such as at home or school, can help address rural transportation barriers.
Reliance on community volunteers can keep costs down but may make it difficult to maintain services.
Visit RHIhub's Services Integration Toolkit to learn how rural communities can implement programs that integrate health and human services.
---
How is the provision of human services different in rural areas?
In many rural communities, residents must travel far from home to access support programs. Local agencies and community-based organizations may find that in order to get the word out, they will need to invest significant time and effort on outreach.
Rural residents may hesitate to seek assistance because of a strong tradition of handling personal problems themselves. However, integrating human services with the healthcare system could be easier in rural communities due to the importance and strength of relationships built among a small group of local stakeholders and service providers. In small, rural communities, one provider may, by necessity, provide several services and therefore have a fuller understanding of an individual's needs, problems and solutions that can be coordinated to meet those needs. Rethinking Rural Human Service Delivery in Challenging Times: The Case for Service Integration describes this uniqueness of rural places:
"The creativity and resilience of rural people, and the informal networks so prevalent in rural areas would further complement and enhance an integrated services approach… A rural service integration system would allow the flexibility to combine processes that take advantage of these creative local networks, while addressing the unique needs of a changing rural demographic, particularly with the expanded growth of immigrant and aging populations."
---
What are benefits to the rural healthcare system of helping address the social determinants of health through the provision of human services?
A 2012 document, Community Health Centers Leveraging the Social Determinants of Health, reports that healthcare accounts for a relatively small percentage of an individual's health status over time. Other factors have a great impact on health status including genetics, health behaviors, social and economic factors, and environmental factors.
Individuals who have chronic healthcare conditions that require extensive healthcare services often have challenges in their life, such as poverty and food insecurity, which exacerbate their health conditions.
In 2008, the Institute for Healthcare Improvement (IHI) advocated the Triple Aim concept of improving the patient experience, improving population health, and reducing per capita costs of healthcare for the overall improvement of healthcare in the U.S. With the passage of the Affordable Care Act (ACA) in 2010 several provisions were enacted that focused on the delivery of care and how providers are paid by federal programs, shifting the traditional payment for healthcare from volume to value-based care. An example of this shift to value-based care and payment is the rise of Accountable Care Organizations (ACOs), a healthcare model included in the ACA. ACOs emphasize a shared accountability between providers and healthcare organizations to achieve the goals of the Triple Aim. ACOs and other value-based programs provide the incentive for members to work together with human services agencies to expand traditional services, improve the patient experience, improve population health, and reduce cost of care.
A related shift is occurring, from focusing on providing healthcare when individuals are sick to a more comprehensive population health approach that focuses on the health of communities and on addressing the social determinants of health. To facilitate this approach, the federal government requires non-profit hospitals to conduct a community health needs assessment (CHNA) every 3 years to retain their tax status. Rural hospitals can benefit from this requirement by identifying the areas of great needs in their communities, as well as where significant healthcare costs originate in their communities. The hospitals and their communities then must create an implementation strategy which can coordinate with human services to address identified social needs and reduce healthcare costs while at the same time improving population health. Additional information and resources related to conducting community health needs assessments are available on RHIhub's Conducting Rural Health Research, Assessments, and Evaluations topic guide.
A healthcare system that coordinates and collaborates with human service programs and community services has a greater opportunity to address these social determinants of health, therefore likely reducing the need for and overutilization of healthcare services, reducing burdens on healthcare providers, and avoiding value-based reimbursement penalties. See RHIhub's Social Determinants of Health for Rural People for additional information.
The CDC Community Health Improvement Navigator provides a variety of tools and resources for healthcare, social services, public health, and other community organizations to work together with a holistic approach to improve community health.
---
How can rural healthcare providers help their patients access needed social supports? What programs have been designed to do this?
One of the most direct and coordinated methods for healthcare providers to help their patients access needed social supports is to co-locate healthcare services with social services, or to bring a social worker or case manager on to the staff of a clinic. Examples of co-locating services in rural areas include:
In rural Humboldt County, California, a Federally Qualified Health Center is located in the same building as Family Resource Center, which provides community services such as case management, food distribution, child care and benefits application assistance to community members in need. This combined FQHC/Family Resource Center share front-desk and administrative support, which eases the transition from medical services to social services.
The implementation of the Blueprint for Health in Vermont includes social workers as part of multi-disciplinary Community Health Teams that operate in a Medical Home framework. The Blueprint also provides for an additional administrative payment to support these Community Health Teams in health service areas. This program connects patients with all types of potential services, including benefit applications, housing needs, weatherization and energy assistance, as well as support for cases of domestic and child abuse. This also helps physicians stay regularly informed about service options available to their patients.
Efforts to better coordinate care are creating a more formalized process to involve social services in the provision of healthcare. These programs are being implemented in rural settings:
The Robert Wood Johnson's Aligning Forces for Quality supports programs such as Humboldt County's Care Transition program in northern rural California that assigns a social worker to the most frequent users of the healthcare system. Community Health Teams that include social workers and community service providers working with a primary care physician are being implemented in rural states across the country, often supported by Medicaid funding. Vermont's Blueprint for Health also has Community Health Teams as the centerpiece of their healthcare system reform in the state.
The Northwest Oregon Network (NEON) Pathways Community Hub is a pay-for-outcome model that uses trained Community Health Workers (CHWs) to connect patients with the appropriate resources to address their health needs. CHWs identify patients at-risk, determine the best pathway for improved health, and educate them about the health and social services available in their community. They also help the patient navigate to the needed resources. Once the pathway is successfully completed payment is made to the employing organization.
The Maine Rural Health Research Center's report, Integrated Care Management in Rural Communities, provides examples and strategies for implementing integrated care in long-term care services, many of which are funded under Medicaid, and involve coordination or integration with the acute care provider under Medicare.
---
How can rural human service providers work with the healthcare system to address patients' basic needs?
A resource particularly well-suited to rural communities are Family or Community Resource Centers. These Centers are in states across the country, including North Carolina, New York, and California. The Centers are designed to provide human services to low-income families in settings that provide an inviting and accommodating atmosphere, but they also often offer basic healthcare services, such as screenings, preventive care and immunizations. These Centers provide services to the entire community, not just those accessing human services, which can decrease the stigma associated with receiving safety net services. As mentioned in a 2012 publication by the RUPRI Rural Human Services Panel, in rural California,
"The 'decentralized' Family Resource Centers are community sites for a number of activities that promote healthy people in healthy communities, including parent education, food and clothing, social services, local health and behavioral health, and sites for meetings, including family meetings. These centers provide varied services driven by the needs of the community in an approachable manner."
Another type of program, the full-service community school (FSCS), integrates health and social services to support community development along with youth development, family support, and academics. By forming partnerships with elementary and secondary schools, educational agencies, and community-based organizations, FSCSs are able to coordinate academic, social, and health services; improve the quality of education in their communities; and help children achieve academic standards. The Coalition for Community Schools website provides additional resources about FSCS and what other local and states are doing to support them.
The RHIhub's Rural Services Integration Toolkit provides rural specific resources including program models, implementation considerations, and examples of working models for rural communities seeking to develop a health and human services integration program. Also, the Human Services Value Curve toolkit developed by the American Public Human Services Association (APHSA) may be useful as a reference document for rural agencies and community organizations working to better integrate health and human service systems.
---
What types of funding are available for coordinating with human services and providing human services benefit enrollment in a healthcare setting?
The Federal Office of Rural Health Policy offers community-based grants that can be used to coordinate human services with healthcare services. The Rural Health Network Development Grants support rural providers who work in formal networks to integrate administrative, clinical, technological, and financial functions. Networks should have a significant history of organizational collaboration and an agreement to participate in the grant. As mentioned above, the Rural Health Care Services Outreach program can support a wide range of non-clinical activities that improve health and healthcare in rural communities.
The Affordable Care Act created incentives for states and their local service agencies to integrate health and human service program application and case management technology. With new groups of individuals now eligible for Medicaid under the Affordable Care Act expansion, states need to modernize their eligibility and enrollment systems. Funding was provided in the ACA to create new technology to achieve this, by allowing human service programs to share programs and technology needed by Medicaid programs. Many states are creating new systems, utilizing an increased focus on the Insurance Affordability Program (IAP).
For rural specific funding for human services projects with a healthcare component, please see the Funding section of this guide.
What are some of the barriers to integrating human services with healthcare in a rural setting?
One of the most significant challenges to integrating human services with healthcare is the difficulty of billing for those services provided by a social worker or other human service provider in a fee-for-service healthcare payment model. Many insurers will not pay for phone consultations that social workers would conduct for case management services with patients. Creating Community Health Teams and Medical Homes using Medicaid funding, alone or in combination with other payers, is a solution examined in the Commonwealth Foundation's report, Care Management for Medicaid Enrollees through Community Health Teams.
Another significant barrier to integrating human services with healthcare in a rural setting is having human service programs and operating staff available to coordinate with the healthcare system. Since rural human service providers are often under-resourced, it may be difficult for them to provide needed services in the community, regardless of the setting. As the RUPRI Human Services Panel states in their report, Rethinking Rural Human Service Delivery in Challenging Times: The Case for Service Integration, At times, even the most basic essential services may not be accessible or may not even exist.
Other challenges that could occur when integrating human services with healthcare in a rural setting include:
Compliance with federal and state laws
Maintaining confidentiality
Mitigating liability
Availability of transportation
Stigma associated with receiving services
The RHIhub's Rural Services Integration Toolkit further discusses implementation challenges that may occur with integration and also describes ways in which to address these challenges.
---
Where can I find information about the different levels human services can be integrated within a rural healthcare organization?
The human service system interacts with the healthcare system at many different levels, from general referrals that a physician provides to a human service provider for a patient, to creating new programs between physicians, human service providers and often the community. In the report, Stimulating Local Innovation for Rural Health and Human Services Integration: A Critical Review of ORHP Outreach Grantees, the RUPRI Rural Human Service Panel discusses some themes, characteristics, and case studies of innovative and non-conventional approaches of integrated health and human services projects in rural areas.