Violence and Abuse in Rural America
Violence and abuse are critical problems in the United States. Their effects in rural America are often exacerbated by limited access to support services for victims, family connections with people in positions of authority, a lack of acceptance for alternative lifestyles, distance, transportation barriers, the stigma of abuse, lack of available shelters and affordable housing, poverty as a barrier to care, and other challenges. Abuse victims who live in small communities may be well-acquainted with healthcare providers and law enforcement officers. For that reason, they may be reluctant to report abuse, fearing that their concerns will not be taken seriously, their confidentiality will not be maintained, their reputations may be damaged, or that they may incur even more abuse.
This guide addresses abuses that may take place in rural communities, including:
Neglect
Child abuse
Domestic violence, also known as intimate partner violence (IPV)
Sexual violence, including rape, assault, and abuse
Abuse of vulnerable populations, such as elders and people with disabilities
Bullying, harassment, and stalking
Assault
Homicide
For information about suicide, see RHIhub's Rural Mental Health topic guide.
Frequently Asked Questions
---
How common is violence and abuse in rural America?
According to the 2017 federal crime statistics, violent crime rates in nonmetropolitan areas were lower than the national average. The 2014 Update of the Rural-Urban Chartbook notes that homicide rates were lower overall for both men and women, with an average of six deaths per 100,000 for males and two deaths per 100,000 for females in non-core (rural) counties.
Violent Crime in the United States, 2017 – Rates per 100,000 inhabitants
Cities, population
U.S., total
25,000 - 49,999
10,000 - 24,999
< 10,000
Non­metro coun­ties*

Violent Crime

400.0
297.8
269.6
315.6
206.7
Murder and non-negligent manslaughter
5.4
3.6
3.1
3.4
3.5
Rape (revised definition)
42.4
37.6
35.0
42.6
39.3
Robbery
101.2
68.1
52.0
39.9
11.0
Aggravated Assault
252.4
189.4
180.5
230.8
154.9
*Includes state police agencies that report aggregately for the entire state.

Source: Federal Bureau of Investigation, 2017 Crime in the United States, Table 16
Crime statistics may be artificially low due to the fact that not all crimes are reported. The Bureau of Justice Statistics' document Criminal Victimization, 2016 notes that in rural areas only 41.4% of violent crimes and 46.8% of serious violent crimes (defined as rape or sexual assault, robbery, and aggravated assault) are reported to the police. The updated document Criminal Victimization, 2017 does not include specific statistics for rural areas, but notes that between 2016 and 2017 there were no significant differences in rates of violent crime reported to police. The Bureau's 2012 document Victimizations Not Reported to Police, 2006-2010 says that reasons for non-reporting in rural areas include:
Dealt with in another way/personal matter – 34%
Not important enough to victim to report – 18%
Police would not or could not help – 16%
Fear of reprisal or getting offender in trouble – 13%
Other reason or not one most important reason – 18%
Like many other violent crimes in rural communities, sexual violence is often underreported. According to Unspoken Crimes: Sexual Assault in Rural America, reasons for not reporting rape, incest, or other sex crimes include:
Lack of anonymity
Greater physical isolation/Lack of access to support services
Distrust of outside assistance
Perceptions of sexual assault
For a more complete overview of rural sex crimes and perpetrators, see Sexual Violence in the Backlands: Toward a Macro-Level Understanding of Rural Sex Crimes, a 2014 article in Sexual Abuse: A Journal of Research and Treatment.
One common type of violence and abuse in rural communities is domestic violence or intimate partner violence (IPV). Victims of domestic violence can be male or female. Female victims, however, typically experience worse impacts and health outcomes than men. Offenders are typically male, though there are offenders of both genders.
A 2011 study published in the Journal of Women's Health found that when women seeking elective abortions at an Iowa family planning clinic were surveyed, 22.5% from small rural areas and 17.9% from isolated areas of Iowa reported being victims of IPV. Domestic violence often escalates into repeated and more violent abuse, with a national average of 3 women killed each day by an intimate partner or spouse. In a March 2015 policy brief, the National Advisory Committee on Rural Health and Human Services called on the Centers for Disease Control and Prevention (CDC) to include in the National Intimate Partner and Sexual Violence Survey a geographic variable showing level of urbanization, to provide better information and understanding about how IPV affects rural residents.
Neglect and abuse of children is also present in rural communities. A 2010 report to Congress from the Administration for Children and Families (ACF) states that the reported incidence for all categories of maltreatment except educational neglect was higher in rural counties than in urban counties, with rural children being almost twice as likely to experience maltreatment, including overall abuse, sexual abuse, emotional abuse, and neglect. However, the report's authors caution that this difference may not actually indicate a higher rate of abuse in rural areas, but rather may be due to factors such as higher survey response rate in rural areas, or differences in socioeconomic status and family size.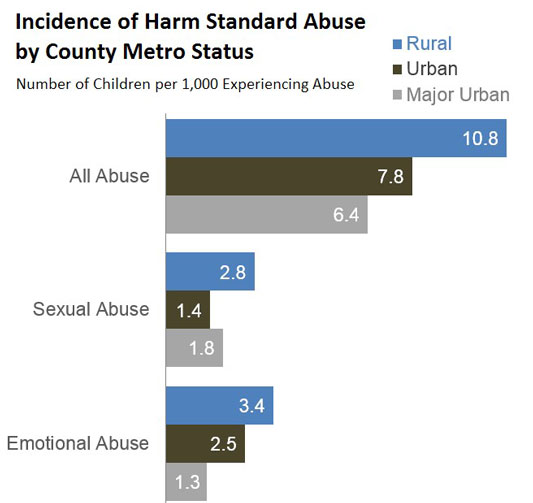 The Health and Medicine Division, National Academies of Sciences, Engineering, and Medicine's 2013 report New Directions in Child Abuse and Neglect Research indicates a need for cooperative approaches in recognizing and reporting child abuse and neglect, particularly in geographically isolated areas. For more information about working with children affected by abuse or neglect, see Promising Futures.
Violence and abuse based on sexual orientation and gender identity is also a concern in rural communities. It can include bullying, harassment, and assault in schools. A 2015 executive summary from GLSEN (formerly the Gay, Lesbian & Straight Education Network) states that rural LGBTQ students who had been surveyed about their experiences in school reported that:
56.1% had been verbally harassed
20.9% had been physically harassed
10% had been physically assaulted
---
How does poverty relate to violence and abuse in rural areas?
Rural America has a greater level of poverty than the nation as a whole. According to a report from the U.S. Department of Justice, rates of violent victimization are associated with poverty level, with 40 victims per thousand persons categorized as poor (household income below $15,000) versus 18 victims per thousand persons categorized as high income (household income above $75,000).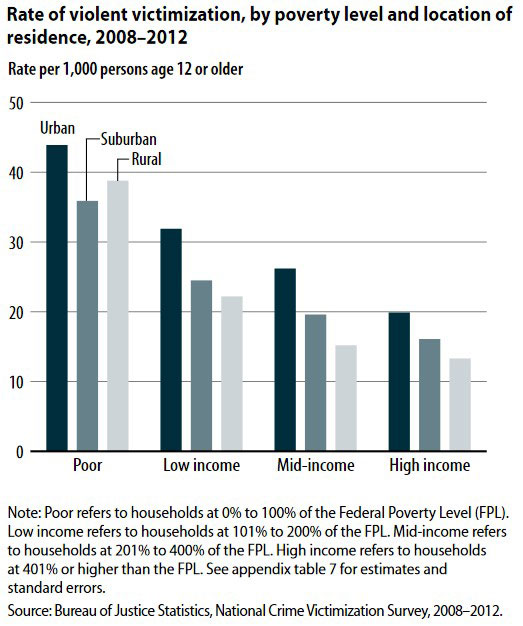 ---
How does rural healthcare access affect current victims and survivors of abuse?
Victims and survivors of abuse in rural areas often struggle to find immediate and continuing access to healthcare and social services. According to Rural Victim Assistance: A Victim/Witness Guide for Rural Prosecution, few rural communities have resources such as sexual assault nurse examiner programs or rape and sexual assault crisis centers. The 2015 review article Intimate Partner Violence and the Rural-Urban-Suburban Divide: Myth or Reality? notes that the IPV resources that do exist in rural areas may have less funding and thus be less comprehensive than those in urban communities.
Isolation due to geographic location is also an issue for abuse victims. Distance to clinics and hospitals and lack of public transportation may make prompt access to healthcare impossible. Additionally, lack of providers plays a role in the overall care of victims and survivors of abuse, with limited funding and higher per capita costs for social services leaving limited resources for specialized staff to help with violence and abuse support.
When services are lacking, victims may be reluctant to report abuse due to the possibility that it will just make their situation worse.
Examples of innovative programs to support victims and survivors of abuse include the National TeleNursing Center, the Butte Child Evaluation Center, and the Family Advocacy Network.
---
What services do rural victims of violence need?
Social Services
The National Rural Health Association policy brief Rural Community Violence: An Untold Public Health Epidemic recommends that rural communities support victims of violence by offering or establishing:
Employment and vocational training
Counseling
Violence prevention programs in clinical settings
Awareness campaigns promoting prevention and intervention programs
Anti-bullying and mentoring programs in schools
Transportation and emergency housing are needed for rural victims of abuse and violence, so that they can leave abusive living situations and find employment to help them become self-sufficient. According to Rural Disparity in Domestic Violence Prevalence and Access to Resources,
over 25 percent of women in small rural and isolated areas live more than 40 miles from the closest Intimate Partner Violence Program, compared with less than 1 percent of women living in urban areas.
The National Rural Health Association policy brief Rural Community Violence: An Untold Public Health Epidemic notes that violence takes many forms, including murders and suicides, robberies, and bullying. It offers recommendations for combating violence, including:
Increasing awareness of the problem, through media outlets
Promoting allocation of resources at the local level
Establishing funding partnerships to expand community resource centers
Establishing and supporting batterer intervention programs
Advocacy and Legal Services
Abuse victims may need advocates to help them navigate the legal system or locate and use local social service and support programs. Rural victims may need these services even more because of the close-knit and often familial connections in their communities and criminal justice systems. Advocates can:
Provide expertise on victim safety and emotional support
Help navigate financial systems to retain or regain assets and establish power of attorney, guardianship/conservatorship, or custody
Assist with restraining or protective orders
The American Bar Association offers a Find Legal Help tool that connects people to professionals in their state. The Legal Services Corporation also provides a search tool to find legal aid in each state. Additionally, the National Clearinghouse on Abuse in Later Life provides a useful toolkit for assisting survivors of abuse in Rural Domestic and Sexual Abuse Program Advocates: Making a Difference in the Lives of Older Survivors of Abuse. The National Sexual Violence Resource Center also offers The Advocate's Guide: Working with Parents of Children Who Have Been Sexually Assaulted.
Another consideration for healthcare-specific legal needs in rural communities is a medical-legal partnership. This partnership provides on-site legal aid in a medical setting (such as a clinic, hospital, or dental practice), and allows for a safe and immediate space for people needing help. More information about this type of partnership is available in the October 2016 Rural Monitor article, Bringing Law and Medicine Together to Help Rural Patients, and through the National Center for Medical-Legal Partnership.
---
What can rural communities do to prevent violence and abuse?
Rural communities can come together to prevent and respond to violence and abuse through a Coordinated Community Response (CCR). This collaborative effort among healthcare providers, community groups, faith-based organizations, schools, criminal justice, and social service agencies allows for a broad opportunity to stop violence before it starts. Resources such as Preventing Family Violence: Community Engagement Makes the Difference and Advocates & Educators from the National Sexual Violence Resource Center can promote cooperation between agencies and the larger community. Resources for prevention, intervention, and public education regarding elder abuse are available at the National Center on Elder Abuse's State Resources page. Additionally, RHIhub's Human Services to Support Rural Health topic guide has resources to help address child welfare and discusses the use of Family Resource Centers to assist those in rural communities.
Some communities sponsor programs for people who want to change their own violent or controlling behavior. For those interested in establishing an abuser treatment program in their region, more information is available at:
The CDC offers a variety of resources designed to bolster community support for violence prevention programs. These include:
---
What are strategies that rural healthcare providers can use to identify and support victims of violence?
Rural healthcare providers often play many roles with little specific training to support victims of violence. There is a need for integration of screening and counseling for victims of violence and abuse in primary care practices. The March 2015 policy brief from the National Advisory Committee on Rural Health and Human Services suggests that routine screening for signs of violence or abuse should become standard practice for primary care providers and nurses. These professionals should be educated on the existing resources in their communities, including non-traditional sources such as churches, faith-based providers, and community clubs.
Screening of elders for violence, neglect, and abuse is important since elders may be reluctant or unable to report being victimized. According to the National Center on Elder Abuse (NCEA), elder abuse is underreported. NCEA offers a summary of screening tools available to health professionals. Additionally, a brief elder abuse screening protocol and tool that has been tested and implemented in rural primary care practices by the University of Maine Center on Aging is also available.
Routine screening for intimate partner violence is recommended by the U.S. Preventive Services Task Force for all women of childbearing age. An October 2016 American Family Physician article, Intimate Partner Violence, provides recommendations for routine screening for domestic violence and includes examples of screening tools, as well as tips for discussing this issue with patients. IPVHealth.org is a resource healthcare providers can use to learn more about the health impact of violence and abuse. It offers tools and resources for establishing a partnership between domestic violence agencies and health settings. A related project, IPVHealthPartners.org offers a toolkit, Prevent, Assess, and Respond: A Domestic Violence Toolkit for Health Centers & Domestic Violence Programs, based on the experiences of successful community health center/domestic violence agency partnerships.
Healthcare facilities can also help raise awareness of services available through placement of brochures and posters in exam rooms and rest rooms.
Facilities and providers can facilitate the process of accessing services for domestic violence, sexual assault, or other violence by providing a safe place for victims to meet with service providers (such as counselors or sexual assault nurse examiners), which may include a telehealth connection to counselors or other crisis intervention professionals located at a distance for those in particularly rural and remote areas.
The Office on Violence Against Women (OVW) in the U.S. Department of Justice provides grants to communities, medical providers, and other service providers who are working to implement strategies to protect women and their children who are victims of violence and abuse. The Office sponsors the Rural Sexual Assault, Domestic Violence, Dating Violence, and Stalking Assistance Program which provides targeted funding for rural communities, as well as numerous funding programs for tribal communities. OVW provides technical assistance to communities and has created two versions of the National Protocol for Sexual Assault Medical Forensic Examinations: Adult/Adolescent and Pediatric, through the SAFEta Project. Other resources available to address intimate partner violence for all communities include IPV Health's Domestic Violence Survivor Health, Safety and Empowerment and Health Partners.
Organizations successfully providing services for victims of sexual assault include the Canyon Creek Services in rural Utah and the Eastern Plains Sexual Assault Response Team in South Dakota.
---
How common is violence and abuse in Native American populations? What factors and barriers do Native American populations face in dealing with violence?
According to the Indian Law and Order Commission's report A Roadmap for Making Native America Safer, American Indian/Alaskan Native (AI/AN) children experience post-traumatic stress disorder due to chronic exposure to violence at the same rate as veterans returning from recent wars and triple that of the general population. Additionally, a U.S. Department of Justice report estimates that assaults on women living on Indian reservations to be as much as 50% higher than the next most victimized demographic. Historical trauma also plays a role in terms of American Indian/Alaska Native response to violence and abuse. This may preclude them reaching out to traditional authority figures who may be able to help them in the aftermath of current trauma, due to distrust for people in positions of authority.
The 2014 article Sexual Assault Services Coverage on Native American Land notes that as of 2011 only 30.7% of the 650 census-designated Native American lands surveyed were within a 60-minute drive to facilities offering sexual assault examiner (SAE) or sexual assault response team (SART) programs. The study also noted that 381 of those lands have no services or access beyond the 60-minute perimeter of the study.
According to a 2017 CDC report, 55% of AI/AN women have experienced sexual violence other than rape in their lifetimes, 27.5% of AI/AN women have experienced rape in their lifetime, and 25.5% of AI/AN men have experienced sexual violence other than rape in their lifetime (higher than some racial/ethnic categorizations).
Judicial authority and criminal jurisdiction for crimes of abuse or violence by non-tribal people on tribal land has also been historically limited, though some updates and expansion of tribal authority were included in the Tribal Law and Order Act of 2010. Subsequently, the May 2013 Violence Against Women Reauthorization Act authorized special domestic violence criminal jurisdiction to tribal courts over non-Indian offenders. This Act includes a definition of a tribal coalition, which gives support to Indian service providers to help them establish and maintain culturally appropriate services such as shelters and rape crisis centers.
Additional resources that focus specifically on Native American victims and survivors of violence and abuse include:
The National Indigenous Elder Justice Initiative (NIEJI) also offers resources to support tribal capacity to access culturally appropriate support for those suffering elder abuse, neglect, and exploitation.
---
What are the barriers to addressing rural domestic violence/intimate partner violence?
Access to healthcare, prevention, social and human services, and protection services in rural communities is often limited based on funding and availability of a healthcare workforce trained in domestic violence intervention. According to Rural Social Work Practice (2012), rural women and children, in particular, have less access than their urban counterparts to domestic violence shelters, healthcare providers, mental health services, law enforcement, and court officials. Rural Disparity in Domestic Violence Prevalence and Access to Resources states that:
rural women are also nearly twice as likely to be turned away from services because of the insufficient number of programs and inadequate staffing of community-based health programs and face barriers of access due to geographic distance and isolation.
---
How does living in a rural community impact sexual assault victims and survivors?
In rural communities, survivors of abuse and violence face ongoing challenges due to the same elements that often stop them from reporting the abuse initially. The community or cultural understanding of the roles of women, close or familial connections of law enforcement or criminal justice figures and healthcare providers, geographic isolation or remoteness, lack of access to education or social services, the higher risk of being socially isolated, and other issues play a role in how a survivor will be supported in a rural area. Community conversation and cooperation are important factors in establishing and maintaining survivor support, using such resources as Stopping the Stigma: Changing Public Perceptions of Sexual Assault in Rural Communities and Safe Havens' Rural Communities Responding to Sexual and Domestic Violence.
---
How do child abuse and neglect in rural communities compare to cases in urban areas?
Exposure to violence and incidence of child abuse and neglect are higher in rural communities as a whole. According to The Health and Well-Being of Children in Rural Areas: A Portrait of the Nation 2011-2012, 8.9% of rural children have been victims or witnesses to neighborhood violence, compared to 8.6% in urban areas. Similarly, 9.9% of children in small rural communities have witnessed domestic violence versus 6.8% in an urban setting.
Family stress, caused by a variety of factors such as poverty, substance abuse, and health problems, adds to the incidence of child abuse and neglect by caregivers. According to Rural Families with a Child Abuse Report are More Likely Headed by a Single Parent and Endure Economic and Family Stress, a report using data from the National Survey of Child and Adolescent Well-Being, over 60% of rural caregivers reported for child maltreatment experience high family stress, compared to 50% in urban areas. Rural families dealing with child maltreatment issues also had more difficulty paying for basic needs than urban families.
According to the same report, the most commonly reported type of child maltreatment in rural areas is child neglect, the failure by the caregiver to provide needed age-appropriate care. Neglect makes up 46% of reported rural cases, compared to 28% for physical abuse and 14% for sexual abuse. More than a quarter of reported child abuse cases in both rural and urban locations include more than one type of maltreatment. Limitations of this study include a lack of uniformity in definitions and local changes in case coding, which make it difficult to pinpoint geographic and chronological trends.
In rural communities, child abuse or neglect is often underreported due to factors such as isolation and geographic remoteness, lack of social services or other support programs, lack of or limited foster care or emergency housing, and social stigma for survivors.
---
What are adverse childhood experiences (ACEs) and how might they affect the health of rural people?
The term adverse childhood experiences (ACEs) relates to certain stressful or traumatic events or situations occurring before age 18. Examples of ACEs include:
Verbal, physical, and sexual abuse
Physical or emotional neglect
Having family members who are mentally ill, have substance abuse issues, or are incarcerated
Witnessing family violence
Having parents who separate or divorce
According to Adverse Childhood Experiences in Rural and Urban Contexts, 56.5% of rural residents who responded to ACE items on the Behavioral Risk Factor Surveillance System (BRFSS) telephone surveys between 2011 and 2013 reported some exposure to these traumas. The article and many other scientific publications note that people who experience ACEs are at increased risk for developing chronic health conditions as adults and also may struggle with behavioral problems and harmful health habits. In addition, they may subject their own children to similar stresses.
ACEs and their impact on health and well-being can be prevented. For more information, see the Rural Monitor article Confronting Adverse Childhood Experiences to Improve Rural Kids' Lifelong Health.
---
What concerns are there for protecting the rural elderly and other vulnerable rural populations from financial abuse, violence, and neglect?
Rural elderly and other vulnerable rural populations who suffer violence and abuse have special considerations when it comes to the need for response, protection, and support, both as victims and survivors. Health concerns associated with aging, such as physical limitations and dementia, make elderly populations more susceptible to physical neglect and abuse, personal neglect, and financial coercion. Victims who have physical and cognitive disabilities may need advocates to help them access specialized services, resource materials or interpret legal proceedings. The National Center on Elder Abuse, a part of the Administration on Aging, provides prevention strategies and intervention partner information.
---
What is the impact of a rural setting on victims of harassment, stalking, and bullying?
According to Perspectives on Civil Protective Orders in Domestic Violence Cases: The Rural and Urban Divide, a study showed that rural women who were granted protection orders were more likely to fear future harassment or harm than their urban counterparts. The authors suggest that reasons for this may include:
Geographical isolation
Lack of community services
Higher percentage of rural women married to the people named in the protection orders
Rural women more likely to be in long-term relationships with their abusers, and more likely to have children in common with them
Bullying, primarily associated with school age children, can be particularly harmful in a rural community where access to support services and small class size impede the administrator's ability to intervene or solve the problem effectively. According to The Differential Impacts of Episodic, Chronic, and Cumulative Physical Bullying and Cyberbullying: The Effects of Victimization on the School Experiences, Social Support, and Mental Health of Rural Adolescents, cyberbullying has become common in rural schools. Geographic isolation does not affect the bully's ability to harass the victim through electronic means. Chronic bullying of any type may harm mental well-being, long term self-esteem, and future success. Bullying based on sexual orientation or gender identity is a problem in rural communities. The Gay, Lesbian & Straight Education Network (now GLSEN) provides a report and training webinar addressing this issue in Strengths & Silences: LGBT Students in Rural Schools. Resources to help communities prevent bullying are available at StopBullying.gov.