Rural Health Disparities
Rural Americans are a population group that experiences significant health disparities. Health disparities are differences in health status when compared to the population overall, often characterized by indicators such as higher incidence of disease and/or disability, increased mortality rates, lower life expectancies, and higher rates of pain and suffering. Rural risk factors for health disparities include geographic isolation, lower socioeconomic status, higher rates of health risk behaviors, limited access to healthcare specialists and subspecialists, and limited job opportunities. This inequality is intensified as rural residents are less likely to have employer-provided health insurance coverage, and if they are poor, often are not covered by Medicaid.
Federal and state agencies, membership organizations, and foundations are working to reduce these disparities and improve the health and overall well-being of rural Americans. Some organizations provide funding, information, and technical assistance to be used at the state, regional, and local level, while others work with policymakers to help them understand the issues affecting population health and healthcare in rural America.
For an in-depth look at rural health disparities, the Centers for Disease Control and Prevention's (CDC) Morbidity and Mortality Weekly Report (MMWR) Rural Health Series examines rural mortality and preventable deaths, health-related behaviors, chronic disease, mental health services, and related topics. Additional insights and data on rural health disparities are available from the Rural Health Reform Policy Research Center's (RHRPRC) publication, 2014 Update of the Rural-Urban Chartbook, and 2016 report, Exploring Rural and Urban Mortality Differences.
Frequently Asked Questions
---
What is the difference between health disparities and health inequities?
Healthy People 2020 defines health disparities as:
"a particular type of health difference that is closely linked with social, economic, and/or environmental disadvantage. Health disparities adversely affect groups of people who have systematically experienced greater obstacles to health based on their racial or ethnic group; religion; socioeconomic status; gender; age; mental health; cognitive, sensory, or physical disability; sexual orientation or gender identity; geographic location; or other characteristics historically linked to discrimination or exclusion."
Health equity is defined by the Healthy People 2020 as the:
"Attainment of the highest level of health for all people. Achieving health equity requires valuing everyone equally with focused and ongoing societal efforts to address avoidable inequalities, historical and contemporary injustices, and the elimination of health and health care disparities."
Lastly, health inequity is defined by the National Center for HIV/AIDS, Viral Hepatitis, STD, and TB Prevention (NCHHSTP) within the CDC as the "difference or disparity in health outcomes that is systematic, avoidable, and unjust."
---
What are the causes of rural health disparities?
The origins of health disparities in rural America are numerous and vary by region. Some frequently cited factors underlying rural health disparities include healthcare access, socioeconomic status, health-related behaviors, and chronic conditions.
Access to Healthcare
Rural populations can experience many barriers to healthcare access, which can contribute to health disparities. A 2019 JAMA Internal Medicine article, Association of Primary Care Physician Supply with Population Mortality in the United States, 2005-2015, found lower mortality was associated with an increase of 10 primary care physicians per 100,000 population. The following factors create challenges or barriers to accessing healthcare services for rural Americans:
There are higher rates of uninsured individuals residing in rural or nonmetro counties compared to their counterparts in urban or metro counties, as reported by a 2021 CDC report Health, United States, 2019 (Table 49).
Healthcare workforce shortages are prevalent throughout rural America. The 2014 National Center for Health Workforce Analysis report, Distribution of U.S. Health Care Providers Residing in Rural and Urban Areas, found a "greater representation of workers with less education and training living in rural areas" and highlights data showing less than 8% of all physicians and surgeons choose to practice in rural settings.
Specialty and subspecialty healthcare services are less likely to be available in rural areas and are less likely to include specialized and highly sophisticated or high-intensity care. This exacerbates problems for rural patients seeking specialized care who are faced with traveling significant distances for treatment.
Reliable transportation to care can also be a barrier for rural residents due to long distances, poor road conditions, and the limited availability of public transportation options in rural areas. For more information on rural transportation programs and the impact on health of not having transport available in rural communities, see RHIhub's Transportation to Support Rural Healthcare topic guide.
For additional information regarding healthcare access in rural areas and other barriers rural populations face related to access to care, see RHIhub's Healthcare Access in Rural Communities topic guide.
Socioeconomic Status
According to a 2014 Kaiser Commission on Medicaid and the Uninsured issue brief, The Affordable Care Act and Insurance Coverage in Rural Areas, rural populations have higher rates of low to moderate income, are less likely to have employer-sponsored health insurance coverage, and are more likely to be a beneficiary of Medicaid or another form of public health insurance. The brief found that rural residents are more likely to be unemployed, have less post-secondary education, and have lower median household incomes compared to urban residents. For additional information about the causes of health disparities in rural areas, see RHIhub's Social Determinants of Health for Rural People topic guide.
Health Behaviors
Whether or not populations adopt positive health behaviors can have an impact on the rates of disparities in their health status and mortality. A 2017 CDC MMWR, Health-Related Behaviors by Urban-Rural County Classification — United States, 2013, examined the prevalence of 5 key health-related behaviors by urban-rural status. Urban residents were more likely to report 4 or 5 of the positive health behaviors.
The 2014 Update of the Rural-Urban Chartbook, from RHRPRC, reports a striking difference in the rates of adolescent smoking among urban and rural classifications, with youth in rural noncore counties (11%) being more than twice as likely to smoke as their peers in large central metropolitan counties (5%).
---
How do rural mortality rates compare to urban?
According to a 2017 North Carolina Rural Health Research and Policy Analysis Center findings brief, Regional Difference in Rural and Urban Mortality Trends, from 1999 through 2015, both rural and urban all-cause mortality rates decreased, but decreases were greater in urban areas, which increased the disparity for all-cause age-adjusted mortality between rural and urban regions of the U.S.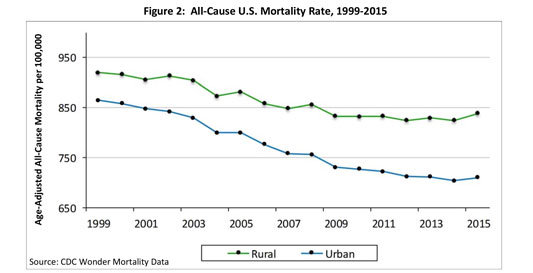 With all-cause mortality rates higher in rural areas, it is no surprise that mortality related to certain causes are also higher in rural areas. The table below compares several cause-specific mortality rates for rural and urban counties.
Another way to examine rural-urban mortality differences is by examining excess deaths, that is, deaths that occur at a younger age than would be expected. Across counties in the U.S., the proportion of deaths that occur before age 80 varies; the lowest rate is used as a benchmark for comparison. Excess deaths are those that may have been potentially preventable. A 2017 CDC MMWR, Leading Causes of Death in Nonmetropolitan and Metropolitan Areas — United States, 1999-2014, analyzed CDC National Vital Statistics System data and determined the 5 leading causes of death in the U.S. continue to demonstrate higher percentages of excess deaths for populations in nonmetropolitan areas than in metropolitan areas.
Four of the five leading causes of death in rural areas are associated with chronic disease. RHIhub's Chronic Disease in Rural America topic guide provides additional information and resources on the impact of chronic disease in rural areas, and lists funding opportunities for programs to address chronic conditions in rural populations.
---
How does rural life expectancy compare to urban?
Related to excess deaths, life expectancy is generally lower in rural than in urban counties.
The Robert Wood Johnson Foundation (RWJF) and the National Association of Public Health Statistics and Information Systems (NAPHSIS) have worked together to launch the U.S. Small-area Life Expectancy Estimates Project (USALEEP). USALEEP offers national and state-level data files for life expectancy and an abridged period life table describing life expectancy at birth from 2010 through 2015. RWJF's interactive tool, Life Expectancy: Could Where You Live Influence How Long You Live?, uses the USALEEP data analysis to determine the life expectancy for where you live at the neighborhood-level. You can search by zip code or street address for life expectancy data and a comparison by census tract, county, state, and the national life expectancy.
---
What regions of the country experience higher levels of rural health disparities?
Higher levels of rural health disparities can be found in several regions throughout the U.S., although not all of these regions exhibit similar high levels in all identified disparities.
The South
The rural South leads in mortality rates for nearly all top-ten causes of death examined by the Rural Health Reform Policy Research Center (RHRPRC). The Institute for Health Metrics and Evaluation (IHME) U.S. Health Map provides data on life expectancy at birth for both sexes in 2014 that illustrates a lower life expectancy in the South. The 2017 CDC publication, Leading Causes of Death in Nonmetropolitan and Metropolitan Areas – United States, 1999-2014, found the nonmetropolitan areas of the South have the highest rates of potentially excess deaths related to heart disease, cancer, chronic lower respiratory disease, and stroke. Rural Healthy People 2020: A Companion Document to Healthy People 2020, Volume 1, from the Southwest Rural Health Research Center, reports rural populations in the Southeastern portion of the U.S. exhibit a diabetes prevalence rate higher than 10.6% and in some areas of the South the diabetes prevalence rates for adults is almost double the national rate for adults. See Resources by Topic: The South for additional information.
Appalachia
There are many areas of overlap between Appalachia and the South. Appalachia exhibits many of the same health disparities found in the South. A 2017 Health Affairs article, Widening Disparities in Infant Mortality and Life Expectancy Between Appalachia and the Rest of the United States, 1990–2013, identified infant mortality rates 16% higher in the Appalachian region compared to the U.S. as a whole from 2009 to 2013. The article reports that the deficit in life expectancy for residents of Appalachia widened by 2.4 years from 1990 to 1992. The 2020 NORC Walsh Center for Rural Health Analysis report, Appalachian Diseases of Despair, found that Appalachia had a higher all-cause mortality rate in 2018 than other parts of the U.S., with 372.3 deaths per 100,000 in Appalachia and 280.5 deaths per 100,000 in non-Appalachian regions. A research product from RHRPRC, Exploring Rural and Urban Mortality Differences in the Appalachian Region, reports mortality rates for cancer, heart disease, diabetes, lower respiratory diseases, unintentional injury, and stroke are higher in Appalachia compared to the U.S. as a whole. Other diseases and health concerns causing death prevalent throughout the region include septicemia, chronic liver disease, suicide, and overdoses from prescription and illegal drugs. The American Psychiatric Association's (APA) 2017 publication, Mental Health Disparities: Appalachian People, reports the "region's suicide rate is 17% higher than the national rate" and rural Appalachian residents are 21% more likely to die by suicide compared to their counterparts residing in larger metro counties in the region. Additional information and data on Appalachian health disparities can be found in the 2017 report Health Disparities in Appalachia from the Appalachian Regional Commission and the Cecil G. Sheps Centers for Health Services Research. See Resources by Topic: Appalachia for additional information.
The Delta Region
The Delta Region is located in the South but is limited to the rural geographic areas along the Mississippi River. The Delta Region exhibits many of the same health disparities as the rural South and Appalachia. IHME's U.S. Health Map offers data describing life expectancy at birth for both sexes in 2014 in the Delta Region, which are some of the lowest in the country. For example, the life expectancy for males at birth in 2014 in Coahoma County, Mississippi is 67.24 years compared to 76.71 years for males born anywhere in the U.S. in 2014. The life expectancy for females at birth in 2014 in Madison Parish, Louisiana is 74.21 years compared to 81.45 years for females born anywhere in the U.S. in 2014. The RHRPRC research product, Exploring Rural and Urban Mortality Differences in the Delta Region, reports rural mortality rates from heart disease for age groups 1 to 14 years, 15 to 24 years, 25 to 65 years, and older than 65 years of age are higher in the Delta Region compared to the U.S. as a whole. See Resources by Topic: Delta Region for additional information.
U.S.-Mexico Border
According to the 2013 Journal of Cross-Cultural Gerontology article, Border Health in the Shadow of the Hispanic Paradox: Issues in the Conceptualization of Health Disparities in Older Mexican Americans Living in the Southwest, many counties along the U.S.-Mexico border are "at or above life expectancy" compared to other industrialized counties in the Southwest U.S. but persistent health issues continue to afflict the border region. The 2015 United States-México Border Health Commission report, Healthy Border 2020: A Prevention & Health Promotion Initiative, discusses the prevailing public health issues for U.S.-Mexico border populations and identifies persistent health conditions for this population as obesity, heart disease, diabetes, unintentional injuries, and tuberculosis. The report highlights the health concerns and conditions, specifically asthma, as a result of poor air quality from pollution, emissions, and other environmental particulates. Border counties can have higher rates of diabetes in the U.S. According to 2012 diabetes data for both sexes from IHME's U.S. Health Map, the prevalence of diabetes was 26.38% in Starr County, Texas, which was significantly higher than the diabetes prevalence rate for the state of Texas, 16.34%, and for the U.S. population as whole, 14.28%. RHIhub's Rural Border Health topic guide provides additional information on strategies used to improve health and access to care in rural border communities and other relevant resources.
Tribal Communities
Tribal communities include Native American populations living on reservations, which is also sometimes referred to as Indian Country. A 2019 Indian Health Service (IHS) fact sheet, Indian Health Disparities, notes that American Indian/Alaska Native (AI/AN) populations experience significantly higher mortality rates from several causes. The fact sheet reports AI/AN life expectancy as 5.5 years less compared to the rest of the U.S. population. APA's 2017 publication, Mental Health Disparities: American Indians and Alaska Natives, reports that AI/AN adults and children have the "highest rates of lifetime major depressive episodes and highest self-reported depression rates than any other ethnic or racial group." The APA publication found suicide to be the second leading cause of death for AI/ANs age 10 to 34 and the completed suicide rate for AI/AN females aged 15 to 19 was four times higher compared to their White female counterparts. The 2015 IHS report, Trends in Indian Health: 2014 Edition, compares 2007-2009 AI/AN death rates to 2008 death rates for all U.S. races and reports significant differences to mortality for numerous causes. AI/AN mortality rates were: 520% greater related to alcohol; 450% greater due to Tuberculosis; 368% greater related to chronic liver disease and cirrhosis; 207% greater related to motor vehicle crashes; and 177% greater due to diabetes mellitus. For more information on tribal health or programs to address health disparities in AI/AN communities, see RHIhub's Rural Tribal Health topic guide.
For additional information on regional rural health disparities, the U.S. Health Map from IHME at the University of Washington is an interactive map that provides county-level data for the U.S. on life expectancy, mortality rates, mortality risks, and other health risk factors. Map data can be narrowed by sex and is available from 1980 through 2014. Health trend data by county is available for major causes of death, including several types of cancer, heart disease, stroke, chronic lung diseases, diabetes, unintentional injury, and mental and substance use disorders. IHME also publishes US County Profiles data and maps on major causes of death by county for all 50 states.
---
What are the health disparities that affect rural minority populations?
Rural minority populations often experience health disparities in health status, rates of chronic disease, life expectancy, and rates of unintentional injury. A 2017 MMWR, Racial/Ethnic Health Disparities Among Rural Adults — United States, 2012–2015, shows health disparities for adult rural minority populations compared to other racial or ethnic groups. The MMWR findings include:
AI/AN, non-Hispanic Black, and Hispanic adults living in rural areas self-reported higher rates of fair or poor health compared to non-Hispanic White adults.
Rural non-Hispanic Black and AI/AN adults were more likely to report having multiple chronic health conditions than non-Hispanic White adults.
Rural non-Hispanic Black adults were most at risk for obesity and severe obesity.
Rural AI/AN adults reported the most limitations in activities due to physical, mental, and emotional problems.
The 2018 Substance Abuse and Mental Health Services Administration (SAMHSA) Center for Behavioral Health Statistics and Quality (CBHSQ) data review, Substance Use and Mental Health Issues among U.S.-Born American Indians or Alaska Natives Residing on and off Tribal Lands, estimates behavioral health outcomes for AI/ANs living on and off tribal lands. The data review found significant differences in mental health and substance use conditions among AI/ANs residing on and off tribal lands.
Rural minorities face a myriad of issues that can affect their health and wellness ranging from chronic poverty, to a lack of stable medical care for migrant workers, to language barriers or educational attainment affecting healthcare decision making and communication. According to the HHS Action Plan to Reduce Racial and Ethnic Health Disparities, the two major factors contributing to disproportionate health problems are inadequate access to care and the provision of substandard quality healthcare services. Several federal government agencies within the U.S. Department of Health and Human Services work to eliminate the health disparities experienced by minority populations:
The Office of Minority Health (OMH) works to improve the health status of racial and ethnic minorities, eliminate health disparities, and achieve health equity in the U.S. OMH offers Minority Population Profiles for African American, AI/AN, Asian American, Hispanic and Latino, and Native Hawaiian and Pacific Islander populations that include various pieces of information such as a demographic overview, educational attainment, health conditions, health insurance coverage, economics, language fluency, U.S. Census reports, and more.
The Federal Office of Rural Health Policy (FORHP) has a longstanding concern with the diverse health needs of rural minority populations and provides information, expertise, and grant opportunities to address the inequities found in rural minority health populations.
The CDC Office of Minority Health and Health Equity (OMHHE) aims to eliminate health disparities for vulnerable populations as defined by race/ethnicity, socioeconomic status, geography, gender, age, disability status, sexuality, gender, and among other populations identified to be at-risk for health disparities.
Every state has a state office of minority health or health equity office charged with reducing health disparities within their state, providing state-level health information and resources targeted toward minority populations. To find your state office of minority health or health equity office, see OMH's map of state minority health contacts.
---
Where can I find supporting documents and statistics on rural health disparities?
Several publications identify and describe the rural health disparities that include urban comparisons.
For additional information on rural/urban health disparities see What sources cover health behaviors and health status for rural areas or by county? on RHIhub's Finding Statistics and Data Related to Rural Health topic guide.
---
What agencies and organizations are working to seek solutions to these disparities?
For additional information on rural health research see the Conducting Rural Health Research, Assessments and Evaluation topic guide.
---
Where can I find programs that illustrate best practices to meet the challenges of providing health services in areas characterized by disparities?
RHIhub's Rural Health Models and Innovations features examples of programs and interventions that have shown success in providing health services in rural areas experiencing health disparities. Models and innovations can be searched by evidence level, topic, source, and state. A few examples of successful programs include:
Hidalgo Medical Services – Family Support Program is a community-based chronic disease intervention program that works to help individuals with diabetes or those who are at risk for diabetes. The program utilizes community health workers (CHWs) to provide education and support to diabetic and pre-diabetic patients.
Kentucky Homeplace is a CHW initiative focused on reducing health disparities in rural Kentucky. The model emphasizes coordinating care and health coaching while providing many healthcare services at no cost to the patient.
Health Extension Rural Offices (HEROs) is a program that created local community offices and community agents to help community members identify their health and social needs and help them connect with the University of New Mexico Health Sciences Center (UNMHSC) and related resources.
Annually, RWJF recognizes communities working to improve health, well-being and health equity with the Culture of Health Prize. To explore past Culture of Health Prize winners and their stories, search by topic and community type, including rural and tribal communities, in the Meet the Culture of Health Prize Winners section towards the bottom of the page.
RHIhub also maintains a listing of Other Case Studies and Collections of Program Examples that use their own criteria for selecting program examples. These examples can also be searched by resource type and topic.