Theoretical Support behind Networks and Coalitions
While the driving factor behind networks and coalitions is largely practical in nature (that is, sharing resources and building capacity), there is a wide array of theoretical models that underpins the notion. Three examples are Social-Ecological Theory, the Public Health Model, and Community Coalition Action Theory. These theories are merely presented as supportive underpinnings for why and how networks and coalitions are useful for addressing health concerns in rural communities.
Social-Ecological Model
The Social-Ecological Model (SEM) recognizes the complex social and environmental system in which individuals exist and how the concentrically larger systems in which they regularly move affect individual behavior. This model addresses population-level influences as well as individual-level impact. Adopting a Social-Ecological approach when developing a network takes into account these multiple layers of influence and suggests the network will encompass a comprehensive approach to addressing the issue at hand.
For more information on Social-Ecological Model, visit the Health Promotion and Disease Prevention Toolkit on RHIhub.
Public Health Model
The premise of the Public Health Model is to affect maximum benefit for the largest number of people. In other words, targeting population health. To this end, multiple layers of influence are being targeted, similar to the Social-Ecological model. Additionally, the public health model employs a prevention focus, which attempts to stave off issues of concern preemptively. A common example of a public health initiative is vaccination access. As this example demonstrates, the health of the broader community is addressed and protected, though there is a trickle-down effect to the individual as well. Incorporating the public health model into network development addresses concerns at the policy, systems, and environment levels rather than targeting the individual. There are four steps to applying the public health model: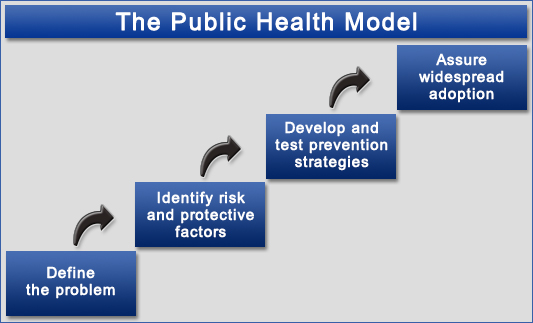 For examples of programs incorporating the public health model, visit the RHIhub Rural Health Models and Innovations section.
Community Coalition Action Theory
Emerging Theories in Health Promotion Practice and Research describes Community Coalition Action Theory (CCAT) as a comprehensive theory that outlines processes and influences that affect coalition development, growth, and change over time. Rooted in community development, community organization, and political science concepts, the theory is built on three core stages of coalition development: Formation, Maintenance, and Institutionalization. Within each of these stages reside constructs that have the potential of affecting progress. The underlying premise of CCAT is that coalition work does not necessarily progress in a linear fashion; each stage is revisited when there is a change in membership, when plans are revised, and when new issues/concerns are added.
Resources to Learn More
Community Coalition Action Theory: A Case Study
Presentation slides
Prezi presentation and transcript about a coalition started by a dedicated group of youths wanting to address drunk driving in a small town in Indiana.
Author(s): Hartwig, S., Kissock, L., & Vuong, K.
Date: 11/2012
Ecological Model
Website
Provides an example of a coalition that is operating from the Ecological perspective.
Organization(s): American College Health Association
Public Health Model
Presentation Slides
54 slides providing explanation of public health and examples. Presentation notes included.
Author(s): Sahoo, S.S.
Organization(s): SCB Medical College Senior Resident
Date: 3/2015
The Social-Ecological Model: A Framework for Prevention
Website
Describes an ecological model for injury prevention that highlights the complex interplay between individuals, groups, community, and the societal factors that shape relationships.
Organization(s): Centers for Disease Control and Prevention
Violence Prevention Alliance
Website
A network of WHO Member States, international agencies, and civil society organizations working to prevent violence using a public health approach and the ecological framework.
Organization(s): World Health Organization